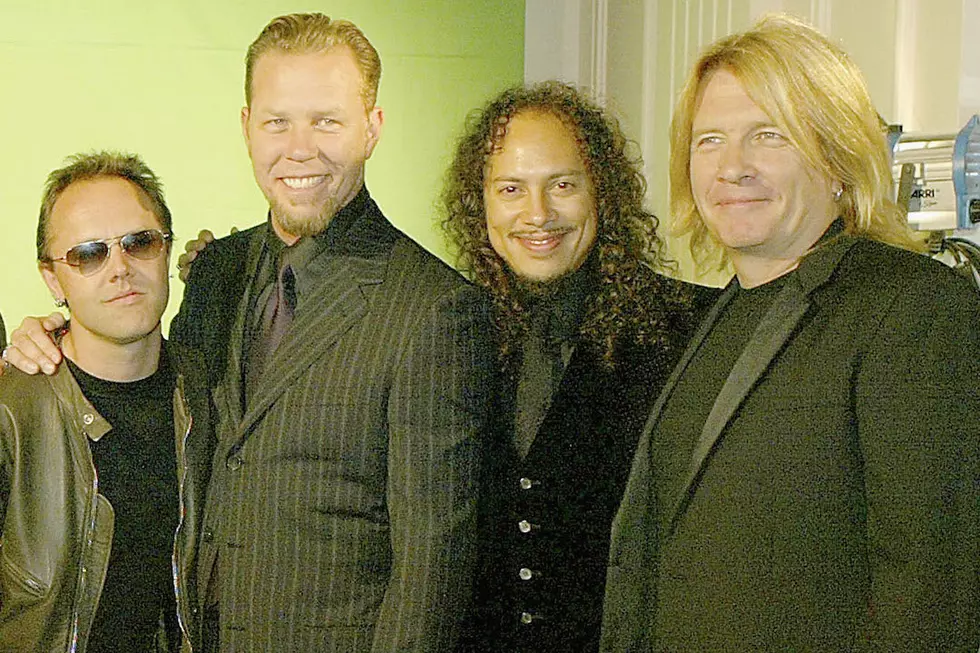 Top 10 Bob Rock-Produced Albums
Kevin Winter, Getty Images
With a name like his, the man born Robert Jens Rock on April 19, 1954, had two obvious career alternatives: rolling boulders around a quarry or producing rock 'n' roll albums. Luckily for many of the genre's most famous acts, Rock pursued the second vocation and earned multiple platinum-selling awards for himself and his superstar clients. So many, in fact, that we felt compelled to celebrate his efforts with a list of Top 10 Bob Rock-Produced Albums.
10

Before he stepped out on his own, Bob Rock put in a long apprenticeship as studio engineer for already-established producer Bruce Fairbairn. Choosing from among the duo's many successful pairings, we'll start our list of Top 10 Bob Rock Albums with Krokus' fondly remembered U.S. breakthrough, The Blitz.

9

'Sinner' (2006)

Joan Jett & the Blackhearts

Rock later put his now-lengthy experience to work on behalf of Joan Jett, who at this point hadn't put out an official U.S. release backed by the Blackhearts for more than a decade. With Rock's assistance, she tore through a selection of well-received songs and worthy covers simply dubbed Sinner.

8

'A Little Ain't Enough' (1991)

David Lee Roth

David Lee Roth was fighting to save his ailing solo career when he tapped the red-hot Bob Rock to produce his third album — the first without guitar hero Steve Vai. A Little Ain't Enough earned gold certification within just a few months of release, but consumer interest in the album quickly fizzled. It was no fault of Rock's.

7

'Get Lucky' (1981)

Loverboy

If any album engineered by Bob Rock signaled his eventual graduation to super-producer status, it was this Top 10 Loverboy smash. Get Lucky catapulted them to stardom on the strength of four million copies sold and one of the definitive summer hits of 1981 in the anthemic "Working for the Weekend."

6

'Blue Murder' (1988)

Blue Murder

Guitarist John Sykes' short-lived late-'80s supergroup featuring bassist Tony Franklin (the Firm) and legendary drummer Carmine Appice (Vanilla Fudge, Rod Stewart) seemed like a dream come true for classic-rock fans. Unfortunately, it couldn't last. Blue Murder's bombastic Bob Rock-produced debut would not be matched by future efforts.

5

'New Jersey' (1988)

Bon Jovi

Love 'em or hate 'em, Bon Jovi was at the top of the hair-metal heap at this time (though Guns n' Roses would soon change that). They topped the American charts with 1986's Slippery When Wet, then this follow-up album essentially crowned their hot streak with even bigger sales overseas. Oh yeah, and who was the engineer crafting the "magic" behind the studio glass on New Jersey? Bob Rock.

4

Metallica fans who hate Load simply because it wasn't the Black Album 2.0 are even sillier than the fans who hate … And Justice for All because it tried to be Master of Puppets 2.0. Fact is, Rock's second production job for Metallica contains some of the most satisfying deviations from safe metallic ground of their career. Blame the band for some of the questionable career decisions that followed, but not Rock.

3

'Sonic Temple' (1989)

The Cult

As our list of Top 10 Bob Rock Albums continues, it begins to seem like 1989 was the "Year of Rock." The Cult's Sonic Temple was the first of two smash LPs he produced that would dominate conversations and the airwaves during that calendar year. Who else but Bob Rock could help a onetime goth-rock band turned psychedelic curiosity and then blue-collar rockers fulfill their arena-rock destiny?

2

'Dr. Feelgood' (1989)

Motley Crue

The other 1989 LP delivered by Bob Rock was Motley Crue's final studio effort before the you-know-what hit the fan. Dr. Feelgood sold an incredible six millions copies in the U.S. alone, earning the band their first (and only) No. 1 chart topper. Had Bob Rock's studio work wound down following this remarkable success story, his hit-making legacy would have been secured. But then Rock's career went stratospheric as he initially hooked up with Metallica.

1

The Black Album (1991)

Metallica

Metallica came calling in the hope that Rock could help them streamline their sound in a bid to convert the entire universe to their cause, rather than merely every denim-and-leather-clad individual moshing across Earth's surface. This was duly accomplished by the watershed Black Album, which remains the a heavy-metal benchmark and one of the bestselling albums of the past few decades.
More From Ultimate Classic Rock