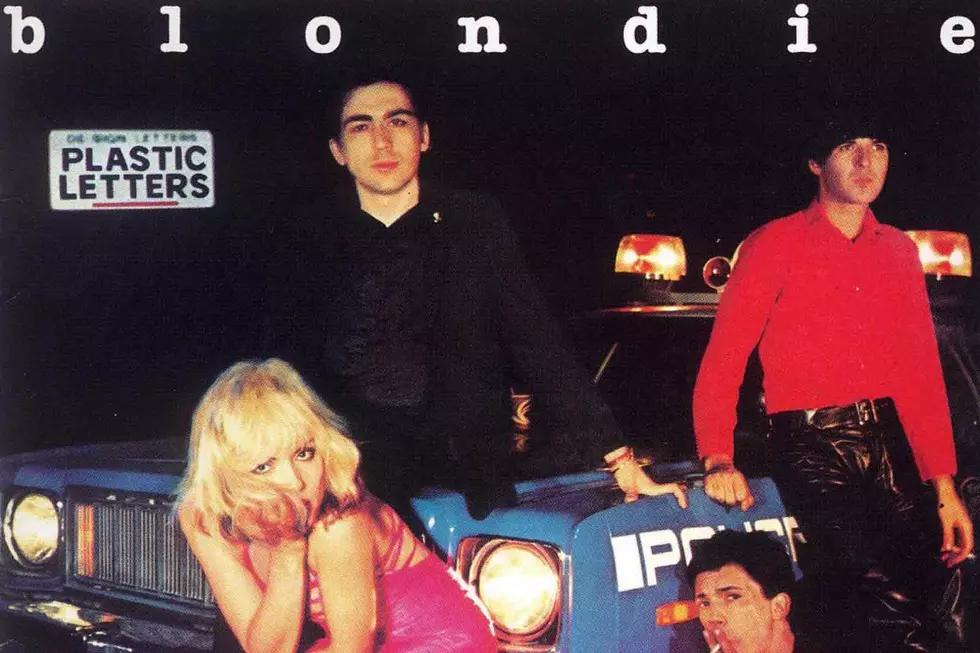 45 Years Ago: Blondie Preps for Greatness on 'Plastic Letters'
Chrysalis
Blondie's self-titled 1976 debut album is rightly celebrated for its mix of punk, proto-new wave and '60s girl-group sounds. It wasn't a commercial hit and didn't even make Billboard's chart, but it was a cornerstone record in the burgeoning New York scene that also included the Ramones, Talking Heads and Television.
So it's little surprise that singer Debbie Harry, guitarist Chris Stein, drummer Clem Burke, keyboardist Jimmy Destri and bassist Gary Valentine were elated. Flushed with critical success, they returned to the studio for their second LP, Plastic Letters, in the summer of 1977 at New York's Plaza Sound.
But things quickly turned, foreshadowing the tumultuous relationships and dark days that were occasionally part of Blondie's story. Bassist Valentine was out of the band; Frank Infante, who would soon join the band as a full-time member, took part in the album sessions as a guitarist and bassist.
Blondie not only felt the pressure to follow up their first album with something as great if not better, but they were also starting to clash in the studio. Recording Blondie had gone relatively smoothly among the five members and their producer Richard Gottehrer. But Plastic Letters, once again with Gottehrer producing, was turning into something of a chore: rushed, for one thing, and more often than not steering off course.
Watch Blondie's 'Denis' Video
"It was a little more angsty," Chris Stein told Mojo in 2023. "There was always a lot of tension in the band and crazy bullshit going on ... egos flying about. I certainly was not the least of it. Everyone was egomaniacal about their roles. But I always thought the tension made for a good result."
They certainly sounded like the Blondie heard on the first album in a couple of key tracks: "Denis," a reworked version of Randy and the Rainbows' 1963 doo-wop classic "Denise," and "(I'm Always Touched by Your) Presence, Dear," which was written by the departed Valentine but used anyway because Burke liked the song.
Elsewhere, however, much of Plastic Letters barely registers in light of Blondie and what was to come. Not that anyone in Blondie was thinking too hard about it. They hired bassist Nigel Harrison, who was in Ray Manzarek's post-Doors group Nite City, not long before Plastic Letters was released in February 1978. Now a sextet with the recent promotion of Infante, they began plotting their next tour and promotional cycle.
Watch Blondie's '(I'm Always Touched by Your) Presence, Dear' Video
Then "Denis" - thanks to a Top of the Pops appearance - became a hit in the U.K., pushing Plastic Letters up the chart. The album also fared well in the States, becoming Blondie's first charting LP in their homeland, reaching No. 72. But the album's significance today is what it all led to. By summer they were back in the studio recording their third album, Parallel Lines, this time with new producer Mike Chapman.
The problems were there – the ego clashes, the substance abuse, the arguments – but so, too, was a new focus that Plastic Letters often lacked. Blondie learned to open up musically; that was part of what Chapman taught them. Plastic Letters was an extension of the debut; Parallel Lines was a major move forward. And the payoff arrived almost instantly: The album was released just seven months after Plastic Letters and made it to No. 6, eventually going platinum. Their single "Heart of Glass," the band's inaugural U.S. charting hit, became the first of four No. 1s.
Blondie probably would have never gotten there if it wasn't for their second album, which not only helped develop their image but also fostered the tensions that outlined some of their best work. Plastic Letters may not be recalled as fondly as the records that immediately preceded and followed it, but it's the link that prepared the group for greatness.
Top 40 New Wave Albums
From the B-52's to XTC, Blondie to Talking Heads, a look at the genre's best LPs.
More From Ultimate Classic Rock