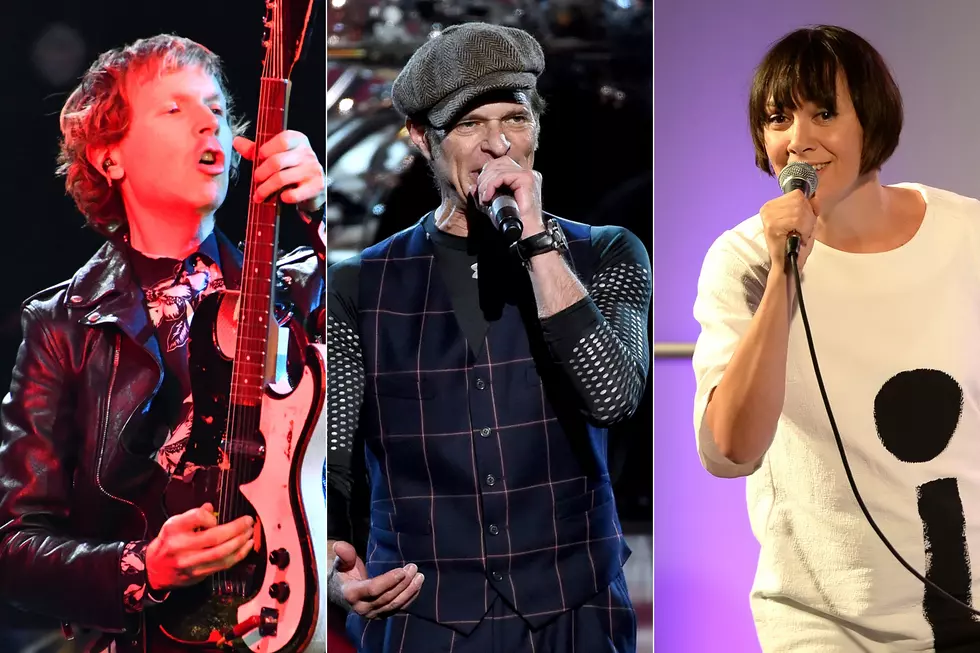 Beck Joins Bird and the Bee for Van Halen 'Hot for Teacher' Cover
Scott Dudleson / Ethan Miller / Michael Buckner, Getty Images
The Bird and the Bee, a band comprised of producer Greg Kurstin (who's worked with Paul McCartney and Foo Fighters, among others) and singer Inara George, have roped Beck into their upcoming album consisting entirely of Van Halen covers.
The singer-songwriter, whose 2017 album Colors features Kurstin, helps out on the gender-switching take on the 1984 classic "Hot for Teacher."
Beck plays the role of the teacher, Mr. Goodbody, during the song's breakdowns, telling the class to turn to page 69 of Moby Dick, asking Kurstin to quiet down and noting that an upcoming lecture will be on the "dialectical shamanism of David Lee Roth." George, the daughter of late Little Feat leader Lowell George, coos her affection for him while Kurstin's jazzy piano replaces Eddie Van Halen's guitar fireworks.
You can listen to the song below.
"The Bird and the Bee bring unforeseen angles to the Van Halen songbook," Beck said in a statement. "Makes sense because, like Eddie Van Halen, Greg is a kind of musical wunderkind in his own right and Inara's vocals bring a cool counterpart to Diamond Dave's pyrotechnics. Making a cameo on their version of 'Hot for Teacher' felt like an extension of the kind of riffing and fooling around we do in the studio on a normal session."
"Hot for Teacher" follows "Panama" as a pre-release single from Interpreting the Masters Volume 2: A Tribute to Van Halen, which comes out Aug. 2. In 2010, the Bird and the Bee released a reworking of the Hall & Oates catalog. They also have three albums of original material, the most recent 2015's Recreational Love.
"Van Halen blends anthemic songs with virtuosic playing like nobody else and David Lee Roth always delivers," Kurstin said upon the release of "Panama." "Inara and I discovered we were both big fans of Van Halen growing up and had so much fun reinterpreting this one."
The Best Song From Every Van Halen Album
More From Ultimate Classic Rock