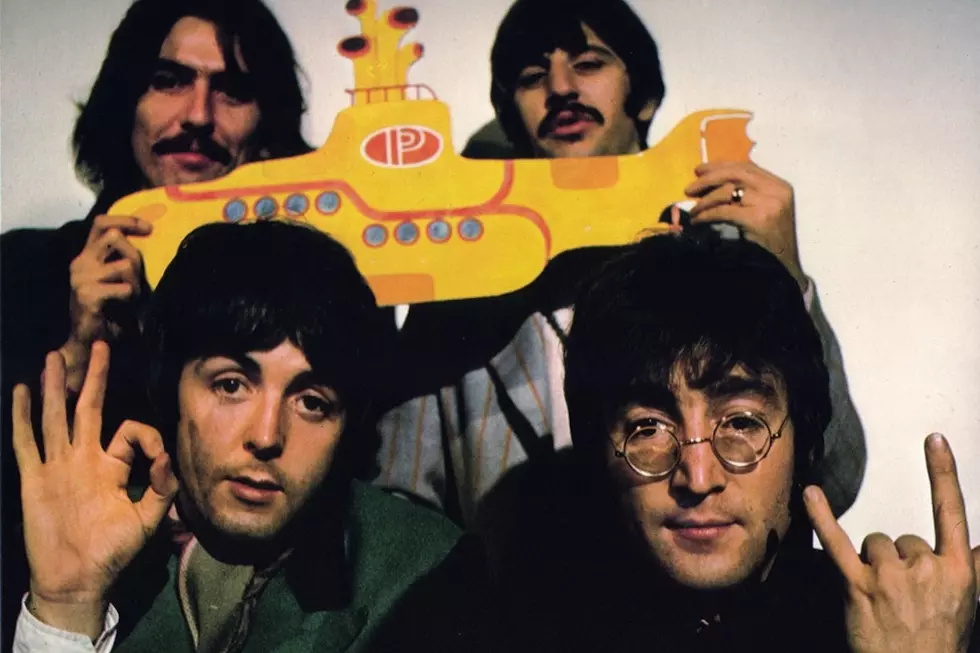 Why the Beatles Didn't Sink Much Effort Into 'Yellow Submarine'
Apple
The Beatles' animated film Yellow Submarine is widely heralded as a classic for its mixture of whimsy, subversive humor and psychedelic design. However, the same fate was not bestowed upon its soundtrack, which was released on Jan. 13, 1969, in the U.S. and four days later in the U.K.
A large part of the problem was that the second side of the LP was devoted to longtime producer George Martin's instrumental score. While there was nothing inherently wrong with Martin's compositions, it was just that, like so many film scores, they don't work well without the visuals they were specifically written to accompany.
The first side, meanwhile, contains six Beatles originals that appeared in Yellow Submarine. Two of them – the title track and "All You Need Is Love" – had been previously released (although the latter was not available on a U.K. album). Paul McCartney's "All Together Now" is a slight children's song that really only works as the movie's closer, when the band appears in non-animated form (a contractual obligation). George Harrison contributed two tracks that were completed almost two years earlier, the dour "Only a Northern Song" and "It's All Too Much," which has its charms, but goes on a bit too long. Only John Lennon's blistering "Hey Bulldog" adds to their legacy.
When the Beatles catalog was first released on CD in 1987, the reissues stayed true to the original albums and included the soundtrack with Martin's score, which led to a whole new round of complaints. Apple Records rectified this 12 years later in conjunction with a theatrical showing of the film in 1999, putting out what they called the Yellow Submarine Songtrack. The disc removed Martin's instrumentals and replaced them with nine previously released songs that were featured in the movie, like "Nowhere Man," "Eleanor Rigby" and "When I'm Sixty-Four."
The 2009 Beatles remasters put the instrumentals back onto the soundtrack, and the Songtrack itself was reissued three years later when the movie was released on DVD and Blu-ray.
The Stories Behind Every Beatles LP Cover
In some ways, the Beatles' album art could be just as fascinating as the music inside.
See the Beatles in Rock's Craziest Conspiracy Theories
More From Ultimate Classic Rock