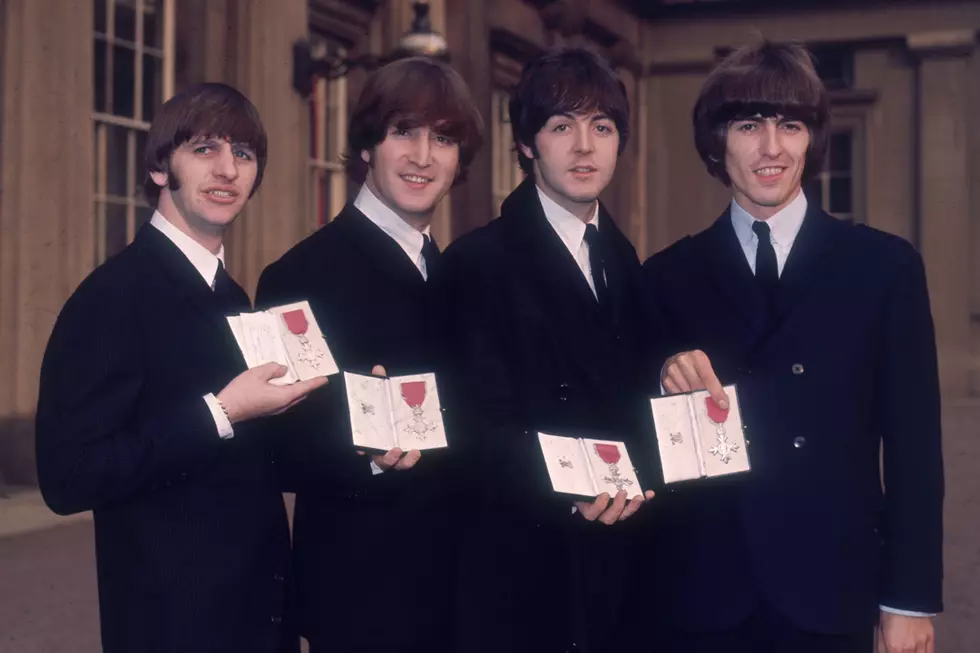 The Day the Beatles Received Their MBEs
Hulton Archive, Getty Images
The Beatles' accomplishments didn't go unnoticed by the royal family after the better part of two years as Britain's greatest musical ambassadors. On Oct. 26, 1965, all four members went to Buckingham Palace to receive their Member of the Most Excellent Order of the British Empire medals from Queen Elizabeth II.
They had been notified of the award back in June, when their names showed up on the Queen's Birthday Honours list. Given that rock 'n' roll music still had a negative connotation from most of society, the reaction from many previous honorees was predictable: Several returned their decorations in disgust. One man, Col. Frederick Wagg, even sent back 12 medals he had earned fighting in both World Wars, resigned from the Labour Party – Prime Minister Harold Wilson, who represented the Liverpool suburb of Huyton, had lobbied the Queen to honor the group – and canceled a bequest to the party.
"Decorating the Beatles," he memorably wrote, "has made a mockery of everything this country stands for. I've heard them sing and play, and I think they're terrible."
Their protests went unheeded and the ceremony, in which 189 people received awards, took place. Beforehand, they were instructed in the protocol for meeting the Queen.
"Some equerry to the Queen, a Guards officer, took us to one side and showed us what we had to do," Paul McCartney recalled in Anthology. "'Approach Her Majesty like this and never turn your back on her, and don't talk to her unless she talks to you.' All of those things. For four Liverpool lads it was, 'Wow, hey man!' It was quite funny. But she was sweet. I think she seemed a bit mumsy to us, because we were young boys and she was a bit older."
Despite the formality of the proceedings, the Beatles signed autographs for about 50 other recipients, including one man who told McCartney, "I want it for my daughter. I don't know what she sees in you."
There was also a brief opportunity for their trademark irreverent humor. "[The Queen] said to me, 'Have you been together long?'" McCartney remembered. "And I said, 'Yes, many years.' And Ringo [Starr] said, '40 years,'" which made the Queen laugh.
John Lennon would later claim that the Beatles were so nervous at the idea of meeting the Queen that they went into the bathroom and smoked marijuana. George Harrison subsequently refuted Lennon's claims, however, saying that it was a regular cigarette.
Four years later, Lennon sent back his MBE. "Your Majesty," he wrote, "I am returning my MBE as a protest against Britain's involvement in the Nigeria-Biafra thing, against our support of America in Vietnam and against 'Cold Turkey' slipping down the charts. With love. John Lennon of Bag." The medal was discovered in a vault at St. James Palace in 2009.
The Most Excellent Order of the British Empire was created by King George V in 1917 to honor those who served the country in non-combat roles in World War I, but soon separated it into military and civil divisions. There are five classes of appointment, with Member being the lowest.
The Most Shocking Rock Star Fashion Reinventions
From David Bowie to Metallica, these are the most shocking rock star fashion reinventions.
The Beatles Are One of the Bands Who Hated Their Own Album
More From Ultimate Classic Rock