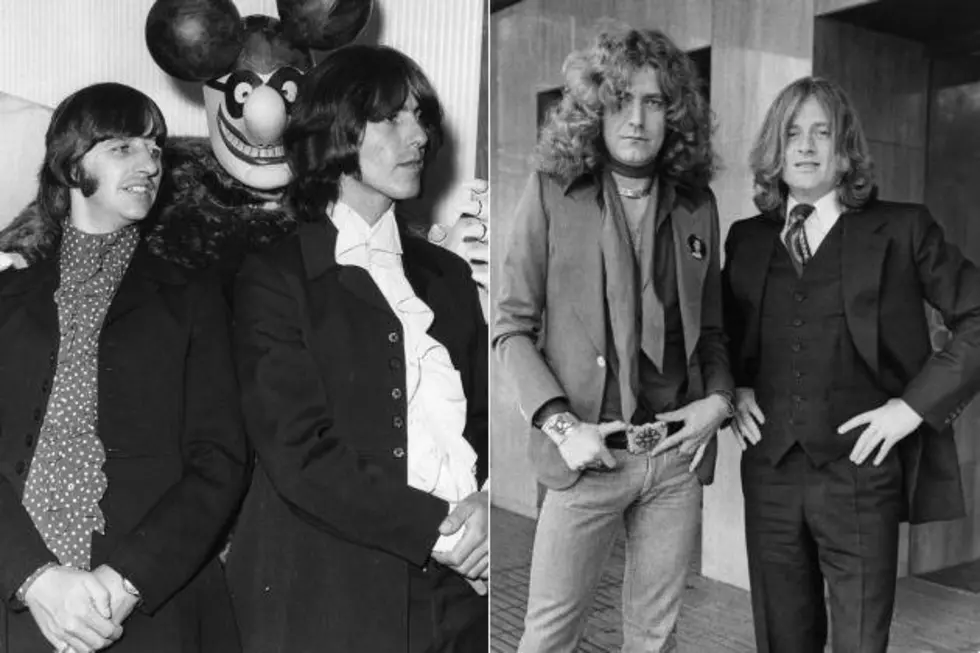 Beatles, Led Zeppelin Featured in New Mash-Up
Hulton Archive, Getty Images
Mash-ups - the art of taking elements of two or more songs and creating something new out of them - are a hit-or-miss proposition. Too often the songs don't match up musically in an attempt to create an interesting or ironic juxtaposition.
That said, all morning long we've been listening to 'Whole Lotta Helter Skelter,' a mash-up that pits Led Zeppelin's 'Whole Lotta Love' with the Beatles' 'Helter Skelter.' For the most part, it puts the Beatles' vocals against Zep's music, although there are some moments where it switches up.
The equally raucous tracks match up perfectly due to the skill of its creator, who goes by the name of "Soundhog." Still, it's a little bittersweet to hear this, because it hints at how great a supergroup of both bands playing at their best could have sounded. Even Ringo Starr's famous shout of "I've got blisters on my fingers" can't keep this down.
Just as good is the video, which features footage of both bands in action, and even some clips from 'Yellow Submarine.' We've got it embedded below. You'll also want to revisit 'Whole Lotta Sabbath,' an earlier mashup that mixed 'Whole Lotta Love' with Black Sabbath's 'War Pigs.'
Watch 'Whole Lotta Helter Skelter'
More From Ultimate Classic Rock