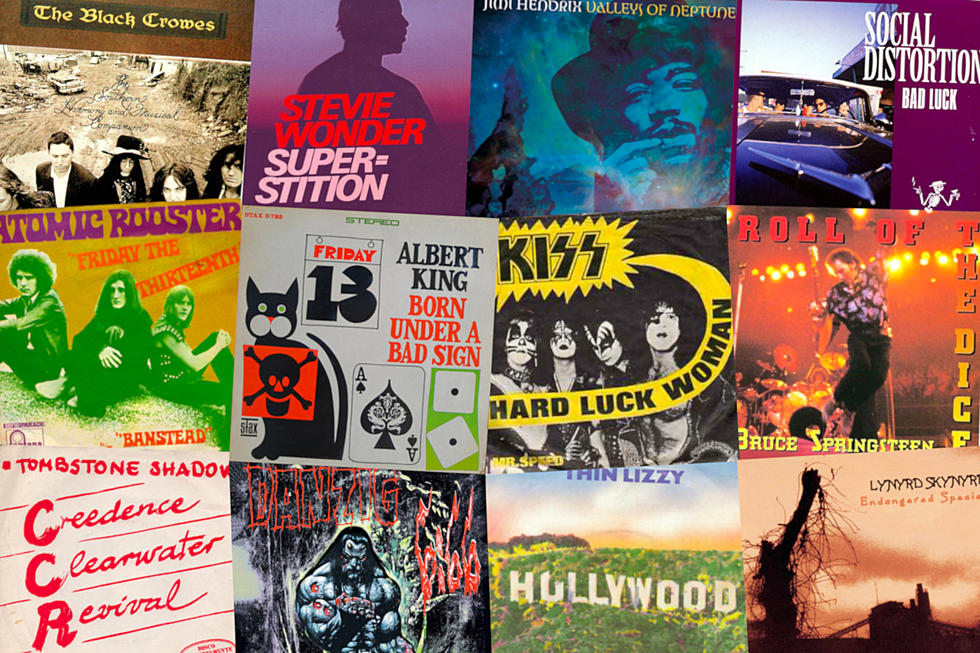 UCR
Whether it's the number 13, black cats or breaking a mirror, bad luck imagery is all around. Some scoff at such superstitious notions, while others fully believe in these fears.
Unsurprisingly, music is littered with artists who've gone head-to-head with bad luck.
For some, misfortune is displayed as a badge of honor, an obstacle they proudly continue to try and overcome. For others, such as Stevie Wonder in his classic song "Superstition," it's something to mock.
In the below list of 13 Songs About Bad Luck, you'll encounter several of these classics about superstition.
Albert King, "Born Under a Bad Sign
"If it wasn't for bad luck, I wouldn't have no luck at all," Albert King famously sings in this 1967 blues classic. Cream covered the song a year later for their Wheels of Fire album. It's also been covered by a range of artists, including Jimi Hendrix, Etta James, Big Mama Thornton and Buddy Guy. Homer Simpson even gave the song a spin on the multiplatinum-selling 1990 album The Simpsons Sing the Blues. "Born Under a Bad Sign" has been recognized by the Rock & Roll Hall of Fame as one of the 500 songs that shaped rock 'n' roll and is regarded as one of the blues' most essential tracks.
Jimi Hendrix, "Mr. Bad Luck"
Before Jimi Hendrix was Jimi Hendrix he was just another guitarist trying to find his path to fame. After playing with various R&B groups, he decided to relocate to New York and embrace the city's Greenwich Village scene. There he fronted Jimmy James and the Blue Flames, the band with which he'd start honing original songs. One of those tunes was the blues rocker "Mr. Bad Luck." Hendrix recorded the song in 1967 while making Axis: Bold as Love, but it was kept off the album. It later appeared on the posthumous LP Rainbow Bridge under the name "Look Over Yonder" and was eventually included on the 2010 compilation Valleys of Neptune under its original name.
Kiss, "Hard Luck Woman"
Paul Stanley wrote "Hard Luck Woman" for Rod Stewart, and it's easy to hear Stewart's style in this upbeat, folksy song, which tells the story of the titular lady who's had her heart broken too many times (including by the song's narrator). Peter Criss handled vocals on the track, which was released as the lead single from Kiss' 1976 album Rock and Roll Over. The single peaked at No. 15 on the Billboard Hot 100 and was later covered by an array of artists, including Garth Brooks, Corey Taylor and indie rock band the Hold Steady.
Stevie Wonder, "Superstition"
Stevie Wonder released his classic song "Superstition" in 1972. The prolific artist played almost every instrument on the track, including drums and the distinctive clavinet part. Even though Wonder lyrically delved into topics of luck and witchcraft, he had very little time for such beliefs. "I think that the reason that I talked about being superstitious is because I really didn't believe in it," he told NPR in 2000. "I didn't believe in the different things that people say about breaking glasses or the number 13 is bad luck and all those various things. And to those, I said, 'When you believe in things you don't understand, then you suffer.'"
READ MORE: How Stevie Wonder Hit New Heights With 'Superstition'
Social Distortion, "Bad Luck"
Punk rock group Social Distortion released their fourth album, Somewhere Between Heaven and Hell, in 1992. Its lead single was the rousing track "Bad Luck," which climbed to No. 2 on the Billboard Modern Rock chart, the highwater mark of the band's career. Lyrically, the song evokes every unlucky image you can think of, with frontman Mike Ness proclaiming at one point, "Thirteen's my lucky number" before later stating a "Black cat done crossed my path." You can count Bruce Springsteen among the song's fans. The Boss has covered "Bad Luck" on several occasions, bringing Ness onstage to join him each time.
Bruce Springsteen, "Roll of the Dice"
One place you don't want bad luck is on gaming tables, but that's exactly the scenario Bruce Springsteen channels on this track from 1992's Human Touch. He uses images like "throwin' snake eyes" to reflect his failures in romance, though in real life the Boss was embracing the love of his life. After going through a rough divorce from his first wife, Springsteen married E Street Band singer Patti Scialfa in 1991. The two have been together ever since.
READ MORE: When Bruce Springsteen Released Two Albums on the Same Day
Lynyrd Skynyrd, "Good Luck, Bad Luck"
In 1994, Lynyrd Skynyrd did something few fans expected: They went acoustic. The album Endangered Species found the Southern rock legends reworking many of their most famous songs, along with featuring a few new originals. Among them was "Good Luck Bad Luck," a song penned by Mike Estes and Ed King, their only and last album with the band, respectively. The song glides along at a measured pace, with an opening verse that perfectly sets the scene: "I ain't the son of the seventh son / Black cats won't cross my path / Good luck comes I just watch it run and it sure does run out fast / I wasn't born under no bad sign, but it was Friday the 13th."
Atomic Rooster, "Friday the 13th"
Formed in the wake of the Crazy World of Arthur Brown's breakup, Atomic Rooster walked the line between psychedelic and progressive rock. "Friday the 13th" was the opening song on their self-titled debut album. With trippy organs and frenzied vocals, the track immediately emanates a sense of panic, a feeling only heightened by continual chants of "Save me!" Later, singer Nick Graham describes an anxiety-provoking scene: "Walking down the street, footsteps close behind / Dare not turn your head, don't know what you'll find / Trying to shout for help, your words turn to dust / Looking for a friend, no one you can trust."
The Black Crowes, "Bad Luck Blue Eyes Goodbye"
Released on the Black Crowes' sophomore album, The Southern Harmony and Musical Companion, "Bad Luck Blue Eyes Goodbye" is a soulful, bluesy ballad. Written by singer Chris Robinson, the track examines heartache, pain and the struggle to move on. "Bad Luck Blue Eyes Goodbye / Sometimes a memory / Only sees what it wants to believe," Robinson croons on the chorus, his voice dripping with vulnerability.
Creedence Clearwater Revival, "Tombstone Shadow"
Creedence Clearwater Revival was playing In San Bernardino, California, in 1969 when John Fogerty noticed a fortune teller's shop by the band's hotel. The singer wandered in and got a reading where he was told, among other things, to avoid flying and that he had 13 months of bad luck ahead of him. The experience inspired Fogerty to pen "Tombstone Shadow," which was included on the album Green River later that year. The fortune teller's prediction didn't exactly come true: 1969 proved to be an incredible year for Fogerty and CCR. Still, the wheels started coming off in the early '70s, and the band called it quits in 1972. That's more than 13 months from the reading, but we'll give the fortune teller partial credit.
Danzig, "Thirteen"
There are many theories as to why the number 13 has been culturally deemed unlucky (Judas was the 13th guest at the Last Supper, for example). However, rather than running away from the number like so many others before him, Glenn Danzig embraced it. The singer originally penned "Thirteen" for Johnny Cash, who recorded his version for 1994's American Recordings. "Suddenly, one day in 1993 I was called and asked if I wanted to write a song for Johnny Cash. Of course! The original Man in Black! It was an honor," Danzig later recalled. "It took me about 20 minutes to write 'Thirteen,' which is my understanding of Cash and his career. Then I actually went down to him on his farm in Tennessee to teach him the song. He turned out to be a really nice man." Danzig's version would be released five years later on the album 6:66 Satan's Child.
Warren Zevon, "Bad Luck Streak in Dancing School"
Warren Zevon had been to hell and back by the time he wrote his 1980 LP Bad Luck Streak in Dancing School. The singer-songwriter had been engulfed in drug and alcohol addiction, which led to the crumbling of his marriage and landed him in a rehab center. With equal parts guilt, remorse and hope for the future, Zevon opened the album with its title track. The song's lyrics – "Bad luck streak in dancing school / Down on my knees in pain / Bad luck streak in dancing school / Swear to God I'll change" – reflected his hope for sobriety, something he would struggle with for several more years.
Thin Lizzy, "Hollywood (Down on Your Luck)"
Maybe it's not the person who's unlucky but the city that they're in. That's the possibility raised by Thin Lizzy on this 1982 track. "Hollywood (Down on Your Luck)" compared the glittering lights of Los Angeles to the tough and tumble streets of New York and London. In those cities, according to the band, "Nobody give a damn / When you're down on your luck / Nobody understands / When you're down on your luck." "Hollywood (Down on Your Luck)" would be the only single released from Thin Lizzy's Renegade album. Unfortunately, it proved to be as unlucky as its subject matter. The song stalled at No. 53 on the U.K. singles chart and failed to make an impact in the U.S.
More From Ultimate Classic Rock