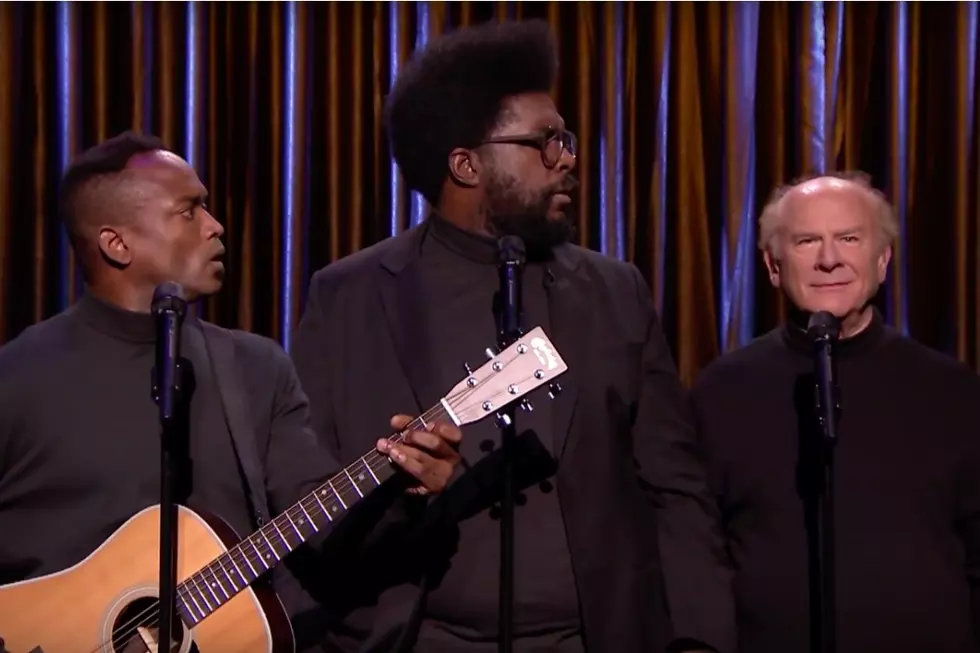 Watch Art Garfunkel Join 'Black Simon & Garfunkel' on 'The Tonight Show'
YouTube
Regular viewers of Jimmy Fallon's late-night lunacy (first on Late Night With Jimmy Fallon, and now on The Tonight Show) are familiar with Black Simon & Garfunkel, characters played by Questlove and Captain Kirk Douglas, from house band the Roots, in a recurring sketch that sees them covering pop songs of the day in Simon & Garfunkel's signature style. It's a great bit, but the duo improved on it Sept. 30 by adding a third member: the real Art Garfunkel.
As you can see in the video above, Black Simon & Garfunkel were on hand to cover "Can't Feel My Face," the recent No. 1 hit from the Weeknd that Slate columnist Chris Molanphy called "one of the most irresistible songs of the year." Fallon fans that have heard Questlove and Douglas harmonizing through songs like Taylor Swift's "Bad Blood" were prepared for a similar take on "Face," but they got something even better when Garfunkel surprised the audience by strolling out onstage.
Garfunkel, whose most recent album is 2007's Great American Songbook collection Some Enchanted Evening, has battled vocal problems in recent years, but he's slowly worked his way back to live performance, touring in 2014 and throughout this year. He's expressed an interest in reuniting with Paul Simon for another Simon & Garfunkel record, but if that doesn't work out, he should ring up Black Simon & Garfunkel — maybe they can get together in the studio for a whole album of this stuff.
See Simon & Garfunkel in the Top 100 Rock Albums of the '70s
This Day in Rock History: October 1
More From Ultimate Classic Rock