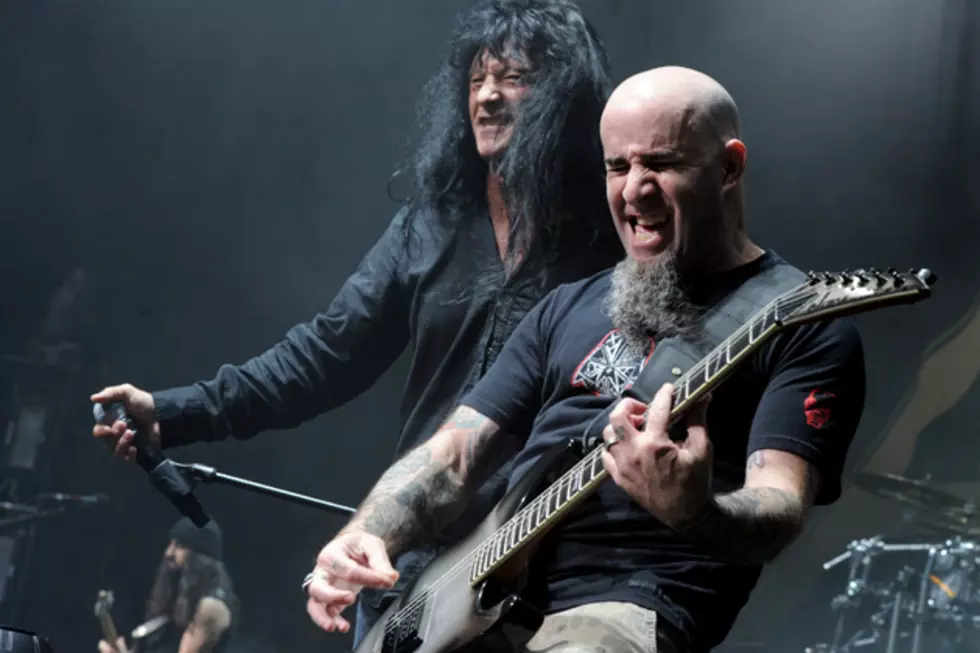 Top 10 Anthrax Classic Rock Cover Songs
Kevin Winter, Getty Images
Anthrax's classic rock cover song choices provide great insights into the old-school roots of these legendary New York thrashers. Over the years, Scott Ian and company have almost built their own cottage industry out of covering other bands' songs. Never ones to dismiss or disguise their influences, the veteran quintet slipped a cover song onto many of their '80s LPs, and then carried on reinterpreting their heroes' music for use as bonus tracks or B-sides in the decades since. Then, in 2013, the band took things a step further by recording an entire EP's worth of classic rock cover versions for release as the aptly named 'Anthems.' So as they are also conveniently celebrating their 30th anniversary (give or take) as a band, we felt the time was ripe to run down the Top 10 Anthrax Classic Rock Cover Songs:
10

From: 'Fistful of Metal' (1984)

This rendition of Alice Cooper's 'I'm Eighteen' is as good a place as any to start our list of the Top 10 Anthrax Classic Rock Covers, as it established the then speed metal hopefuls' penchant for giving their own spin to classic tracks by other artists on their very first full-length, 1984's 'Fistful of Metal,' which also featured great early originals such as 'Panic' and 'Metal Thrashing Mad.'

9

From: 'Taking the Music Back' single (1993)

It took 25 years, but Anthrax finally fulfilled the punk rock potential of this early nugget by The Police, when they transformed it into a veritable hardcore number during the 'We've Come to All You All' sessions. Eventually released as the B-side to that album's single, 'Taking the Music Back,' the remake showed that Anthrax's appetite for jamming classic rock through the ol' heavy metal grinder was far from sated.

8

From: 'State of Euphoria' (1988)

As one of the solitary hard rock bands to emerge from France during the late '70s, Trust is still hardly a household name; but they might well have become an even less significant footnote in rock history (their many, quality songs sadly overlooked) if it hadn't been for Anthrax's faithful, incredibly infectious cover of 'Anti-social.' Originally written in Trust's native tongue, it was seamlessly translated to English for inclusion on 1988's 'State of Euphoria' LP, becoming its most popular single in the bargain.

7

From: 'Anthems' (2013)

Of course not all of Anthrax's cover versions have worked out as intended, and whether you single out the band's ill-fated stabs at the Sex Pistols' 'God Save the Queen' (predictable, dull) or the Temptations' 'Ball of Confusion' (forced, it simply didn't work), it goes without saying that no band is perfect. But that's where the aforementioned 'Anthems' EP comes in, packing – no hyperbole here – all killer and no filler, including this animated romp through AC/DC's 'T.N.T.': "Oi! Oi! Oi!" shouts and all.

6

From: 'Attack of the Killer B's' (1991)

From 1991's 'Attack of the Killer B's' collection, this turbo-powered bash through Kiss' 'Parasite' may not yield all that many surprises, but that's made up by the band's evident affection for the face-painted heroes who first inspired them to pick up instruments and start a band in the first place. Anthrax's thoughtful decision to cover an Ace Frehley composition also may have helped put some much needed coin in the silver one's spacesuit…or not, since Gene probably owns that piece of the Kiss action, too.

5

From: 'I'm the Man' EP (1988)

It's easy to forget, so many years later, just how big a gamble Anthrax were taking by experimenting with rap music on 1988's 'I'm the Man,' which came across like utter heresy to many a humorless metal-head, and actually put their career in jeopardy, along with those ridiculous surf shorts! It was therefore probably a calculating counter-measure on the band's part to include a straight-faced cover of this Black Sabbath classic on the same EP, and we think it still stands up to scrutiny – no matter your feelings about the silly but amusing 'I'm the Man.'

4

From: 'Anthems' (2013)

The lead-off cut on the current covers EP, 'Anthems,' this vintage Rush song is, more than anything, a sterling showcase of Anthrax's musicianship, as they not only manage to duplicate Lee, Lifeson and Peart's incredible chops with relatively effortless confidence, but go a step further by inhabiting the song's complex parts with their own personal styles. And bonus points go to vocalist Belladonna, who balls up his fists and hits even Geddy Lee's highest, glass-shattering yelps along the way.

3

Single (1993)

Change was everywhere for Anthrax in the early '90s, as they jumped to a new label, readied their sixth album, 'Sound of White Noise,' and broke in new singer John Bush (formerly of Armored Saint). The album would also found Anthrax trying out a few new songwriting techniques in a bid to stay relevant amidst the sea change motivated by grunge, and this astonishingly heartfelt cover of Thin Lizzy's 'Cowboy Song' really showed the band's expanding creative range both stylistically and emotionally.

2

From: 'Anthems' (2013)

Anthrax going to town with a Hammond organ? Who would have ever expected that combination during the heyday of the 'thrax's thrashing '80s? But by enlisting the services of Alice Cooper collaborator Fred Mandel to unload his keys all over this cover of Boston's aptly-named 'Smokin',' Anthrax proved they fear nothing insofar as rocking the classics goes, making this storming performance a natural choice for our list of the Top 10 Classic Rock Songs Covered by Anthrax.

1

From: 'Persistence of Time' (1990)

For all of their aforementioned open-mindedness when it came to choosing songs to cover, Anthrax really outdid themselves with this frenetic, though once again relatively faithful reading of a pretty deep album cut by new wave maverick, Joe Jackson. Quite the showcase for bassist Frankie Bello (who even took the solo section for himself), the short and sharp 'Got the Time' provided a much needed blast of directness amidst the overwrought material and oppressive negativity that marked 1990's 'Persistence of Time'; and because it is arguably the first cover Anthrax fans' think of when quizzed, 'Got the Time' earns the number one slot in our list of the Top 10 Anthrax Classic Rock Covers.
More From Ultimate Classic Rock