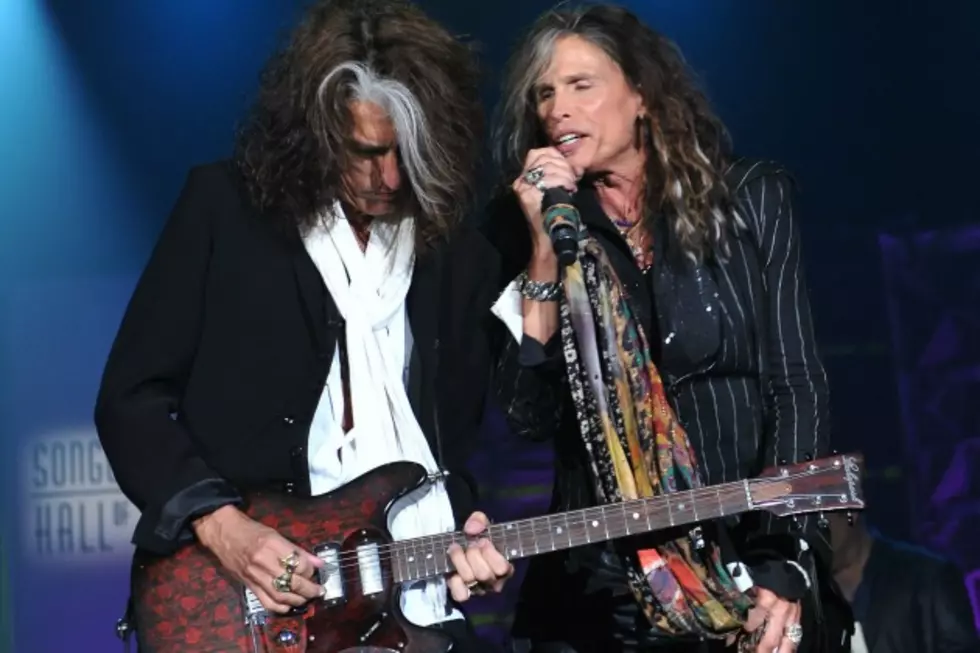 Aerosmith Talk Summer Tour: 'We Still Have the Passion'
Larry Busacca, Getty Images
As recently as a few years ago, it looked like Aerosmith might be finished. But as the band prepares for a round of summer dates with Slash, they seem to be warming up for yet another new chapter in one of rock's most successful careers.
Singer Steven Tyler embodied the band's current level of enthusiasm during a recent conversation with Rolling Stone, telling the magazine, "We're an old fashioned rock band. You know what? We're still f---ing together, we still have the passion, and we still fight and we still make up and it's still alive. It's still rock & roll."
"We're still doing what we were doing when we were 20 years old we're still loving the s--- out of it," added drummer Joey Kramer. "No matter what goes on, whether it's feuding with one another, things happen to us, personally or as a group, when it comes time to get onstage nothing else matters."
And while the band definitely has no shortage of classic cuts to draw from for the current set list, guitarist Joe Perry predicted that they'd continue to draw from their most recent studio album, 2012's 'Music from Another Dimension!,' on the upcoming tour. "To me the record is still fresh," he argued. "We haven't really dug into it and played some of the best songs live. I think its one of the best records we've made in years and years. We got tied up in the whole corporate thing about it not getting promoted. The head of the label left three weeks before the record came out, the whole promotion thing got screwed up. We didn't really tour behind the record like we usually do."
"How refreshing after 10 years to get f--- by your label again. God, I missed that," cracked Tyler, to which Perry responded, "We don't have to worry about that anymore" -- an allusion to the fact that Aerosmith is currently without a record contract, and they don't seem to be in any rush to sign a new deal with a label. As bassist Tom Hamilton put it, "We don't have a record company now. We're our own record company. It's going to be really fun to see what we do that opportunity. I think about it every day."
Perhaps the band might even start releasing records on a regular basis again -- something they haven't done since the '90s. Tyler, for one, sounds like he's raring to go. "It's a thing, it's a vibe. It's unlike any other," he enthused. "You cannot sit still listening to that. What was it that pushed our buttons and made us want to write 'Sweet Emotion' and things like that? We're still involved in that. It's not about the money. It's about the game and the passion for me."
More From Ultimate Classic Rock