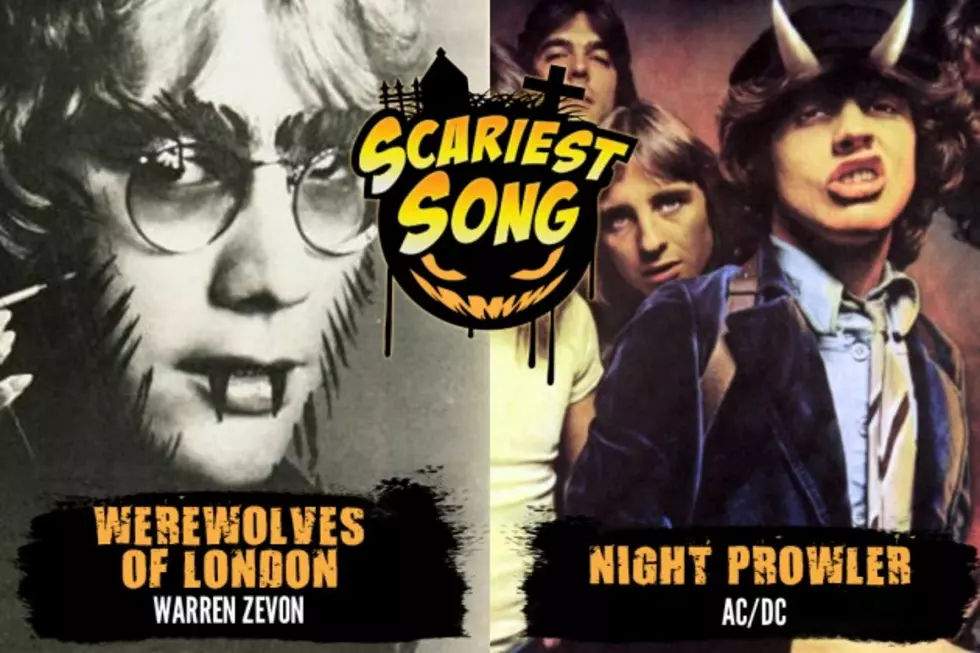 AC/DC, 'Night Prowler' vs. Warren Zevon, 'Werewolves of London': Rock's Scariest Song Battle
Asylum / Atlantic
The bluesy terror of AC/DC's "Night Prowler" is up against a winking tale of a night-time menace in Warren Zevon's "Werewolves of London" in round one of our quest to find Rock's Scariest Song.
In honor of Halloween, we've chosen 16 of rock's scariest songs. The field will be sliced, diced and chopped in half every week based on your votes, until only the scariest song in rock history remains alive.
Zevon's "Werewolves of London," which originally appeared on 1978's platinum-selling Excitable Boy, features the Fleetwood Mac rhythm section of John McVie and Mick Fleetwood – and together they almost helped the single sneak into the Top 20. "Werewolves" was produced by Jackson Browne and guitarist Waddy Wachtel, the latter of whom co-wrote the track with Zevon.
"Night Prowler," the final song on AC/DC's 1979 breakthrough multi-platinum album Highway to Hell, became unfairly tangled up in Richard Ramirez's grisly murder spree in the mid-'80s. But let's face it, even if Ramirez had never been associated with this track, "Night Prowler" was already plenty creepy.
You can listen to both songs below so you can make an informed choice. You can vote once per hour in each of the eight first round Rock's Scariest Song battles until polls close on Oct. 12 at 11:59PM ET. Your choice for Rock's Scariest Song of all time will be revealed on Nov. 1, 2015.
Listen to 'Night Prowler' by AC/DC
Listen to 'Werewolves of London' by Warren Zevon
AC/DC Albums, Ranked Worst to Best
More From Ultimate Classic Rock