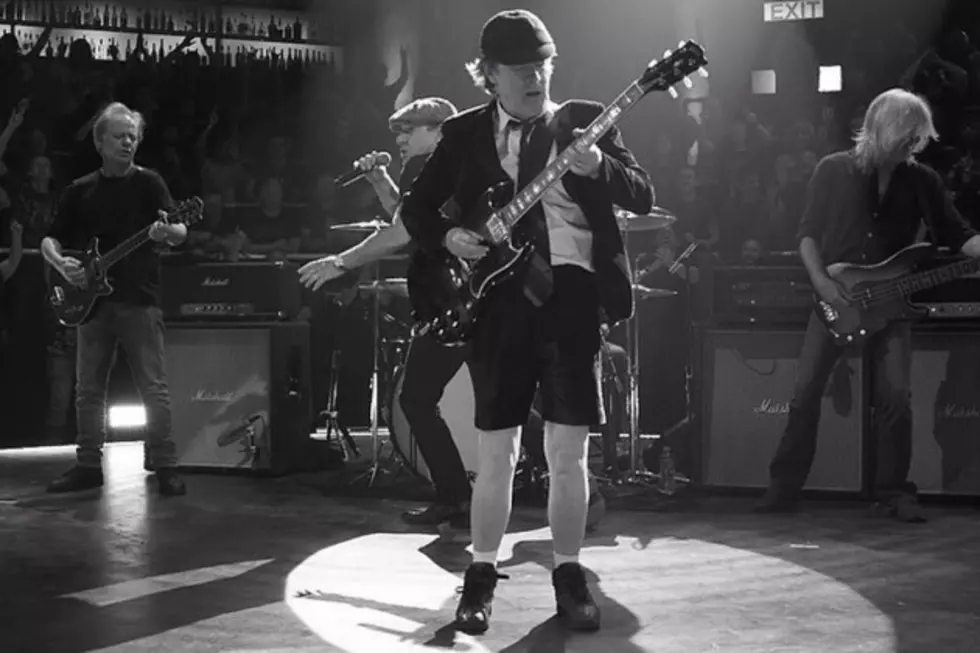 How James Bond and an Ancient Military Commander Inspired AC/DC's 'Rock or Bust'
Columbia
AC/DC are so great with double entendres that it's always easy to assume that all of their songs were inspired by the opposite sex, but it isn't necessarily so. In fact, during a recent interview with the Village Voice, band members Angus Young and Cliff Williams revealed a couple of instances in which they turned to some fairly surprising sources for inspiration while coming up with songs for the group's new 'Rock or Bust' LP.
Asked whether their latest set of songs might include anything that could become as accidentally controversial as 1979's 'Night Prowler,' Young mused, "Controversial ... not really. Some have mentioned 'The Dogs of War,' but not in the modern sense. It's a song about Hannibal that took all those elephants over the Alps." Confronted with his interviewer's surprise that the band contained such "intellectual and historical" components, Young laughed, "Yeah, I didn't even know I could read."
Young also offered up the inspiration for the new song 'Miss Adventure,' saying, "It's our tribute to the early James Bond movies. When we were young, you paid to see those movies. You'd see Sean Connery, with his 'Hello, Mr. Goldfinger,' 'Bond, James Bond,' but [the Bond girls] always had tongue-in-cheek gag names like Pussy Galore ... the one that came out of the water; that was a big deal, Ursula Andress. In fact, I went to see her in another film a few months later called 'She.' I think she was in the starring role. There wasn't much acting, but wow, plenty to look at."
Whatever goes into an AC/DC song, Young pointed out that it all comes down to living up to the original mission statement offered by his brother, co-founding rhythm guitarist Malcolm Young: "When we kicked off as a band, I said, 'What do we play?' and he said, 'Just good hard rock n' roll,' and that was what we aimed for in the beginning." It's a target fans can expect the band to continue aiming for indefinitely; as Williams told the Voice, they're "still enjoying ourselves too much" to think about retirement.
You Think You Know AC/DC?
Angus Young's and Other Rockers' Yearbook Photos
More From Ultimate Classic Rock