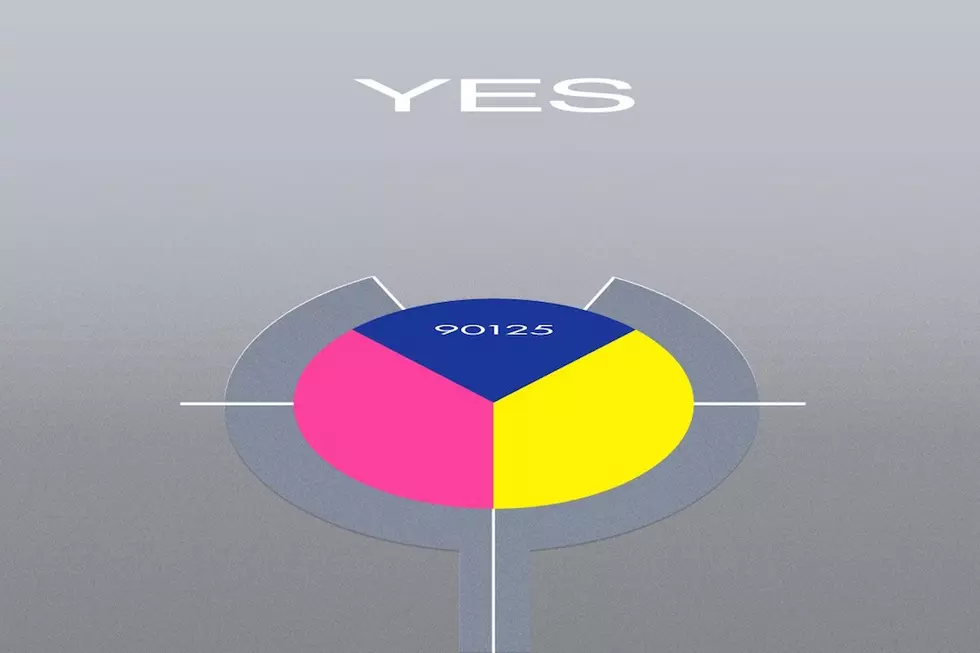 40 Years Ago: Yes Makes an Improbable Trip to the Top With '90125'
Atco
It's often said that it's always darkest before the dawn. This has proven particularly true for Yes fans, who endured the band's ugly 1981 breakup only to watch the prog legends rise from the ashes with one of their most popular albums two years later.
The group's 11th LP, 90125, arrived on Nov. 7, 1983, the happy end result of a long series of twists and turns that included yet another flurry of lineup changes for the famously fluctuating outfit. In fact, while comings and goings had become customary for the band, 90125 didn't even start out as a Yes album. Following 1980's rather poorly received Drama album, the group more or less imploded, with bassist Chris Squire and drummer Alan White left at loose ends.
Knowing they still wanted to keep making music together but unsure of what form it should take, Squire and White dabbled for a bit with a couple of short-lived projects (including what would have been a mighty intriguing-sounding supergroup with Jimmy Page) before getting down to work with guitarist Trevor Rabin. He wasn't known to many Yes fans, but Rabin had been hovering in the band's axis for some time – to the point that he nearly ended up joining Asia with former Yes members Geoff Downes and Steve Howe.
READ MORE: Ranking Every Yes Song
Aside from his considerable guitar skills and a sturdy singing voice, Rabin brought a stack of songs to the new band, which would eventually be named Cinema – a group whose ranks were quickly expanded to include former Yes keyboardist Tony Kaye. By the time Cinema entered the studio at the tail end of 1982, it had started to look less like a new enterprise and more like yet another iteration of Yes. Once former Yes singer Jon Anderson heard what the new group was up to in the spring of '83, it was obvious that the band would reform in earnest.
Rabin was initially reluctant to make the change from Cinema to Yes, and bristled at the notion that some would see him as a replacement member of the band. Still, he was eventually won over by Anderson's enthusiasm.
Watch Yes' 'Owner of a Lonely Heart' Video
'90125' Had a Radio-Ready Focus
Looking back, it's easy to see why: Yes had suffered from a lack of direction in the years leading up to 90125, but Rabin's influx of fresh ideas – coupled with Trevor Horn's clean, technologically driven production – brought the group a new sound that managed to be fresh while still bearing many hallmarks of the band's past.
Best of all, at least from a label perspective, was the eminently radio-ready focus of Rabin's songwriting. Where Anderson's lyrics tended to focus on more esoteric subjects, Rabin tended toward poppier fare. Yes would never truly be thought of as a Top 40 band, but there was no way for radio programmers to resist hook-laden tracks like the album's lead-off single, "Owner of a Lonely Heart."
READ MORE: Top 10 Chris Squire Songs
Boasting grinding guitar, clattering synths and a soaring vocal from Anderson, the track signaled the start of a new era for Yes – and a fairly lucrative one, too. "Owner of a Lonely Heart" eventually became the band's first and only chart-topper, helping send 90125 to the Top Five and paving the way for three more singles (one of which, "Leave It," broke the Top 40 the following year). It certainly wasn't Tales From Topographic Oceans, but it was identifiably Yes, and it expanded the band's audience to a degree that nobody could have predicted.
Unfortunately, as it so often tended to be with Yes, the harmony proved short-lived. In fact, Kaye left the lineup even before 90125 was finished, forcing Rabin to handle a substantial portion of the keyboard work. Kaye returned in time for the tour, but ongoing tensions with Horn added another layer of difficulty to the already messy sessions for the follow-up album.
By the time Yes re-emerged from the studio, four years had gone by, and the result – 1987's Big Generator – was neither as cohesive nor as cutting-edge as its predecessor. By the end of 1988, Yes had split into different factions yet again ... and yet another reunion loomed on the horizon.
Bands With No Original Members
Gallery Credit: Nick DeRiso
Revisiting Yes' First LP Without Chris Squire
More From Ultimate Classic Rock