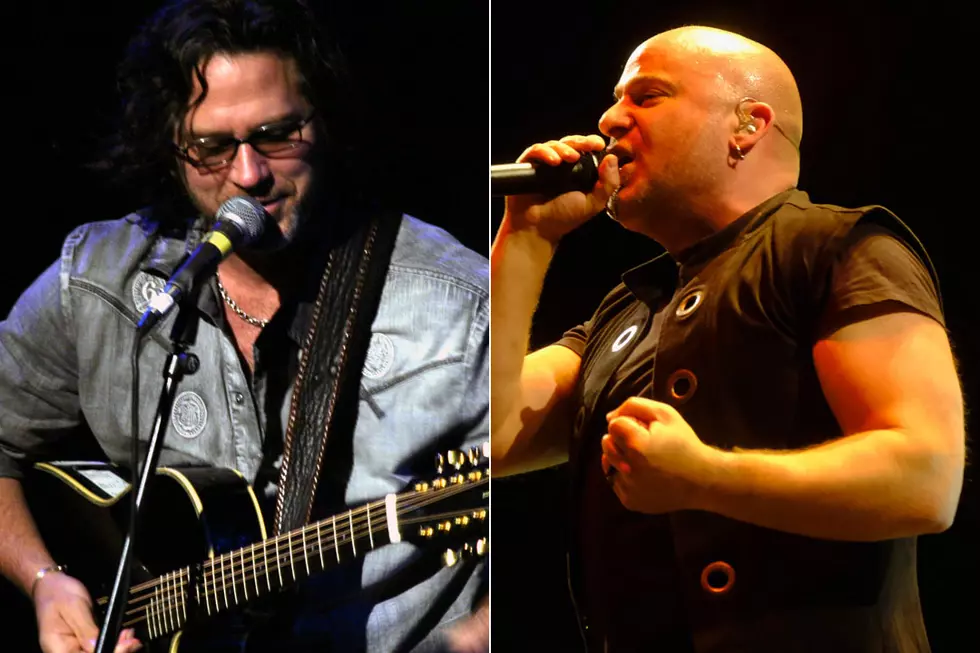 Winger and Disturbed: Behind This Year's Surprising Grammy Nominations
Kellie Warren / Ethan Miller, Getty Images
Among the surprises found in the list of the nominations for the 2017 Grammy Awards were nods for Disturbed's cover of Simon & Garfunkel's "The Sound of Silence" in the Best Rock Performance category and Kip Winger of Winger for his classical record C.F. Kip Winger: Conversations With Nijinsky in the Best Contemporary Classical Composition category. Following the announcement, Winger and Disturbed frontman David Draiman spoke about their nominations.
Our sister site Loudwire caught up with Draiman, who recalled the day Disturbed performed the song on Conan, which is what earned them the nomination. "I was sick as a dog," he said, laughing. "I remember I was definitely fighting something off, but it was a cool experience. It was cool performing with an actual orchestra. It was really vibing and the mood helped, I think, enhance the delivery. The stars just aligned that night and everything went right."
Although Disturbed's radical reworking of the song went viral and earned an endorsement from Paul Simon, Draiman knows that he has a tough battle for the Grammy. Also nominated were David Bowie's Blackstar and Beyonce's "Don't Hurt Yourself," which features Jack White. "[T]here's crazy, crazy competition in this category," he continued. "We're up against some of the most legendary artists of all-time and a posthumous award for David Bowie seems like the right thing to do. So it's tough, man. If we lose to anybody, I hope it's to him."
Winger's ambitious album was a celebration of the life of the legendary Russian ballet dancer/choreographer Vaslav Nijinsky. The four-movement piece was recorded with the San Francisco Ballet Orchestra under the direction of conductor Martin West. Winger told the Los Angeles Times that he struck upon the idea while he was reading about the life of Nijinksy, who was the world's most famous ballet dancer of the early 20th century, but a diagnosis of schizophrenia in 1919 cut short his career at the age of 28, and he spent the remaining 30 years of his life in and out of psychiatric hospitals.
"There was a point in one of the movements where I was composing this one section," he said, "and all of a sudden — and this sounds weird, but — I was struck with the spirit of Nijinsky, where the material that I was reading all came together. I was only halfway done with the piece, and then all of a sudden it was like ... whatever that creative muse is just comes in like a bolt of lightning and you're having a dialogue with Nijinsky. That's what happened, so it became a dedication to Nijinsky. I was writing what I saw as the unseen dances of Nijinsky — had he not gone insane."
And given how, by the '90s, Winger became somewhat of a punchline thanks, in part, to Beavis & Butt-Head, Winger said that his nomination is somewhat of a vindication. "I personally took a lot of heat in the music business with MTV and all that stuff," he continued. "The irony of my life was that my whole thing is like, there's two things I want to do in life: study music and write music. So being kind of a musicologist geek that I am, it was ironic to become known as a poseur-y '80s figure. For me, I just feel really, I do feel proud of myself that I really stuck to my guns and just kept going. This is what I am. And this is what's important to me."
The 2017 Grammy Awards ceremony will be broadcast live on Feb. 12, 2017 on CBS.
10 More Times The Grammys Got It Wrong
More From Ultimate Classic Rock