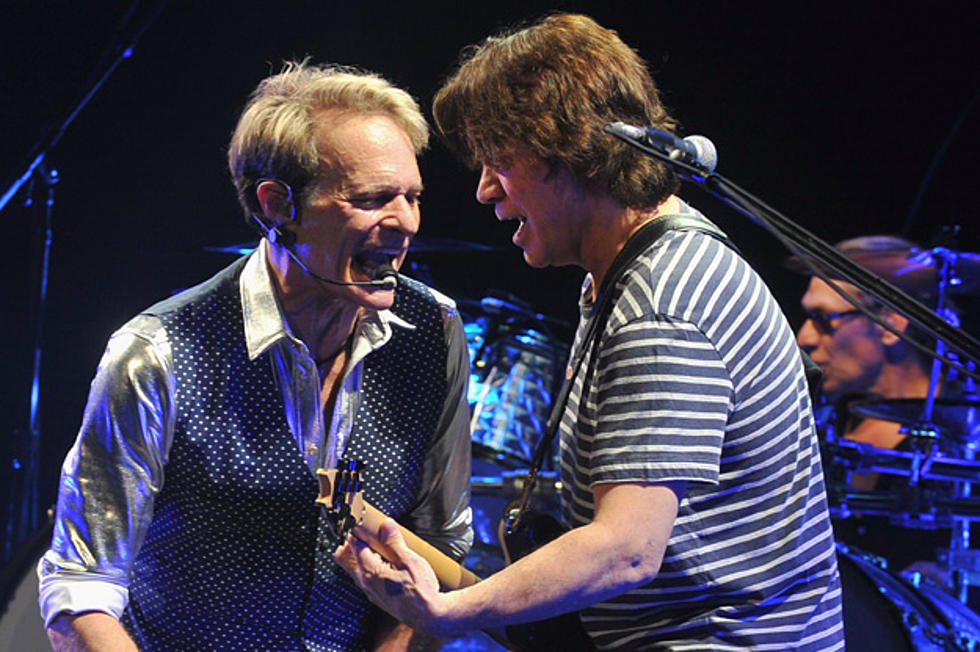 Van Halen 2012 Tour Set List – Louisville, Kentucky
Van Halen kicked off their 2012 tour in Louisville, Ky. last night (Feb. 18) with a 22-song set list that sent the sold-out crowd singing happily -- albeit a little wobbly and off-key -- into the night. 
The evening's performance was naturally (and properly) dominated by many of the same big hits and beloved album tracks featured on the band's 2007-08 reunion tour,  but there was also a fair sampling of tracks from their new album 'A Different Kind of Truth' and a handful of newly unearthed catalog gems.
Four songs from the new album were performed at the show --  'She's the Woman,' 'Tattoo,' 'China Town' and 'The Trouble with Never.' Of course, that meant some classics had to be elbowed out, and 'I'm the One, 'Atomic Punk,' 'Little Dreamer,' 'Jamie's Cryin',' 'So This is Love' and 'And the Cradle Will Rock..." all featured prominently on their last trek, were nowhere to be heard tonight.
Now, it could certainly be that the set list changes from night to night, and a couple of long-absent tracks from the band's 1979 sophomore album 'II' were dusted off for a show-highlighting sequence rather late into the evening to add variety and help make up for the missing favorites.
You can read our review of Van Halen's 2012 opening night here; it'll be exciting to see how the tour evolves over the next few months.
Van Halen 2012 Tour Set List - Louisville, Kentucky
'You Really Got Me'
'Runnin' With the Devil'
'She's the Woman'
'Romeo Delight'
'Tattoo'
'Everybody Wants Some!!'
'Somebody Get Me a Doctor'
'China Town'
'Mean Streets'
'Pretty Woman'
Drum Solo
'Unchained'
'The Trouble With Never'
'Dance the Night Away'
'I'll Wait'
'Hot for Teacher'
'Women in Love'
'Outta Love Again'
'Beautiful Girls'
'Ice Cream Man'
'Panama'
Guitar Solo
'Ain't Talkin' 'Bout Love'
'Jump'
More From Ultimate Classic Rock