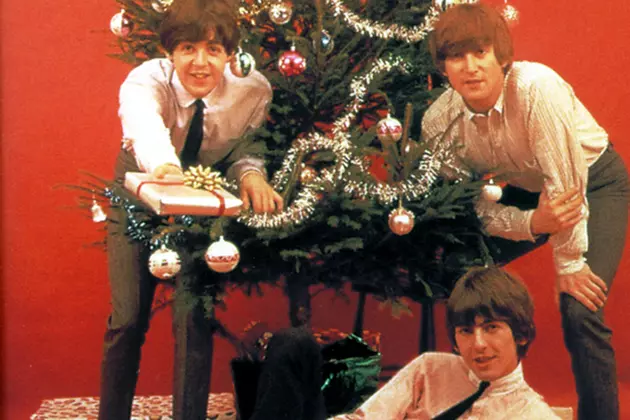 GAB Archive, Getty Images
The top Christmas songs help make the holidays one of the most wonderful times of year to be a fan of classic rock. We're sure you're all aware that radio stations and retail outlets start overplaying the traditional songs of the season weeks before Thanksgiving. Thankfully, somewhere between the sugar and the sap, a few classic rockers smashed the mold, putting their spin on tradition, making our season a whole lot brighter. To provide a little extra thump for your holidays, here are our Top 10 Christmas Songs:
10

'2000 Miles'

The Pretenders

From 'Learning to Crawl' (1984)

Chrissie Hynde and the newly reconstituted Pretenders commemorate the holidays on a bittersweet, longing note with the first song on our list of the Top 10 Christmas Songs. It was reportedly written as a tribute to the band's original guitar player James Honeyman-Scott, who passed away a couple of years before. The lyrics capture the sadness of missing loved ones at the holidays perfectly. OK, onto cheerier things now, yes?

9

'Christmas Time Is Here Again'

The Beatles

Fan Club Single (1967)

Between 1963 and 1969, the Beatles treated their fans to a special gift at Christmas with a record that was unavailable elsewhere. This six-minute dose of holiday cheer was originally recorded in 1967 as a fan-club record but wasn't officially released until 1995 as part of the Anthology project. Released on the "Free as a Bird" CD single, this version gets edited down to three minutes but is still a favored number by fans of the Fab Four. Chances are, you'll be humming it for days. Superimposed near the end of the song are some spoken word seasonal greetings that were taped in 1966, followed by one of John Lennon's free-versed poems.

8

'Christmas All Over Again'

Tom Petty & the Heartbreakers

From 'A Very Special Christmas Volume 2' (1992)

Tom Petty's "Christmas All Over Again" reminds us of two things; how quickly a year can pass and what a great pop songwriter Petty is. Released in 1992 as part of the Very Special Christmas series benefiting Special Olympics, this song alone has raised over $200,000 for athletes with intellectual disabilities. Petty has said that track is a tribute to Phil Spector's A Christmas Gift for You album, and the Wall of Sound is on full display here. It climaxes when our guide rips off his own wish list that includes a new Rickenbacker guitar.

7

'Little Drummer Boy / Peace on Earth'

David Bowie & Bing Crosby

From: Single (1982)

It's hard to imagine a stranger pairing than David Bowie and Bing Crosby, yet it works magnificently. Recorded in September of 1977 for the upcoming Bing Crosby's Merrie Olde Christmas television special, the two performers seem to be a mismatch made in heaven. On a set that looks traditionally merry, the duo sing the 1957 classic "Little Drummer Boy", along with new tune called "Peace on Earth." If any song here smashes tradition and transcends generations, it would have to be this one.

6

'Thank God It's Christmas'

Queen

From: Single (1984)

Christmas songs deserve to be big and dramatic and who better to deliver that kind of charisma than Freddie Mercury? Actually, this number was written by guitarist Brian May and drummer Roger Taylor, but they had a knack for writing songs that Mercury could breathe fresh life into. Never featured on an actual Queen album, this song can be found on the band's Greatest Hits III release and on multiple holiday compilations.

5

'Sock It to Me Santa'

Bob Seger & the Last Heard

From: Single (1966)

This one comes straight from the ghosts of Christmas past. Prior to the Silver Bullet Band, when Bob Seger was still recording under the name Bob Seger and the Last Heard. Recorded in 1966, this single was heavily inspired by the James Brown number "Papa's Got a Brand New Bag." Seger bares all here, completely letting loose some soul that can only stem from Detroit. (His version of "The Little Drummer Boy," from the first Very Special Christmas compilation, is also worthy of a mention.)

4

'Santa Claus Is Coming to Town'

Bruce Springsteen

From: Promo single (1975)

It just wouldn't sound like the holidays without including Bruce Springsteen, and this holiday staple is the oldest Christmas song (1934) on our list of the Top 10 Christmas Songs. Blame it on his rustic voice, the jingle of that sleigh bell or perhaps its that sweet shout out to Clarence Clemons, but Springsteen brings the cookies and the milk to the table with this one. Included in his live set as early as December 1973, it's the Dec. 12, 1975 live version of the song that we hear and cherish the most. Granted, it's overplayed but who cares? It's Christmas and we love our Bruce.

3

'Wonderful Christmastime'

Paul McCartney & Wings

From: Single (1979)

Simply having a fit yet? There's no middle ground here, you either love it or hate it. It's Paul McCartney and Linda being all lovey-dovey, repeating the same lyric over and over -- "ding-dong-ding dong" -- enjoying the festivities as only members of a band called Wings can. Pure pop, pure Paul, pure synth delight. If you're considering making a move under the mistletoe this year you can't go wrong if this song is playing. Go for it.

2

'Father Christmas'

The Kinks

From: Single (1977)

Now we're talking; a real classic, anti-Christmas rocker with a badass attitude to go with it. This is the real McCoy of Christmas songs. Guitars, sass and a storyline that holds your attention. Basically, it's everything we've come to love about the Kinks wrapped up in a Union Jack gift box. No holiday sentiment here, just poor street kids asking for money instead of presents and willing to beat up Santa in order to get it. The single didn't do very well when it came out, but over time it's become a cult classic and certainly rates high on our list of the Top 10 Christmas songs.

1

'Happy Xmas (War is Over)'

John & Yoko/Plastic Ono Band

From: Single (1971)

If this song by John Lennon and Yoko Ono doesn't make you shed a tear at least once in your lifetime, you really are a grinch. This protest song about the Vietnam War has become a Christmas standard. It is based on the 1969 campaign that found John and Yoko renting billboards in major cities proclaiming "WAR IS OVER! (If You Want It) Happy Christmas from John and Yoko." It's produced by Phil Spector and features children from the Harlem Community Choir on backing vocals. It's a song that poses the question "what have we done?" and the lyrics are double-edged in politics and passion. It's painfully honest, yet the message of peace is loud and clear and it's one that we still hope for all these years later.

BONUS

Remember Bon Jovi's Strange Christmas Song?
More From Ultimate Classic Rock