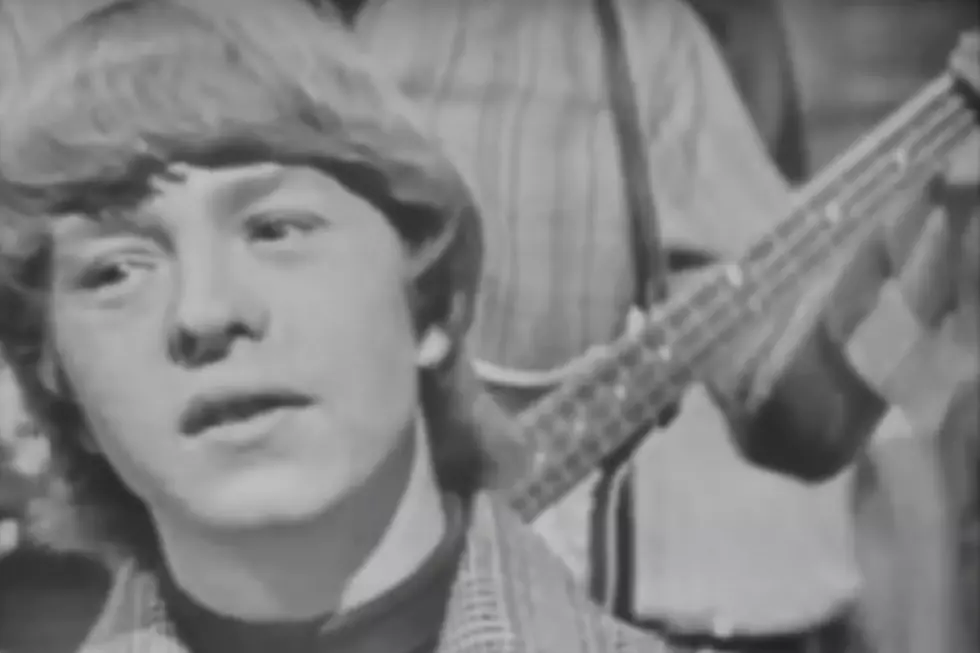 How the McCoys Hit the Top of the Charts With 'Hang On Sloopy'
YouTube
Singer and guitarist Rick Derringer burst onto the rock scene in 1965 as leader of the McCoys. The band's "Hang On Sloopy," their biggest hit, topped the Billboard singles chart on Oct. 2, 1965.
Derringer, who had a 1974 solo hit with "Rock and Roll, Hoochie Koo," later worked with Edgar and Johnny Winter, Steely Dan and Ringo Starr's All-Starr Band, where he boasted that behind "Hang On Sloopy" at No. 2 was the Beatles' "Yesterday."
But Paul McCartney's classic supplanted the McCoys' hit the following week and stayed at No. 1 for a month.
"We like to say 'Hang On Sloopy' was No. 1 while 'Yesterday' was No. 2." Derringer told WLOY Radio. "They don't have to know which one was going which direction."
After Derringer told the story during his first three dates with the All-Starr Band, he was asked to clear his remarks with Starr.
"So I went back before the fourth show and I said, 'I've been told that I should talk to you about whether or not it's OK to be telling this story about 'Hang On Sloopy' being No. 1 while 'Yesterday' was No. 2. Well, what do you think Ringo, is it OK?' And Ringo Starr looked back at me and he said, 'I didn't play on either one of them!'"
An R&B hit for the Vibrations in 1964, "Hang On Sloopy" was written by Bert Berns and Wes Farrell as "My Girl Sloopy," Berns, who founded Bang Records, also co-wrote or produced such classics as "Piece of My Heart," "Brown Eyed Girl" and "Twist and Shout." In fact, the success of the Beatles' cover of the Isley Brothers' "Twist and Shout" prompted Berns to do the same with "My Girl Sloopy."
The first band to score a hit on Bang was the Strangeloves. Billed as a trio of fake Australian sheepherders, the Strangeloves were really Brooklyn-born producers Richard Gottehrer, Jerry Goldstein and Bob Feldman. The band toured the U.S. in 1965 as "I Want Candy" reached No. 11. "My Girl Sloopy" was part of their repertoire but it was too soon to release it as a follow-up single.
Listen to the McCoys Perform 'Hang On Sloopy'
Instead, Berns enlisted the producers to find a group of kids who looked like the Beatles to record what would be retitled "Hang On Sloopy." On the last stop of the tour, the Strangeloves' backing group was Rick and the Raiders, fronted by Rick Derringer.
"Coincidentally, the day that we were going to play as their backup band in Dayton, Ohio, we went out and bought Beatle suits," Derringer told Living Legends Music. "We all had our little Beatle haircuts, we had our Beatle suits on. They hadn't found the band that looked like the Beatles yet. And we went out there and they said, 'One of the songs we're gonna play is "My Girl Sloopy"' and we all went, 'Whoa, we love that song.'"
"So we played the heck out of it, because we knew it and loved it. So of course afterwards, it was the last show on their tour and they hadn't found that band yet. They brought us backstage and they said, 'Would you like to come to New York tomorrow and record 'Hang On Sloopy?'"
He continued, "So we hitched a U-Haul trailer on the back of our car and followed the Strangeloves to New York City the next day and went in the studio the next week and recorded what was soon to become known as 'Hang On Sloopy' and the engineers jumped up and down in the control room and yelled 'Number one! Number one!' and within a few weeks it was."
Due to the popularity of Paul Revere and the Raiders, Derringer's band was renamed the McCoys. But all these years later, no one knows with certainty the real name of the original Sloopy. A St. Louis businessman has said that he sold the song to Berns for a few thousand dollars when he was a teen; another story is that Dorothy "Dottie" Sloop, a New Orleans jazz pianist is the '30s and '40s, was the inspiration.
But Derringer was told by Berns that he picked up the expression in Cuba. "He said 'Sloopy' was a colloquialism, he put it, or a nickname for girls in Cuba," Derringer told Karen Kernan. "He said the guys would go, 'Hey Sloopy, how ya doin'?' And he said he took that and he wrote 'Hang On Sloopy.'"
"Hang On Sloopy" has become a garage rock classic and has been covered by everyone from the Yardbirds to Bruce Springsteen to Smashing Pumpkins. In 1985, "Hang On Sloopy" was named the official rock song of the state of Ohio. The song is regularly played at the home games of Cleveland's sports teams the Indians, Browns and Cavaliers. "Hang on Sloopy" was part of the Rolling Stones' live sets in 1966. When the Stones performed at Ohio Stadium in Columbus on May 31, 2015, Mick Jagger led the crowd through the raucous chorus of "Hang On Sloopy."
 
 
The Top 100 Albums of the '60s
More From Ultimate Classic Rock