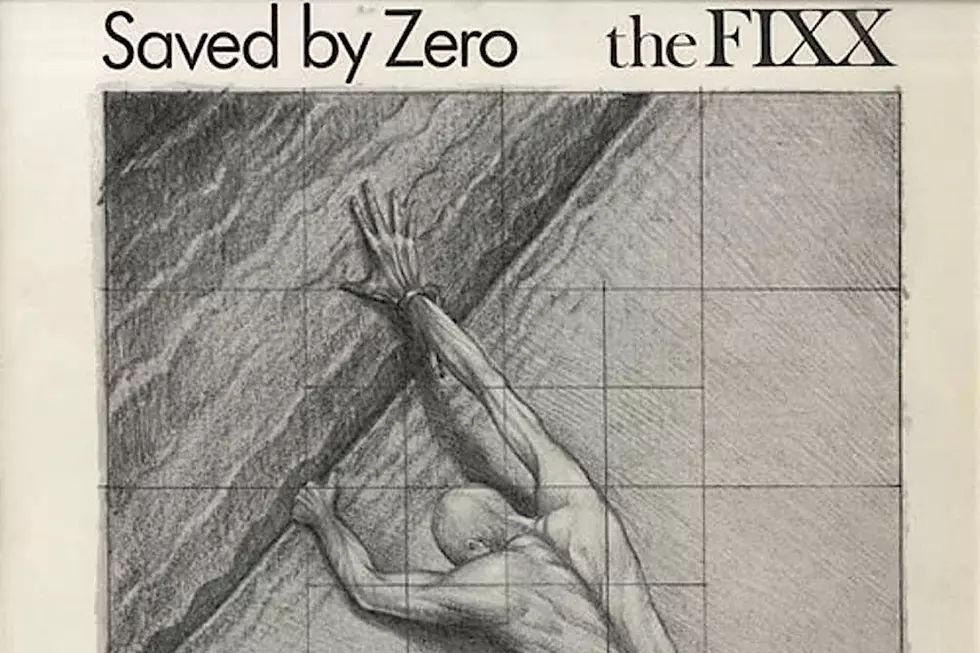 40 Years Ago: The Fixx Looks Inward on Breakthrough 'Saved by Zero'
MCA
Singer Cy Curnin was in a contemplative mood as the Fixx began to emerge from college radio. "Saved by Zero" captured it well, arriving on May 10, 1983, as the first single from Reach the Beach.
"Life was starting to get more full with distractions, and I'm a sort of minimalist at heart," Curnin told Songfacts in 2012. "I always fight for that space. So ["Saved by Zero"] was a sort of a mantra that came from some of the teachings that I was learning back then with my earliest dipping into Buddhism."
Even before the Fixx aimed for the upper reaches of the Hot 100, Curnin was desperately trying to keep his life in balance. "Saved by Zero" would be "about looking at your own life, not so much about amassing material things but about experiences that lend you to be blissful," Curnin told the Las Vegas Sun in 2008. "The song was written from the point of view of the release you get when you have nothing left to lose. It's sort of a meditation. It clears your head of all fears and panics and illusions, and you get back to the basics."
It wouldn't be easy. After all, the Fixx was about to become a staple on MTV as "Saved by Zero" soared into the Top 10 with help from director Brian Grant's Citizen Kane-inspired music video. The subsequent "One Thing Leads to Another" went still higher up the charts while the Fixx was opening for the Police on their massively successful Synchronicity tour.
"Yeah, that was the big one; that was just a trip," Curnin told the Stockton Record in 2002. "We were just unfolding our wings for the first time, and within six weeks we played to one-and-a-half million people. It was a major turn of events. We learned a lot from that."
Watch the Fixx's 'Saved by Zero' Video
Curnin was in his late 20s, and he believed that being a bit older before finding fame helped him better navigate these new challenges; so did a dive into deeper thought while constructing "Saved by Zero."
"It was East meeting West for me," Curnin told Songfacts. "It was Eastern ancient philosophies that people live as a daily code over there to necessity. And we in the West absorbing this Buddhism, at the time it wasn't a necessity for functioning life, but it was a necessity for calming the mind and getting to a place of no mind and losing frustration and ego. So that's what it was for then."
Exposure on MTV was also turning the Fixx in general and Curnin in particular into teen-magazine fodder. Curnin was trying to hold onto some scrap of his old self. "Our identity isn't the suit we wear or the latest gadget," he told the Las Vegas Sun. "Our identity is the freedom to pick and choose from all aspects of humanity and to make a stand."
They'd taken a more political tack with the earlier "Stand or Fall," pointedly asking, "Our destiny relies on conscience – red or blue, what's the difference?" This time, they were simply standing up for themselves.
That didn't stop people from searching for deeper meaning within this hit single's numeric title. They found lots of intriguing history. So did Curnin.
Zero is understood to be the last number that was invented, used initially as a proxy before officially taking its place among the others. "Without that, calculations would have been completely wrong – because we were following the Roman rhythmic calendar which believed that one was the first number," Curnin told Songfacts. "In fact, zero is the first number, because what stops one being minus one is zero."
This idea that zero is neither negative nor positive also inadvertently strengthened Curnin's larger point about letting go. "There's no such thing as a negative zero," Curnin added. "There's just zero, which is this side of the line. ... Not that I was thinking that when I wrote 'Saved by Zero' – but, you know what? I'm taking it anyway."
Top 40 New Wave Albums
From the B-52's to XTC, Blondie to Talking Heads, a look at the genre's best LPs.
More From Ultimate Classic Rock