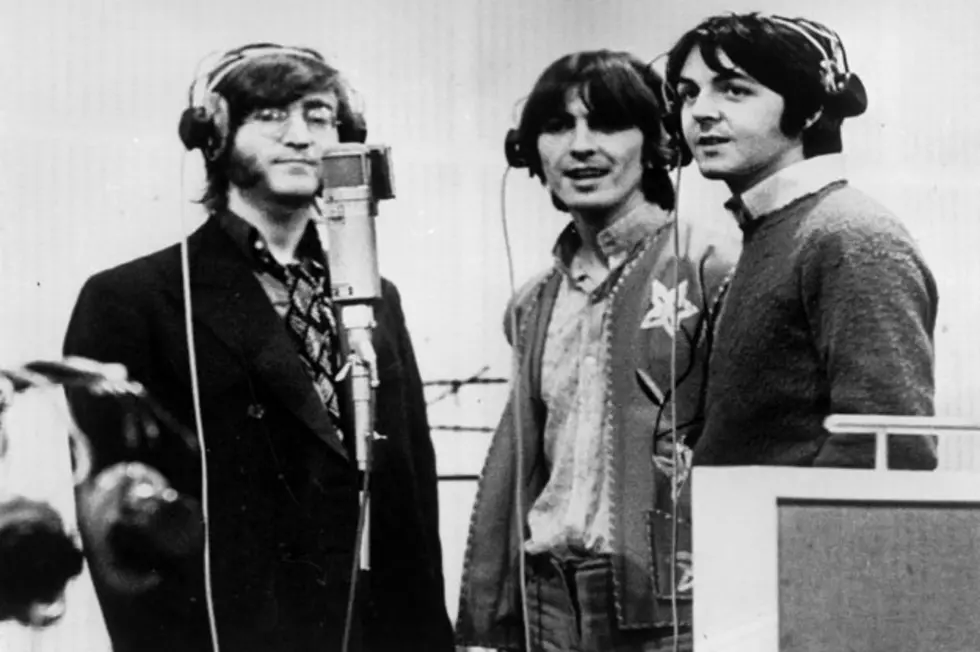 The Beatles, 'Come Together' – Lyrics Uncovered
During his 1969 "bed-in" with Yoko Ono in Toronto, John Lennon wrote the first draft of the lyrics for 'Come Together,' the song that would eventually lead off the last album the Beatles made together, 'Abbey Road.'
Written at the request of psychologist Timothy Leary for his planned campaign to be the governor of California, the song took a different path after Leary ran into legal problems that effectively derailed his candidacy before it really got started.
As is the case with many of Lennon's compositions (and especially those from the later period of Beatles and solo recordings), there's no shortage of inside jokes and sly cultural references to events that were going on during the time period: "He bag production / He got walrus gumboot / He got Ono sideboard he one spinal cracker / He got feet down below his knees / Hold you in his armchair, you can feel his disease."
In the 40 plus years since 'Come Together' was recorded, there's been plenty of debate about what the lyrics are about. Nearly everyone agrees that each one of the four verses relates to an individual Beatle, but matching the verses to each member is a bit tricky.The third verse above is the easiest, loaded with references that can be traced to Lennon, most notably the Yoko Ono reference with "Ono soundboard."
The verse also contains one of the most famously misheard lyrics, with the incorrect lyric "hold you in his armchair, you can feel his disease" even making it into print on the official sheet music for 'Come Together.' Although the correct reading was actually "hold you in his arms, yeah you can feel his disease," Lennon heard the incorrect version and liked it, so he gave it his endorsement.
Another misheard portion of 'Come Together' comes at the very beginning of the song, with Lennon whispering what sounds like "shoot," when in actuality, it's "shoot me" with the second word getting drowned out by the hand claps that immediately follow.
The "Coca-Cola" line in the second verse ("He wear no shoeshine he got toe-jam football / He got monkey finger / He shoot Coca-Cola / He say I know you, you know me/ One thing I can tell you is you got to be free") wasn't the obvious nod to the soft drink that you might expect, but instead, a reference to cocaine.
The BBC apparently were not up to date on their drug slang references. Ironically, they banned the track for a more innocent reason -- they considered the lyric to be advertising for Coca-Cola, which went against their policies.
What does it all mean? The best answer for that question may come from Lennon himself – he told a Playboy interviewer in 1980 that the song was "gobbledygook" created in the studio. "Gobbledygook," perhaps, but still a compelling subject to ponder all of these years later.
Watch Unauthorized, Computerized Versions of the Beatles Perform 'Come Together'

More From Ultimate Classic Rock