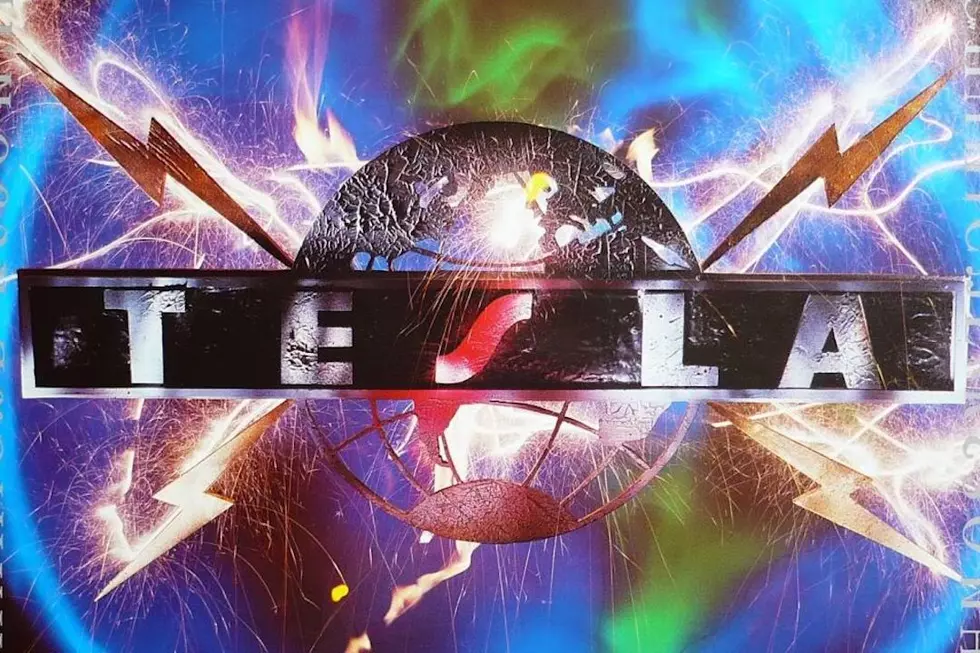 30 Years Ago: Tesla Debut With 'Mechanical Resonance'
Geffen
In the mid-'80s, hair metal was king. New bands eager to join the raging party were sprouting up in record numbers, but they all started to become the same group, no matter how outrageous they looked, how over-the-top their behavior was or how they sounded.
So it's not surprising when many music fans, under assault by this audio-visual cacophony, failed to notice the arrival of a new group named Tesla and their debut album, Mechanical Resonance, in the waning days of 1986. You see, Tesla were different ... Sure, they sported long hair and tight jeans, but not makeup, rarely spandex and their dues-paying years prior to scoring a major label contract had been spent not partaking in the sinful delights found on Los Angeles' teeming sunset strip, but in the working-class clubs of Sacramento.
Even their name -- changed at the last moment from City Kidd -- was borrowed from an eccentric, early 20th-century genius named Nikola Tesla (even more obscure back then), and their album title from one of his scientific theories.
Tesla's distinction from their hard rock peers arose largely from their ability to play along with the era's commercial tendencies, while simultaneously offering enough musical substance for those willing to listen a little more closely.
One might almost accuse vocalist Jeff Keith, guitarists Frank Hannon and Tommy Skeoch, bassist Brian Wheat and drummer Troy Luccketta (as well as their savvy production team of Steve Thompson and Michael Barbiero) of being wily opportunists, who intentionally sequenced Mechanical Resonance to fool none-the-wiser cock-rock fans with a perfectly executed bait-and-switch.
On its first half, the album unleashed a slate of typical metal anthems, adorned with suitable titles like "EZ Come EZ Go," "Cumin' Atcha Live," "2 Late 4 Love" and "Rock Me to the Top," not to mention arena-sized hooks galore.
The only hints of anything unexpected, hiding in between the grooves, were suggested by the soft-hard dynamism of "Gettin' Better" and the soulful ballad "We're No Good Together," which had more in common with the Black Crowes' "She Talks to Angels" (still a few years away) than Motley Crue's "Home Sweet Home."
None of which prepared listeners for the more adventurous songs saved for the album's second half, including the Zeppelin-esque ambitions of "Modern Day Cowboy," the emotionally draining "Changes" and comparatively sunny "Little Suzi." Those were followed by another upfront rocker, "Love Me," before closing strong with the artsy and angular "Cover Queen" and, finally, the moody slow-boiler "Before My Eyes."
Played start to finish, Mechanical Resonance's track listing was an eye-opening experience -- the best of both worlds, and it caught the attention of critics looking for something positive about the increasingly decadent hair-metal scene.
Even more important, it caught the attention of Def Leppard, who hand-picked Tesla to open several legs on their world-spanning Hysteria tour, helping the young band get over the hump.
Tesla's music did the rest, especially when the peroxide glow of L.A. glam metal started to fade, leaving room only for bands capable of churning out quality hard-rock songs like those contained on Mechanical Resonance.
See the Top 100 Albums of the '80s
More From Ultimate Classic Rock