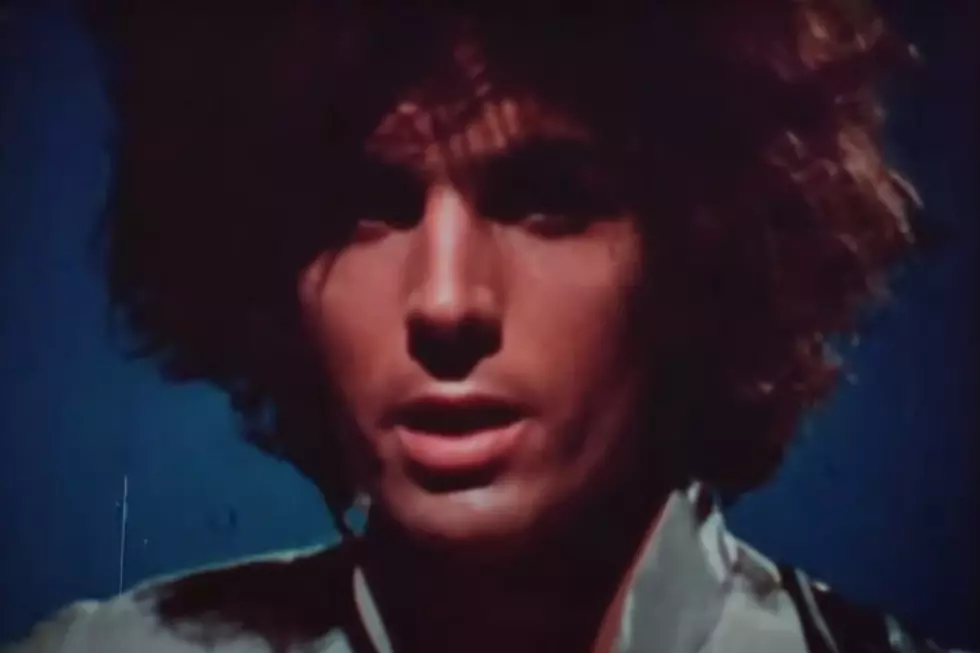 When Syd Barrett Played His First, and Basically Last, Solo Show
YouTube
Syd Barrett, the troubled genius who co-founded Pink Floyd before disappearing into drug-fueled dementia, didn't have much of a solo career.
There were only two albums, both in 1970, and both with the help of former bandmate David Gilmour. Gilmour was there too, playing bass, when Barrett made his first, only and very quickly ended solo concert appearance. The occasion was the Music and Fashion Festival, held on June 6, 1970, at Kensington Olympia. Barrett, who played guitar and sang, was also joined by Jerry Shirley on drums. But not for long.
Barrett offered just four songs – dealing with some soundboard mixing problems along the way – before quietly laying his guitar down and then vanishing. Other than a few one-off guest appearances with others, Barrett would never play before an audience again. By 1974, he had withdrawn from public life all together, at just 28 years old.
It represented a stunning turn of events for someone whose muse sat at the center of Pink Floyd's initial ascension in psychedelic-rock circles. He was the band's principal songwriter, lead singer and focal point from their formation through a series of classic singles like "Arnold Layne" and "See Emily Play" and into their celebrated 1967 debut The Piper at the Gates of Dawn.
By January 1968, however, the rapidly deteriorating Barrett was playing his final gig with Pink Floyd, having had only a small role in their sophomore Saucerful of Secrets album featuring newcomer Gilmour. As with so much of Syd Barrett's subsequent solo career, his Kensington Olympia appearance was as tantalizing as it was desultory.
Listen to Syd Barrett Perform Live
The set began and ended with songs from Barrett's underrated 1970 debut solo album The Madcap Laughs, co-produced by Gilmour and former bandmate Roger Waters. First came the blues-inflected "Terrapin," followed by the more whimsical "Gigolo Aunt" and "Effervescing Elephant" from the follow up Barrett, and then "Octopus." Gilmour, who also backed Barrett during an earlier Feb. 27, 1970, appearance on John Peel's BBC radio program, likewise produced Barrett.
"Gigolo Aunt" features a chord progression similar to Jeff Beck's "Hi Ho Silver Lining." "Effervescing Elephant" was also memorably performed for Peel. A demo version of "Octopus," then called "Clowns and Jugglers" and featuring the band Soft Machine, was released on the 1988 Barrett retrospective box set Opel.
"Terrapin" was later covered by Phish, the Smashing Pumpkins and, completing a circle, by Gilmour – as heard on the 2002 live project David Gilmour in Concert.
Barrett made at least one other radio appearance, recording a trio of songs for the BBC in 1971. He sat in with a loose group called the Last Minute Put Together Boogie Band in 1972, and later in the short-lived Stars. He never led his own group again.
Gilmour, however, remained an advocate for Syd Barrett's legacy, up to and after his old school mate's death in 2006. "Do find time to play some of Syd's songs," Gilmour said back then, "and to remember him as the madcap genius who made us all smile with his wonderfully eccentric songs about bikes, gnomes and scarecrows. His career was painfully short, yet he touched more people than he could ever know."
 
 
Pink Floyd Solo Albums Ranked
You Think You Know Pink Floyd?
More From Ultimate Classic Rock