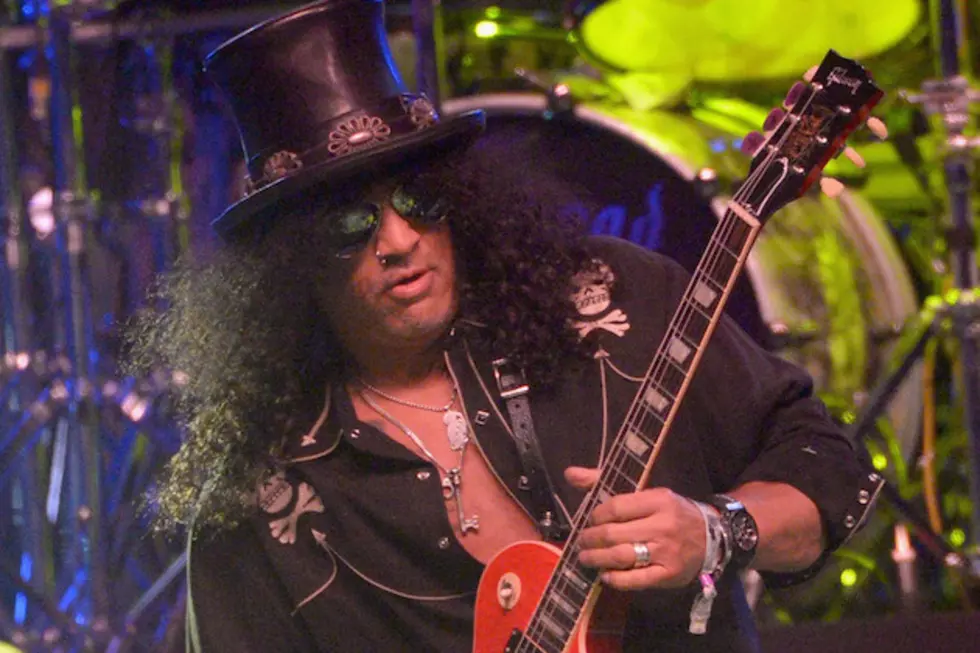 Slash Stays Humble After 'Sweet Child O' Mine' Is Named Second All-Time Best Riff
Jason Kempin, Getty Images
It's been one of the most instantly recognizable riffs in rock for more than two decades, so it's no surprise that Slash's lead guitar line on Guns N' Roses' 'Sweet Child O' Mine' recently placed second (behind Led Zeppelin's 'Whole Lotta Love') in a BBC poll that tried to determine the greatest riff of all time.
Slash isn't taking the honor too seriously, however. "I definitely don't sit there and go, 'Yeah, it's the greatest riff.' It's very surreal when somebody says something like that," he explained when asked about the poll. "It's not tangible -- there's been some sort of a poll, but you're not part of the effort of finding out that information and researching it. All of a sudden it just appears."
That said, he added, "You're very appreciative of it, and you count your lucky stars that you got mentioned in that position, or even at all. Then you take it with a grain of salt and try not to dwell on it."
Slash delved into the riff's history during a Q&A session with Guitar Center in 2008, crediting the song's development to the easy chemistry that existed among GNR's members at the time. "One of the killer things about the lineup that was Guns N' Roses was that anytime anybody came up with something, it was just like the rest of the band just innately knew what to do," he explained. "Songs almost wrote themselves."
In this particular case, he recalled, "We were sitting around, we had just gotten a record deal ... we basically partied in this house to the point that it was just a burned-out frame of a place. One afternoon I was sitting around with Izzy and Duff and had stumbled on this sort of melody, this sort of unorthodox pattern, and I was trying to perfect playing it because it was sort of a finger-twister. Duff and I think Izzy started playing some chords behind it, and it started taking on a life of its own. Unbeknownst to me, Axl was upstairs and heard it, and had some ideas ... A couple days later or the next day at rehearsal, Axl goes, 'Hey, play that song you guys were jamming in the living room yesterday,' and so we started playing it. It just became this tune."
The track's melodic structure made Slash uncomfortable at the time, given that it deviated from the band's heavy approach, but massive success has a way of soothing that pain. "I had a hard time with that song for a long time because it was so happy and whatnot, but at the same time, it was still a good song," he added. "Ironically enough, it turned out to be the biggest single off that record."
More From Ultimate Classic Rock