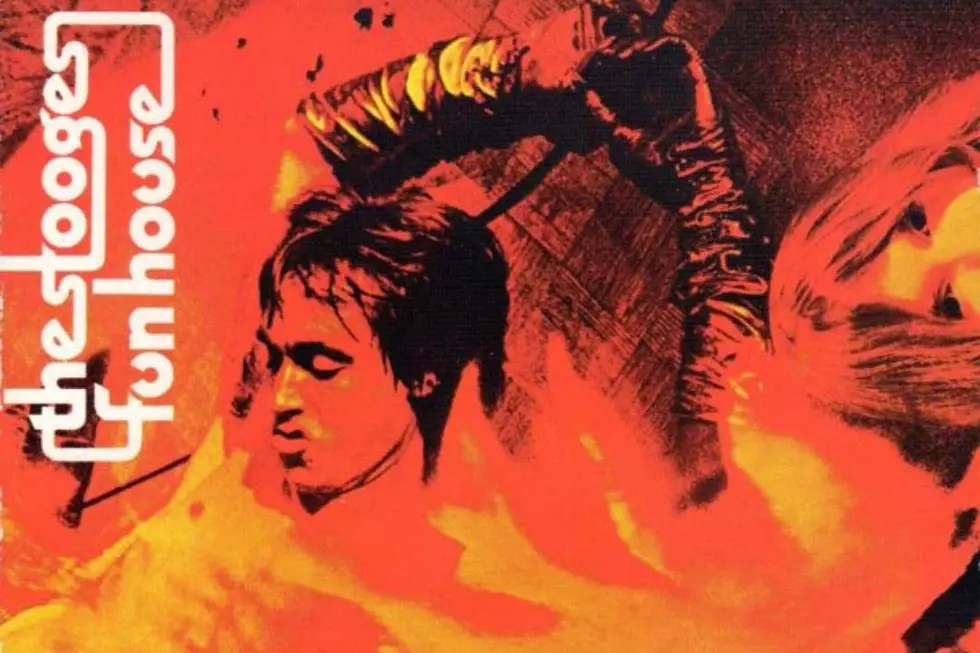 How the Stooges' Created a Pre-Punk Milestone With 'Fun House'
Elektra
The Stooges' debut album from 1969 didn't even crack the Top 100 on Billboard's album chart, so it wasn't like too many people were waiting for the follow-up. Which was just fine. Without expectations all that high, the band was free to explore almost any path it wanted to on Fun House.
Still, their record company had faith in them – sorta, a little – and the Stooges were slowly picking up fans with their plugged-in, distortion-overloaded brand of scuzzy garage rock. So the second album, while maybe not as anticipated as some of the other post-hippie records that were starting to trickle out around the same time, was still under the watchful eye – sorta, a little – of the band's bosses.
So the label enlisted former Kingsmen keyboardist Don Gallucci to run the sessions, which were already booked for a two-week period in the middle of May 1970 in Los Angeles.
And like former Velvet Underground member John Cale, who produced the Stooges' self-titled debut, Gallucci realized that the group's proto-punk attack wasn't easily captured on tape. So he did what he figured was the most sensible thing: He had the band play the handful of new songs it had written for the album a dozen times each, sorting through them later to pick out the most usable version.
Not that that made things any easier. As anyone who's heard Fun House in the years since its release on July 7, 1970 (or especially the seven-disc, 1999 box set 1970: The Complete Fun House Sessions) can tell you, the record is one of the most abrasive, pummeling and aggressive sonic assaults ever made. Capturing that on tape, and then settling on a definitive version, was no easy task.
But because the Stooges really had almost nothing to lose – their debut made little to no impression in mainstream circles – they pretty much recorded Fun House the way they played live: amps cranked to full power, band members huddled together in one room, singer Iggy Pop recreating his stage show in the studio.
Listen to the Stooges' 'Down on the Street'
The result is one of the most primal and unhinged albums ever made. Saxophone player Steve Mackay, a temporary addition to the band who also came from the Stooges' hometown of Detroit, blurts his way through songs in an acid-damaged take on free-jazz pioneer Ornette Coleman's improvised soloing, pushing Fun House into a sort of avant-jazz proto-punk garage scuzz-rock genre all its own.
From the opening smackdown combo "Down on the Street," "Loose" and "T.V. Eye" to the closing "L.A. Blues," probably the most unstructured song released by a major label during the first half of the '70s, Fun House is a mess of sloppy guitar riffs, thrashing drums, larynx-shredding screams and saxophones that sound like they're being tuned to the sound of mating zoo animals. It's also brilliant, a pre-punk milestone years ahead of the movement it unwittingly helped inspire.
Any surprise then that the album fared even worse than its predecessor? The Stooges didn't even make the Top 200 this time, and when the band regrouped, after breaking up, a couple of years later to record its third LP, Raw Power, it was for a different record company. Drug addiction, alcoholism, low record sales – nobody could blame Elektra for severing its ties with the band.
And hardly anyone noticed. At the time, anyway.
It would take a few years, but Fun House eventually became known as an early punk classic, a we-don't-fucking-care landmark that inspired its fans to pick up instruments, not bother to tune them and bash out unregulated noise that amounted to a merciless attack on all accessible senses and then some.
See the Stooges Among the Top 100 Albums of the '70s
More From Ultimate Classic Rock