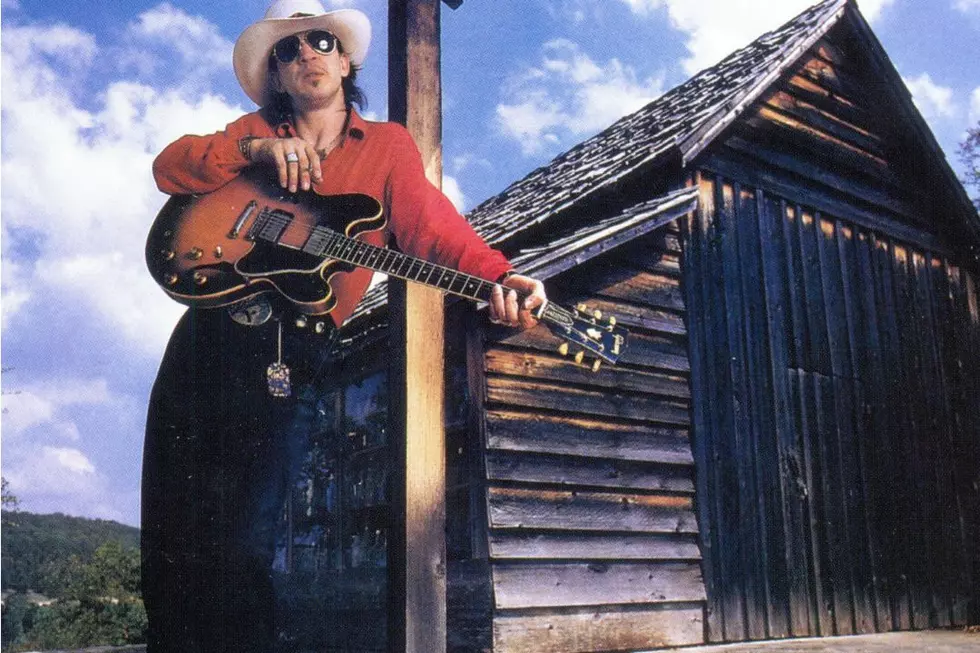 How Stevie Ray Vaughan Expanded His Sound on 'Soul to Soul'
Epic
As he entered the studio in the spring of 1985 to lay down the tracks for his third studio album, Soul to Soul, Stevie Ray Vaughan seemed destined for guitar-legend status — if his growing problems with substance abuse didn't wipe him out first.
Even under the best of circumstances, Vaughan might have had a hard time keeping up with the punishing pace established early in his recording career. A longtime fixture on the Austin, Texas club circuit with his band, Double Trouble, he started picking up worldwide attention after a 1982 appearance at the Montreux Jazz Festival. The next year, David Bowie tapped Vaughan to play guitar on his hit Let's Dance album, which arrived mere months before Vaughan and Double Trouble's debut, Texas Flood.
Like a lot of debut albums, Texas Flood had the luxury of time. Although it was recorded over just a couple of days at Jackson Browne's studio, the material — a mix of Vaughan originals and smartly-chosen covers — was years in the making. By the time the band returned to the studio in early 1984 to record the follow-up, Couldn't Stand the Weather, Vaughan was already facing the pressures of coming up with new songs while maintaining a dogged touring schedule.
Another Top 40 success, Weather only increased the demand for new product, so Vaughan booked time in a Dallas studio in the spring of 1985, reconvening with bassist Tommy Shannon and drummer Chris Layton for what turned out to be a lengthy and frustrating stretch of sessions. As Vaughan later recalled, although he'd quickly earned a reputation as a talented young guitarist, his extracurricular habits had also started attracting unwanted concern from his more experienced peers.
"We were doing a show with Albert King and he walked backstage and said, 'We gonna have a little heart to heart. I been watching you wrestle with the bottle three, four times already. I tell you what, man: I like to drink a little bit when I'm home. But the gig ain't no time to get high,'" Vaughan admitted in a quote published in a 1999 career retrospective. "He was trying to tell me to take care of business, give myself a break, but I did my usual deal of trying to act like I had it all together: 'Hey, ain't nuthin' wrong, man, I'm leading the life,' and all that bullshit."
That hazy atmosphere surrounded the sessions for what was to become Soul to Soul. Where Texas Flood was recorded in a couple of days and Couldn't Stand the Weather came together in less than three weeks, the Soul to Soul sessions stretched out for months. As Shannon recalled in the same retrospective, creeping burnout combined with the band's bad habits to produce a creative stasis they couldn't shake.
"It was getting pretty bad," Shannon admitted. "We were paying for the studio time and spending hours upon hours playing ping pong waiting for our cocaine to arrive before we'd play. I think Soul to Soul is a good record, but you can kind of tell that we're a little out of sorts."
Watch Stevie Ray Vaughan Perform 'Lookin' Out The Window'
Fortunately, Vaughan's own restlessness helped goose Soul to Soul back into gear. Never beholden to the trio format that largely defined their earlier records, he envisioned a bigger sound for Double Trouble, and enlisted keyboard player Reese Wynans as a new fourth member; as it turned out, the extra splash of sonic color was the missing link the band needed to get the record finished.
"We were in a bit of a drug and alcohol frenzy by then, and when you go into the studio you have to confront what you really sound like," explained Layton in an interview with Guitar World. "You can't just walk off the stage and have it over and done with. You're under a microscope. Soul to Soul came out well, but it was very difficult to make, and I think that had a lot to do with asking Reese to join. It was like, 'We need some help here,' somebody to help carry everything."
Perhaps ironically, given the creative struggles and looming exhaustion that fed into the album, Soul to Soul arrived on Sept. 30, 1985 as a pretty uptempo collection of songs — a record that fulfilled Vaughan's stated goal of capturing the way he felt as a kid in the summertime. Wynans' presence also signaled that while Vaughan had been held up by rock critics as a leader in an emerging blues renaissance, he was more than a mere revivalist, and not content to skate by on his own instrumental prowess.
"I'm real close to it, and so it's hard to get a good perspective on it, but there're a lot of rockin' songs and then some like we've never played before," Vaughan mused in a 1985 interview with Guitar World. "There's definitely blues in it — not less blues than before — but it's a type of music we haven't really tried before, some different kinds of changes. There are a few other players here and there that people won't expect — some keyboards, some horns. But the moods are happier."
Unfortunately, although his musical moods might have been happier, things remained fairly dark in Vaughan's private life. With Soul to Soul finished, the band headed back on tour, and remained on the road for more than nine months, at which point they were told they owed the label another album; the result, 1986's concert recording Live Alive, captured a series of shows that found Vaughan and his bandmates at a dangerous low point. By the time that record arrived in stores in November 1986, Vaughan and Shannon had checked into rehab — and although fans wouldn't hear the newly clean and sober combo until 1989's In Step, Vaughan seemed to feel a change on the horizon even before Soul to Soul was released.
"We're trying for feeling. We try to accomplish something with the music, which is to feel through things. I've been trying to grow up some myself, in my heart, and it's happening quick and I feel good about it, and I want that to come out in the music," he told Guitar World in 1985. "Some big changes have taken place. I haven't resolved all my problems, but I'm working on it. I can see the problems, at least, and that takes a lot of the pressure off. I've been running from myself too long, and now I feel like I'm walking with myself."
 
 
Ranking Every Stevie Ray Vaughan Album
More From Ultimate Classic Rock