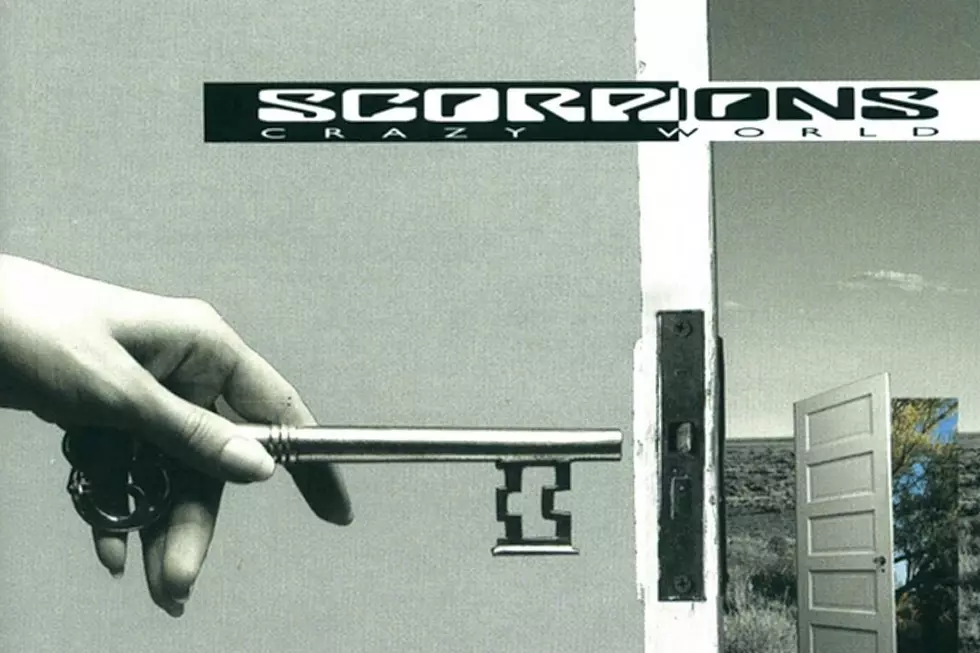 How Scorpions Welcomed Fans to a New Decade on 'Crazy World'
Mercury
Scorpions said hello to the new decade with their 11th studio album on Nov. 6, 1990. Crazy World simultaneously marked a return to the band's familiar sound — bright, clean, but guitar-driven tough — and a break with some of the group's longest-held traditions.
That sound had been conspicuously abandoned on the Scorpions' previous LP, 1988's Savage Amusement, which indulged in uncommonly pervasive electronics, guitar synths, and even dance beats. But in the midst of the pop-metal craze, it still sold a million copies and reached No. 5 in the U.S.
But it was also the last Scorpions record produced by Dieter Dierks, who had helmed every Scorpions album since 1975's In Trance, and was therefore as important as any band member in created the classic Scorpions sound. So they turned to Keith Olsen (Foreigner, Fleetwood Mac, Ozzy Osbourne, Whitesnake) for Crazy World, and decided to shake up their songwriting approach, to boot.
For years, the bulk of those efforts had fallen to rhythm guitarist Rudolf Schenker and vocalist Klaus Meine, with frequent assists from drummer Herman Rarebell (the best English speaker in the group), but on Crazy World, lead guitarist Matthias Jabs and even bassist Francis Buchholtz joined the fray — all of them aided and abetted where necessary by noted song doctor Jim Vallance (Bryan Adams, Kiss).
Watch Scorpions' 'Wind of Change' Video
The result, as mentioned earlier, was a successful resurrection of the Scorpions' vintage '80s melodic hard rock sound, peppered with naughty lyrics and turns of phrase, as evidenced by re-energized fist-pumpers like "Tease Me, Please Me," "Don't Believe Her," "Lust or Love" and "Kicks After Six," as well as mid-paced rockers like "To Be With You in Heaven," "Restless Nights" and the title track.
And the final complement to this unbeatable formula inevitably came via a pair of killer power ballads in "Send Me an Angel" and Klaus Meine's unusually political and whistle-powered, "Wind of Change." The latter, which dealt with the Glasnost movement in the Soviet Union, captured the global optimism that came with the end of the Cold War. It became one of history's all time best-selling singles, moving an estimated 14 million copies sold around the world.
Despite the unprecedented success of the single, the album had a comparatively less-than-stellar showing on the Billboard album chart, peaking at No. 21. Things would never be the same for Scorpions again. In 1992, Buchholtz departed, followed by Rarebell in 1998. Subsequent LPs would see much sonic tinkering in contrast with the glimpse of the group's "classic" lineup and sound on Crazy World.
Top 100 Live Albums
Rock's Top 100 Live Albums are more than just concert souvenirs or stage documents from that awesome show you saw last summer.
More From Ultimate Classic Rock