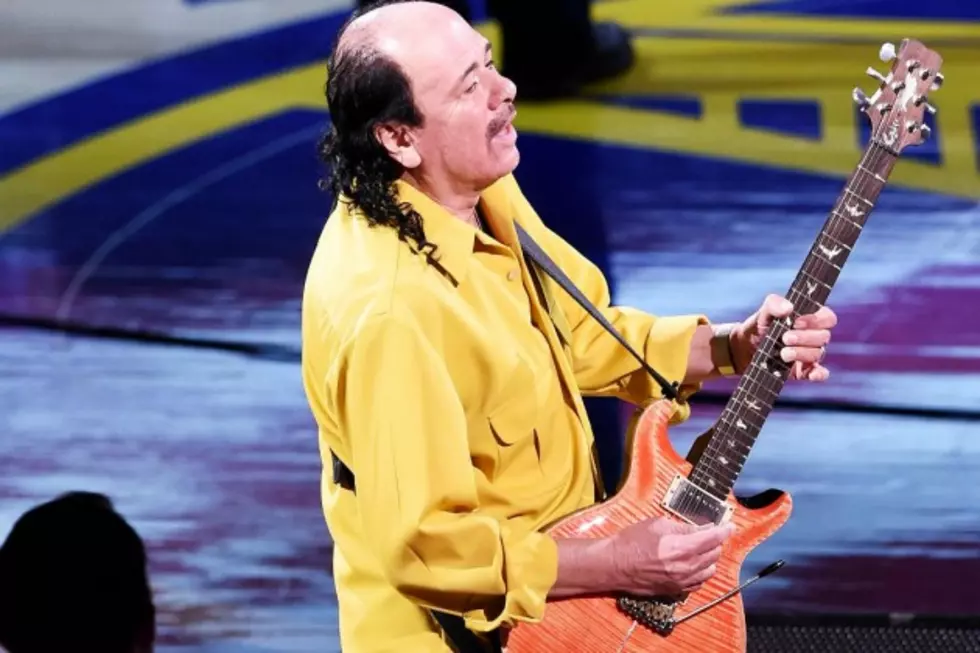 Carlos Santana Adds Jazz Supergroup, Ronald Isley Project to Busy Schedule
Thearon W. Henderson, Getty Images
Carlos Santana fans already had plenty to look forward to with his upcoming Santana IV project — but that's far from the only new music he's working on.
Billboard reports that Santana's also prepping a jazz fusion supergroup he's called Supernova, featuring himself and his wife, drummer Cindy Blackman, alongside saxophonist Wayne Shorter, keyboardist Herbie Hancock and guitarist John McLaughlin. Saying his plans include "definitely spring recording and summer touring in Europe and maybe America," Santana was unable to contain his enthusiasm for the new project.
"Can you hear it? It's kind of like playing with, sharing music with Albert Einstein and Stephen Hawking, 'cause Wayne and Herbie, they're at that level of genius, genius, genius, genius," he enthused. "I'm just grateful that they accept it and want to do it. And every time I play with Cindy, it goes viral. People go crazy. The energy between Cindy and I is very, very supernova."
Looking beyond Supernova, Santana said he also hopes to record an album with Isley Brothers singer Ronald Isley and Sly & the Family Stone bassist Larry Graham — but first, there's the Santana IV project, which reunites Santana's original lineup for a new album and tour.
"There's so much energy," he said. "The songs are so vibrant and I'm really, really grateful. I've never heard [Gregg Rolie] sound better; we know he can play, but you should hear him singing. His voice has never been better. And [Neal Schon] is one of the baddest guitar players around. It's just been a great joy all the way around, and we can't wait for people to hear it."
While Santana admits some skepticism regarding how receptive American audiences will be toward the Supernova material, he chalks up his current creative burst to an overall positive state of being.
"This is fun. It's not work. It's not a labor," he explained. "It's a joy to do all these things and show up and be there. And everyday I'm grateful because I open the faucet and the water comes out and the water is pure. I can drink it, I can brush my teeth, comb my hair, wash my body. I have a real thirst for adventure, so I'm offering gratitude for having energy, having innocence and curiosity to keep finding these new things to do."
See Santana and Other Rockers in the Top 100 Albums of the '70s
The Rock and Roll Hall of Fame's 10 Worst Snubs
More From Ultimate Classic Rock