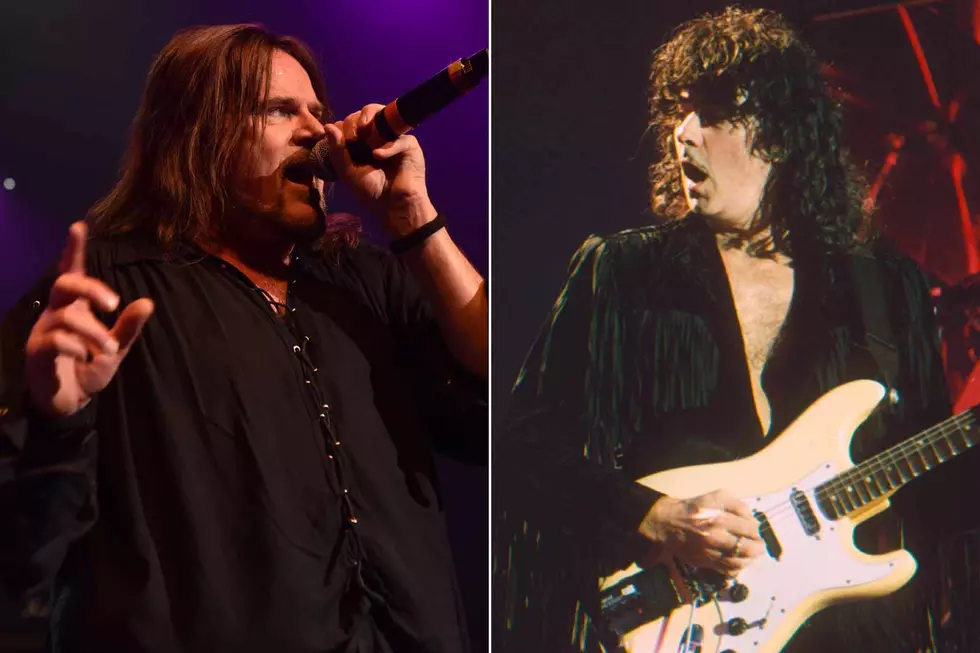 Doogie White: Best Thing About Being Dropped by Ritchie Blackmore
C. Brandon, Redferns / Brian Rasic, Getty Images
Former Rainbow singer Doogie White said bandleader Ritchie Blackmore often delivered "great gifts" to rock music when members of his groups found themselves on the wrong side of a breakup.
Rainbow and Deep Purple both struggled to maintain lineups, partly caused by Blackmore's dealings with bandmates like David Coverdale, Ronnie James Dio and Graham Bonnet. In a recent interview with Vintage Rock Pod, White, who joined Rainbow in 1994, recalled his departure three years later.
"We played football the day before the last show in Esbjerg in Denmark," the singer said. "We played the show. Nothing was wrong. And then within an hour of us coming offstage, it was all sort of [uncomfortable]. … And I went home and just phoned him up and just handed in my resignation. I said, 'Unless I hear from you in 24 hours, I'm not doing it, I'm not doing this anymore.' And that was it."
Even though they haven't met since then, White said Blackmore always treated him fairly. "I did contact him because I was owed some [money]," he noted. "We had a publishing agreement for the songs that I'd written, and I provided his management with the evidence that I was due funds, and they wouldn't pay. So I just wrote to him directly and said, 'Look, man.' And he went, 'OK, there you go.' The check was in the post. So I've always had a great respect for him for that reason."
You can watch the interview below.
White hinted that it was difficult to work with the guitarist, saying, "He sucks you in, bleeds you dry and then sets you free … and if you can find your wings, you can fly. Some do, some don't. And that's one of his great gifts to the world of rock 'n' roll - the amount of people who he has given careers to that you would maybe never have heard of.
"We've all got to be very grateful for that – I mean, David Coverdale could still be selling suits in Redcar. You know, Ronnie Dio could still be trying to get Elf to do something," he concluded. "Graham Bonnet could still be crooning away in Australia. I could still be sleeping on somebody's floor in London. But he gave us all this opportunity to go out there and make something of ourselves. And if you grasped it, you grasped it – and if you didn't, you didn't."
Deep Purple Lineup Changes: A Complete Guide
Charting more than 50 years of changing faces in Deep Purple.
More From Ultimate Classic Rock