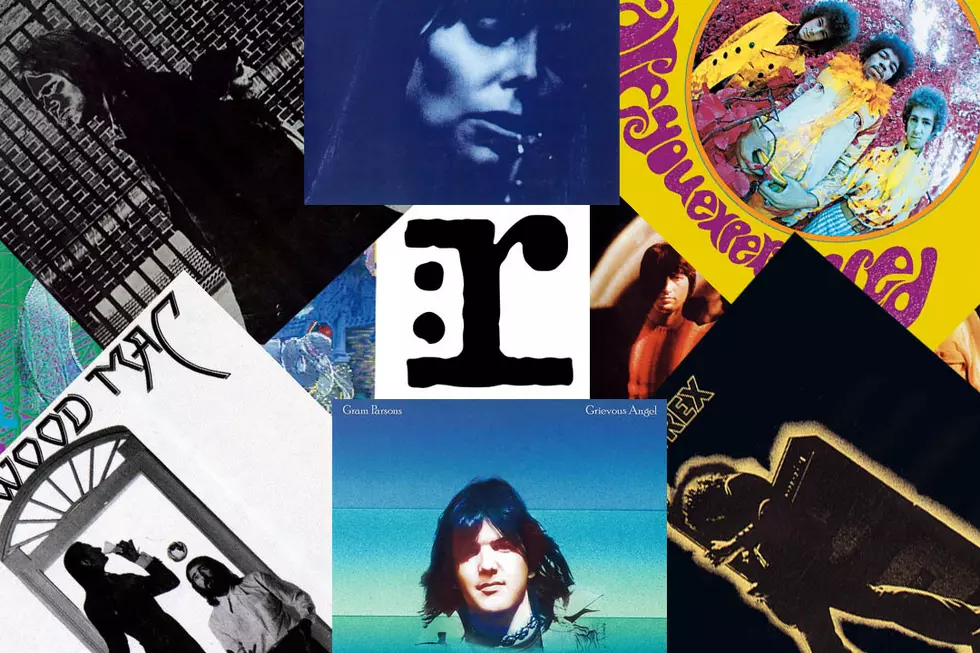 How Frank Sinatra's Thirst for Creative Freedom Led to Reprise Records
Reprise Records
Frank Sinatra entered the '60s riding the crest of a remarkable career comeback, and looking for the type of creative control and artistic independence that he felt should come with being one of the world's biggest stars. His inability to find it at his label, Capitol Records, led Sinatra to start his own imprint, Reprise — which would, in the decades to come, offer an artist-friendly home for some of rock's most successful and important artists.
Sinatra's path toward Reprise started toward the end of his seven-year tenure with Capitol, a tense period during which animosity between the singer and label chief Alan Livingston reached a boiling point. Negotiations to renew Sinatra's Capitol contract hit an increasingly onerous snag when he sought a provision that would give him ultimate ownership of his recording masters — a measure of independence that, coupled with Sinatra's growing hunger for creative control, proved the final breaking point for his hugely lucrative association with the label.
Determined to control his destiny, Sinatra attempted to purchase Verve Records from founder Norman Granz, but when an agreement failed to materialize, he decided to start his own label, and lured Verve executive Michael "Mo" Ostin to his new venture, which he called Reprise Records — a name Sinatra said he settled on because the company would put out albums people would want to "play and play again," but may have also been motivated because it represented his reprisal against Capitol.
Unfortunately for Sinatra, Capitol had its own revenge tactics. Although Sinatra had a lot going for him — including the promise of complete creative control, which attracted a growing circle of artists that boasted a number of Sinatra's famous friends — success wasn't as simple as putting the Reprise logo on albums and watching the money roll in.
The label started tracking sessions in early 1960, and started issuing LPs early the following year, but Sinatra was still under contract to Capitol for two more albums and a single — and once he was well and truly a Reprise artist, Capitol took advantage of its large backlog of Sinatra sessions, flooding the market with product in direct competition with its former star's new releases.
"As soon as Frank started Reprise, we began to exploit our whole Sinatra catalog, because we weren't going to have him anymore," Livingston's quoted as saying in Charles L. Granata's Sessions With Sinatra: Frank Sinatra and the Art of Recording. "We had so much Sinatra product on the market that Reprise couldn't get off the ground!"
Listen to Neil Young Perform 'After the Gold Rush'
Forced to discount its new-release prices to compete with the slew of budget Capitol titles, Reprise found it difficult to gain traction, and as Livingston gleefully noted, the label was rumored to be in financial straits not long after its launch. Compounding the problem was that unlike the biggest labels of the day, Reprise didn't own and operate its own recording studios, adding a major chunk of overhead to an increasingly besieged operation.
Sinatra, meanwhile, remained in demand as a recording artist — and unlike most pop stars, he was also a proven commodity as a movie star, which made obtaining the rights to distribute his work an appealing prospect even for a studio forced to sign over creative control and ultimate ownership of his master recordings. Enter Warner Bros., where top execs enthusiastically pursued a deal that would bring Reprise into the Warners family while making Sinatra a member of their film stable. In the summer of 1963, Warners purchased two-thirds of Sinatra's Reprise stake.
The deal gave Sinatra a nice influx of cash (and a seat on the Warner-Reprise board, thus cementing his status as pop's Chairman of the Board), but it rescued Reprise, which retained its core of talented executives — led by the increasingly indispensable Ostin — while picking up Warners' marketing and distribution muscle. It quickly proved to be a match made in rock 'n' roll heaven.
Sinatra continued to record for Reprise, but the label's roster rapidly expanded and diversified as the '60s wore on, and by the latter years of the decade, it was home to an eclectic array of artists that included Jimi Hendrix, Neil Young, Joni Mitchell, and Captain Beefheart. Under Ostin's stewardship — and with the crucial support and guidance of a pool of behind-the-scenes talent that included future legends like A&R exec Lenny Waronker and producer Russ Titelman — Reprise's reputation as an artist-friendly haven grew exponentially.
In the short term, the Reprise philosophy worked incredibly well. While championing a music-first philosophy, the label released some of the most influential records of the era — and while some artists, like Ry Cooder, Gram Parsons and Van Dyke Parks, never transcended cult commercial status, their critically revered efforts were subsidized by hits from the bigger acts on the roster.
Reprise also worked as a sort of de facto farm system for Warners, incubating early efforts from future stars like Michael Franks, Al Jarreau, and Fleetwood Mac, and distributed an assortment of smaller imprints such as Bearsville (home to Todd Rundgren and NRBQ) and the Beach Boys' Brother Records.
Listen to Fleetwood Mac Perform 'Monday Morning'
As so often tends to be the case with corporate mergers, it ultimately proved easier to absorb Reprise into Warner Bros. than to maintain both imprints as separately functioning units. In 1976, Warners largely deactivated Reprise as a functioning label, leaving Sinatra and Young as the only artists who insisted the logo remain on their releases, and it remained dormant for the better part of a decade while many of the acts and executives who fueled Reprise's rise filtered into the Warners recording and boardroom roster.
Two of those executives, Mo Ostin and Lenny Waronker, continued their rise through the Warners ranks, and they were responsible — Ostin as Warners chairman and Waronker as label president — for reactivating Reprise in the latter half of the '80s. Reflective of the music industry's increasingly corporate culture, the new Reprise wasn't quite what it had been; although the label had its own promotion staff, it was less a creative-driven outpost for adventurous artists than an offshoot for emerging artists and older name-brand acts like Chicago, Peter Cetera, and Christopher Cross.
Sinatra recorded his final album of new material for Reprise in 1981, opting to go with producer Quincy Jones' Warners-distributed Qwest imprint for 1984's L.A. Is My Lady and ultimately decamping back to Capitol for his two Duets releases in the early '90s. Ostin and Waronker were ousted in a boardroom bloodbath that upended the label's culture and identity in 1994 and 1995. Reprise, meanwhile, has soldiered on, adjusting to life in the new music economy with a shifting (and still eclectic) roster that spanned from Josh Groban to Disturbed.
Needless to say, the Reprise of today is a far cry from the label Sinatra founded — and yet his vision of artistic utopia has had a massive impact on the way recording acts approach their careers. Only a select handful of rock's biggest names have been able to buy back their masters, but Sinatra's insistence on creative control helped make it de rigueur for serious artists across all genres, and the industry's cratering sales in the digital era have tested every professional musician's commitment to Reprise's art-before-commerce approach.
Ultimately, Reprise's substantial musical legacy lives on — both in the hearts of classic-rock fans as well as on store shelves, where some of the label's greatest achievements have returned through Warners' reissue arm, Rhino Records. And with the vinyl revival remaining in full swing, current consumers can still drop the needle on freshly unwrapped copies of those classic titles — to play and play again.
See Neil Young Among the Top 100 Albums of the '70s
More From Ultimate Classic Rock