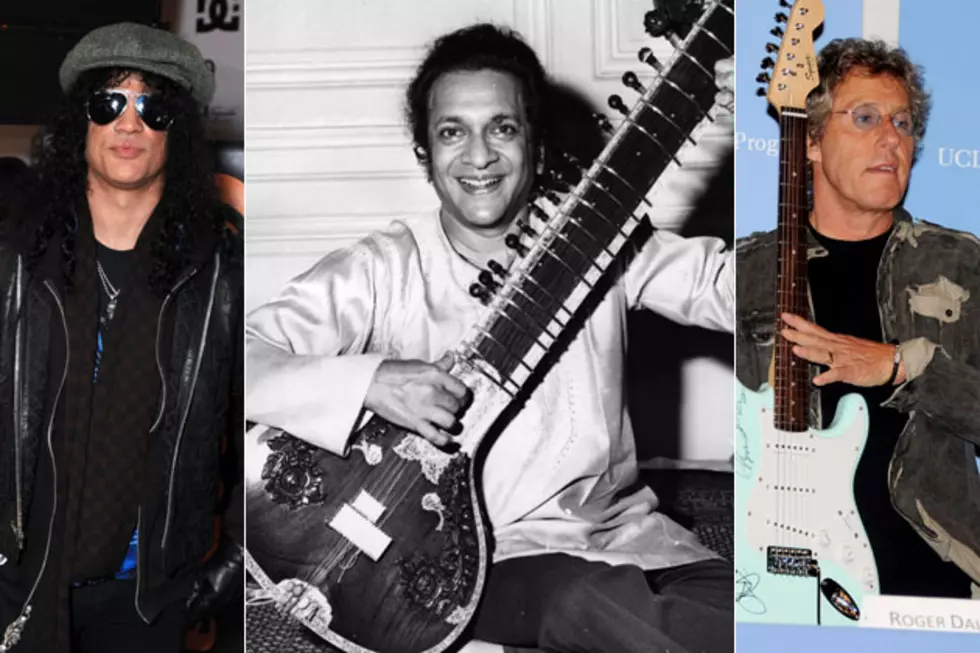 Ravi Shankar Dead at 92: Slash, the Who + More React on Twitter
Kevin Winter / Angela Weiss / Keystone Archive, Getty Images
The death of Ravi Shankar has cast a pall over the classic rock world as the many artists he inspired or worked with reflect on their memories with the famed sitar player. Shankar died at age 92 on Tuesday night in San Diego after complaining of breathing problems this week. He'd recently had heart valve surgery.
Twitter is often a place to break news, but in cases like this it's a place for musicians to emphasize the importance of the artist who has died. Slash, Peter Frampton and the Who weighed in early. Shankar's most famous collaborators were the Beatles, and the band's Twitter page also weighed in with condolences. His influence can best be heard on songs like 'Norwegian Wood (This Bird Has Flown)'and 'Within You Without You.'
Check out some of the Twitter postings about Shankar here:
Sad day; spiritual, cultural & music legend, Ravi Shankar dead at 92. RIP.

— Slash (@Slash) December 12, 2012
R.I.P. Ravi Shankar rol.st/UASozF"

— The Who(@TheWho) December 12, 2012
RIP Ravi Shankar

— Ronnie James Dio (@OfficialRJDio) December 12, 2012
So sad such a great musician RIP RT @breakingnews: Famed Indian sitarist Ravi Shankar has died at age 92 - @ap po.st/7TUuMW

— Peter Frampton (@peterframpton) December 12, 2012
Ravi Shankar, George's lifelong friend & sitar virtuoso, has passed away. Our thoughts are with his family. youtu.be/hz935MF1Rhw

— The Beatles (@thebeatles) December 12, 2012
As the news of Shankar's death spreads expect more stars to share memories about the man behind the sitar. Beatle Paul McCartney is scheduled to perform at the 12/12/12 concert tonight on New York City. Despite being a charity event for the victims of Hurricane Sandy it would be surprising if someone didn't stop to reflect on Shankar and his over 50-year music career.
More From Ultimate Classic Rock