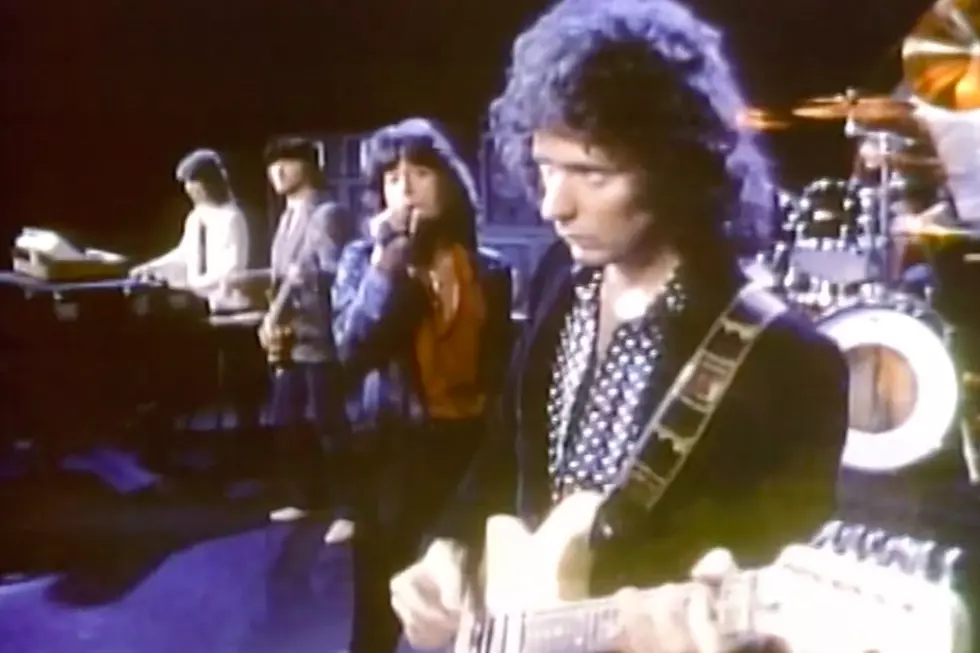 YouTube
Ritchie Blackmore announced his desire to pursue new musical challenges in 1975 by initially quitting Deep Purple — the groundbreaking band he'd helped found and then become inextricably associated with for the better part of a decade. Evidently, however, no single color in the musical spectrum would do – not even purple – because Blackmore's next creative adventure wound up demanding as many colors as a Rainbow. This new group would go on to enjoy almost as much acclaim as Blackmore's "other woman," while reflecting his boundless talents and complex persona like no other vehicle possibly could. And that's why we've compiled this list of the Top 10 Rainbow Songs.
10

"Since You've Been Gone"

From: 'Down to Earth' (1979)

We may as well begin with the best song from Rainbow's maligned and short-lived Graham Bonnet era (commonly known as "Blackmore's Folly"), "Since You've Been Gone." Composed by hitmaker-for-hire, Russ Ballard (he of Argent and "New York Groove" fame), the single nevertheless reached No. 6 in the U.K. and proclaimed Rainbow's unexpected embrace of more commercial hard rock. But by the following year Bonnet was history — even if Rainbow's new direction was here to stay.

9

"Long Live Rock 'n' Roll"

From: 'Long Live Rock 'n' Roll' (1978)

Just one year earlier, Rainbow had seemed almost committed to the fantasy-themed Castle Metal style jointly crafted by Blackmore and legendary lead singer Ronnie James Dio. We say "almost" because the title track of the group's third studio album, Long Live Rock 'n' Roll, preemptively left the dungeons and dragons in the cupboard and, with its anthemic chorus and simplified structure, clearly previewed the sonic transformation looming just around the corner.

8

"Tarot Woman"

From: 'Rising' (1976)

Next up on our list of Top 10 Rainbow Songs is the opening salvo from perhaps their most celebrated release, Rising. And "Tarot Woman," with its epic synthesizer intro, courtesy of the talented Tony Carey, remains one of its most popular highlights — as crucial to establishing the definitive Rainbow sound as other Rising favorites like "Run With the Wolf"' or "Starstruck."

7

"Catch the Rainbow"

From: 'Ritchie Blackmore's Rainbow' (1975)

Turning back the years even further we come now to the very origins of Ritchie Blackmore's Rainbow, which the exiting Deep Purple guitarist recorded somewhat on the fly, in a pique of newfound inspiration, with the help of Ronnie Dio and his then-backing band Elf. And a stellar first effort it was, too, packed with memorable baroque hard rockers, imaginatively reworked covers, and arguably the prettiest pure ballad of Blackmore's career in the whimsical "Catch the Rainbow."

6

"A Light in the Black"

From: 'Rising' (1976)

And we're Rising once again — this time on the horizon-spanning wings of that album's galloping epic, "A Light in the Black," which brings this landmark to an extended climax rarely challenged before or since. That's because this reeling juggernaut is a tour de force for all involved: with Dio wailing like a banshee, bassist Jimmy Bain and drummer Cozy Powell hammering away in rhythmic telepathy, and Blackmore challenging keyboardist Tony Carey to a deadly soloing joust as phenomenal as any he ever engaged in with Deep Purple organist Jon Lord.

5

"Spotlight Kid"

From: 'Difficult to Cure' (1981)

Yes, we know you've been wondering when we'd recognize the contributions made by third and final Rainbow singer Joe Lynn Turner to the band's discography. Here it is, via the positively electrifying "Spotlight Kid." And, while we can't promise a repeat appearance by Turner with so few spots available to worship at Dio's altar, you have to admit that this Difficult to Cure highlight is an absolute doozy: complete with one of Ritchie's most acrobatic riffs and a steamrolling performance by each one of his not-always merry henchmen.

4

"Kill the King"

From: 'Long Live Rock 'n' Roll' (1978)

We are now breathing rarefied air with our list of the Top 10 Rainbow Songs, so it's probably fitting that our next choice, "Kill the King," sees the men of Rainbow blasting across the heavens at an absolutely breathless pace, nearly reaching supersonic speed behind Ronnie James Dio's wild-eyed cries as he brazenly lays out his ruthless regicidal intentions.

3

"Man on the Silver Mountain"

From: 'Ritchie Blackmore's Rainbow' (1975)

We've got nothing left but all-time fantasy metal classics down the stretch, and where better to begin than with 'Man on the Silver Mountain?' The song first codified Ritchie Blackmore's creative vision for Rainbow and proved the group would be a force to be reckoned with for years to come: Though lacking somewhat in production punch, the song's signature riff and evocative lyrics have gone down in heavy metal lore — even following Ronnie James Dio to the grave by being etched onto his tombstone.

2

"Gates of Babylon"

From: 'Long Live Rock 'n' Roll' (1978)

We now approach the "Gates of Babylon" — reverently knocking as we beg entry into this "city of heavenly sin," where we'll "sleep with the devil" even though we know fully well that we will pay. Indeed, words can barely describe the glory of the Long Live Rock 'n' Roll album's centerpiece, which fuses Eastern scales and Blackmore's deep love for classical music onto hard rock foundations as imposing as the granite walls surrounding that fabled city. This is heavy metal at its most majestic.

1

"Stargazer"

From: 'Rising' (1976)

How can we top such a display of praiset o bring our list of the Top 10 Rainbow Songs to even greater heights of worship? Why, by constructing a lofty "tower of stone with our flesh and bone...just to see him fly." Needless to say, we are concluding our travels over the Rainbow with "Stargazer," which found the Blackmore/Dio partnership operating at the pinnacle of its creative powers and, with a little help from the Munich Philharmonic, inventing symphonic metal.
More From Ultimate Classic Rock