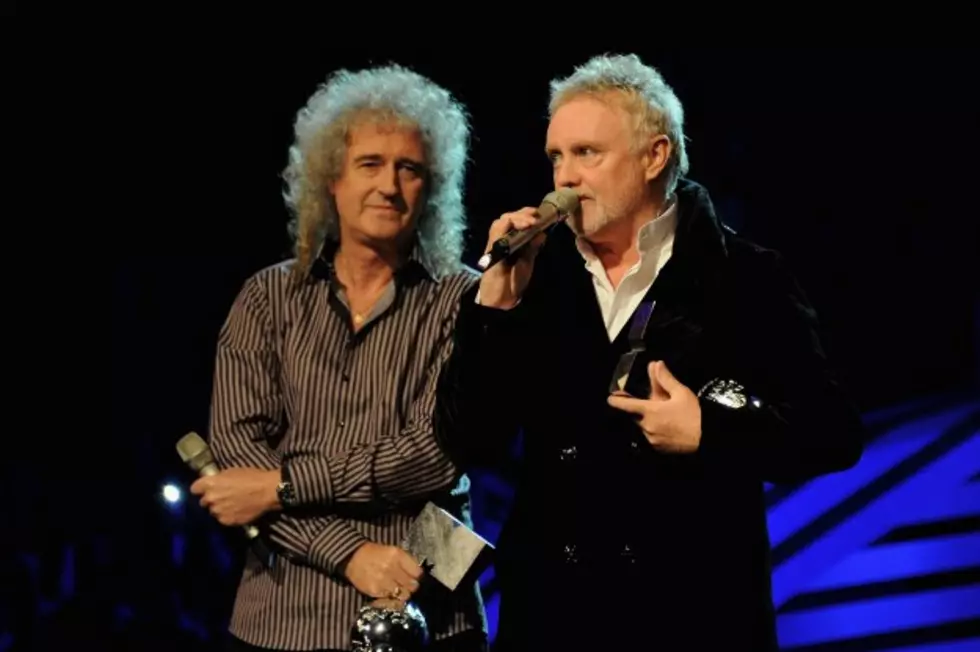 Queen Announce "Queen Extravaganza" Summer 2012 North American Tour
Dave Benett, Getty Images
Queen remain content to perform limited dates, such as the 2012 Sonisphere Festival and a night at Moscow's Olympic Arena, with Adam Lambert standing in for Freddie Mercury. However, drummer Roger Taylor has taken on the role of serving as producer and musical director for the Queen Extravaganza, an "Official Queen Tribute Show," which will hit clubs and theaters across North America this summer, the band announced today (March 28).
"The Queen Extravaganza will not be like a traditional tribute show," said Taylor in the press release. "It is a brand new show specially designed to enable these new fans, together with fans of old, to celebrate the music of Queen in a heart stopping event."
The show will consist of nearly 40 Queen songs spread out over little more than two hours, with a 30-minute intermission. Five musicians and four vocalists, who were hired via an online audition search, will perform the material, which will include their many classics and some lesser-known early songs.
The visual presentation, which will include never-before-seen video footage of the actual band, will be created by a team led by stage designer Mark Fisher, who has worked every Rolling Stones since tour since 1989 and Pink Floyd's legendary 'The Wall' shows.
"It's going to be very spectacular, it's going to be very visual, there are going to be some shocks and some tremendous surprises," continued Taylor. "It will be a rock celebration in the Royal tradition."
The Queen Extravaganza 2012 Tour Dates
5/26 - Grand Theatre du Quebec, Quebec City, Quebec, Canada
5/27 - St. Denis, Montreal, Quebec, Canada
5/29 - QE Theatre, Toronto, Ontario, Canada
5/31 - Fox Theatre, Detroit, Mich.
6/1 - House of Blues, Chicago, Ill.
6/2 - The Brick, Minneapolis, Minn.
6/5 - The Pageant, St. Louis, Mo.
6/7 - Theatre of Living Arts, Philadelphia, Pa.
6/8 - 9:30 Club, Washington, D.C.
6/9 - Oakdale, Wallingford, Ct.
6/10 - Event Center, Bethlehem, Pa.
6/11 - House of Blues, Boston, Mass.
6/12 - Paramount Theatre, Huntington, N.Y.
6/15 - Louis Lykes Ferguson Hall, Tampa, Fla.
6/17 - The Plaza Live, Orlando, Fla.
6/19 - Grand Prarie, Dallas, Texas
6/20 - House of Blues, Houston, Texas
6/23 - House of Blues, Las Vegas, Nev.
6/24 - Humphrey's, San Diego, Calif.
6/25 - Club Nokia, Los Angeles, Calif.
6/26 - Regency, San Francisco, Calif.
6/28 - Showbox, Seattle, Wash.
6/30 - Orpheum, Vancouver, British Columbia, Canada
7/2 - Jack Singer, Calgary, Alberta, Canada
7/3 - Jubilee, Edmonton, Alberta, Canada
More From Ultimate Classic Rock