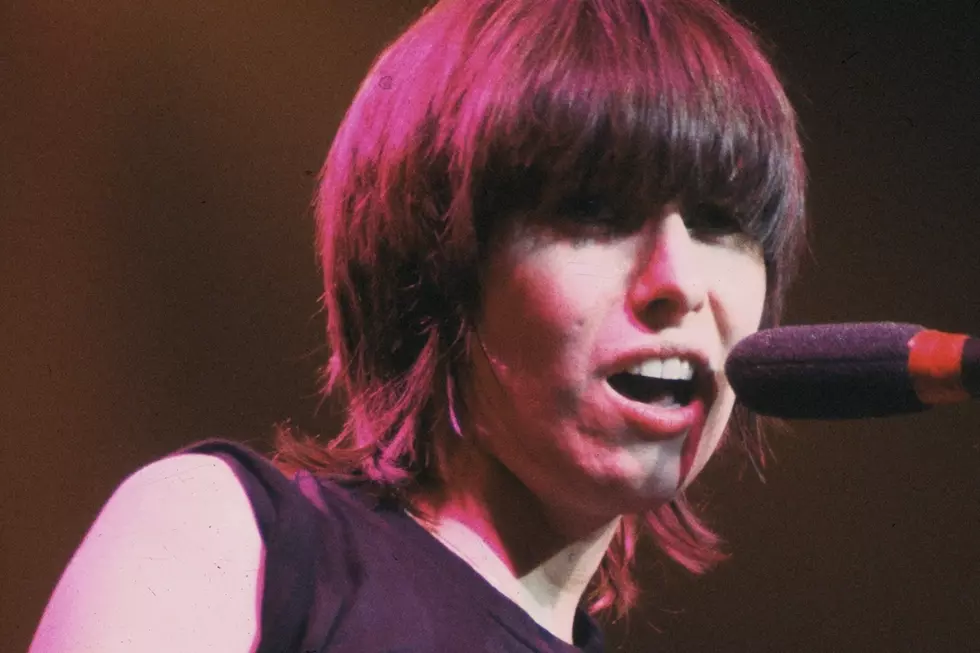 How the Pretenders Regrouped for Pivotal 'Learning to Crawl'
Hulton Archive, Getty Images
"There was never really a concept or a master plan, which was probably just as well," Chrissie Hynde said. "Because as I've learned, you can't really plot out anything, because there will always be some kind of ironic twist of fate when you least expect it." 
She was talking to BAM about the Pretenders' early success when she said those words, but she might as well have been referring to the months preceding the band's third album, Learning to Crawl. Released on Jan. 17, 1984, the record came after a period of upheaval so intense that it nearly drove Hynde to retire the Pretenders banner completely.
Things started to get bumpy in 1982, when bassist Pete Farndon's struggles with drug addiction led to his termination from the band on June 14. Two days later, guitarist James Honeyman-Scott passed away, the victim of drug-related heart failure – and less than a year after Honeyman-Scott's death, Farndon was gone too, dead after overdosing on heroin. Left at a painful crossroads, Hynde and drummer Martin Chambers had to decide whether to carry on.
"Jim became my right arm," Hynde told BAM. "I was pretty punky and hard-edged, but Jim came along and introduced me to the melody that I had within myself that was sort of lying dormant. He really brought that out of me and made me proud of it and made me want to pursue that melodic road." Ultimately, she added, "I realized it wouldn't have made any sense" to put an end to the Pretenders. "I mean, Martin and I were still here. We didn't have to cut ourselves off from the past."
While casting about for a permanent solution, Hynde and Chambers rounded up stopgap lineups, recruiting Rockpile's Billy Bremner and Big Country's Tony Butler to join them for the 1982 single 'Back on the Chain Gang.' As the sessions for what would become Learning to Crawl ground slowly into gear, they also worked briefly with Graham Parker bassist Andrew Bodnar and journeyman keyboardist Paul Carrack before settling on guitarist Robbie McIntosh and bassist Malcolm Foster for the duration of the record.
Listen to the Pretenders Perform 'Back on the Chain Gang'
Lineup changes were only part of the tumult surrounding Hynde and Chambers during the Learning to Crawl period – and not all of it was negative, either. Pregnant and enjoying domestic bliss with Kinks frontman Ray Davies, Hynde approached the studio from a slightly different perspective.
"I was seven months pregnant when we went into the studio," she told BAM. "I was fat, had big tits and people'd be looking at me funny. But I'd tell 'em, 'Well, if I'm doing it, then it's rock 'n' roll.' I was a little embarrassed by the state I was in. But I just bolstered up a little bit more bravado to compensate."
The birth of Hynde's daughter Natalie Rae ultimately proved a fitting metaphor for the state of the Pretenders – to the point that the album ended up deriving its title from the fact that both she and the band were Learning to Crawl. But if the process behind the scenes was sometimes painful, the band's rebirth proved a far smoother experience, with the album rising to No. 5 on the chart while spinning off a trio of Top 40 singles and selling more than a million copies before the end of 1984.
Unfortunately, the band's continued success failed to cement the Pretenders' lineup. Following Learning to Crawl, Hynde let go of Chambers, and the group entered a decade of flux, with a rotating cast of session players until Chambers' return for 1994's Last of the Independents helped restore some stability.
Top 100 '80s Rock Albums
UCR takes a chronological look at the 100 best rock albums of the '80s.
More From Ultimate Classic Rock