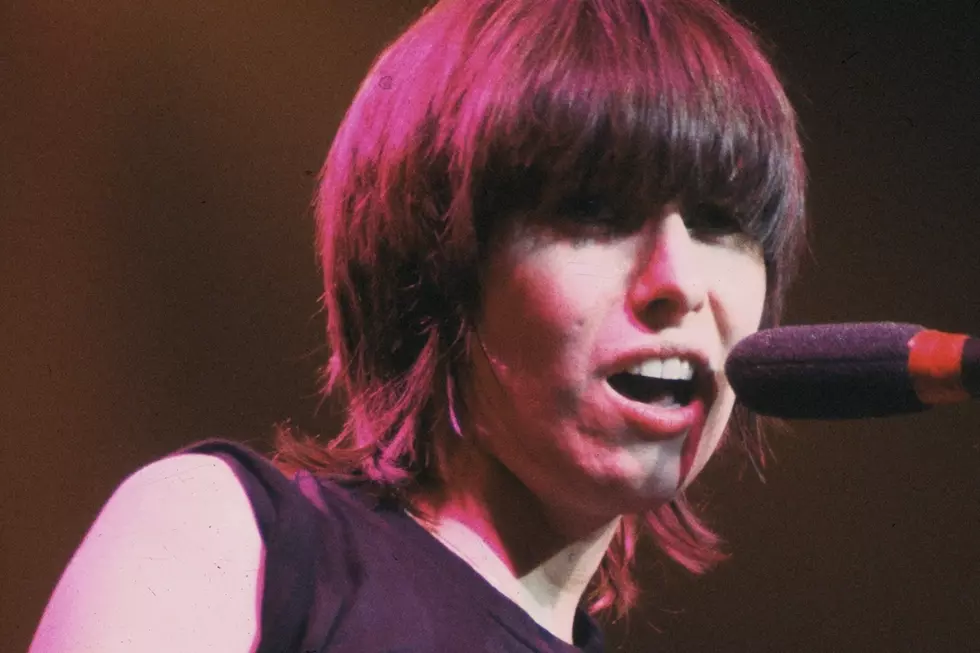 Hulton Archive, Getty Images
All of the great Pretenders songs bear the unmistakable stamp of their leader, Chrissie Hynde. Throughout her career, she's never given a single inch, doing nearly everything on her own terms. In the process, Hynde constantly reaffirms her musical independence and willingness to take chances at any cost. Today, we celebrate a truly singular act, spotlighting the Top 10 Pretenders Songs.
10

"Boots of Chinese Plastic"

From 'Break Up the Concrete' (2008)

In somewhat typical fashion for Chrissie Hynde and the Pretenders, 2008's Break Up the Concrete' was fiercely independent in spirit, with a real "devil may care" attitude throughout. Most importantly, songs like "Boots of Chinese Plastic" proved that the Pretenders could still rock. Elsewhere on the album, we also really loved the authentic blues feel of "Rosalee," which Hynde borrowed from her longtime Ohio-based musical peer Robert Kidney of the Numbers Band.

9

"2000 Miles"

From 'Learning to Crawl' (1984)

If you only knew the early Pretenders material, it might not have seemed possible that they would one day write one of the season's most beloved Christmas songs. But when the holidays come around, our best mistletoe mixtapes feel incomplete if this one is missing. It's best heard on the coldest winter day with snow coming down outside as the perfect visual companion.

8

"Don't Get Me Wrong"

From 'Get Close' (1986)

Examining the complexities of love from the woman's perspective, "Don't Get Me Wrong" uses a variety of references, from the rhythm of the tide to fireworks, hammering home the point rather succinctly that when it comes to love from the female point of view, it's best to expect the unexpected. As long as you can weather a few bumps in the road, what you find might be worth sticking around for.

7

"Middle of the Road"

From 'Learning to Crawl' (1984)

By 1984, Chrissie Hynde was already getting her fill of media attention ("I can't get from the cab to the curb/ without some little jerk on my back") and lashed out in her own special way with "Middle of the Road." The song also ponders her own advancing age (she was 33 at the time). The Pretenders kick out the jams in fine fashion, from that famous opening drum break to Chrissie herself wrapping things up with a killer harmonica solo.

6

"Precious"

From 'Pretenders' (1980)

Chrissie Hynde and the Pretenders have rarely had a shortage of attitude. Here, Chrissie spits out the lyrics with a sexually venomous feel that brings extra punch to what is one of the Pretenders' best barn-burning rockers. Hynde creatively manages to name check both Howard the Duck and Cleveland harmonica legend Mr. Stress in the span of just a few seconds before telling an unknown subject to fuck off. As the lead-off track on the band's debut album, this all made for one hell of an opening statement.

5

"Talk of the Town"

From 'Extended Play' (1981)

A longing feeling of unrequited love weaves through the lyrics of "Talk of the Town," and if you believe the "talk," Ray Davies of the Kinks was the object of Hynde's desires. She eventually got her man, of course. In fact, Davies and Hynde had a child together before going their separate ways. "Talk of the Town" easily nabs a spot as one of the top Pretenders songs and remains a fan favorite at their live concerts.

4

"My City Was Gone"

From 'Learning to Crawl' (1984)

Chrissie Hynde later reestablished proper roots in Akron, Ohio, opening a popular VegiTerranean restaurant and taking up part-time residence in the area. "My City Was Gone" was obviously written prior to all of this, with Hynde returning home after first finding success with the Pretenders and lamenting the many changes for the worse in her beloved former hometown.

3

"I'll Stand by You"

From 'Last of the Independents' (1994)

There had been hints in the past that Chrissie Hynde might have a softer side (see "2000 Miles"), but it's really on display here thanks to Hynde's torch-like vocal. Her performance very quickly lifted "I'll Stand by You" to full-fledged anthem status, a musical moment of inspirational hope for anyone struggling to find their way. Since its original release, "I'll Stand by You" has been covered by a number of artists, often for charity purposes, including soul singer Patti LaBelle and country's Carrie Underwood.

2

"Back on the Chain Gang"

From 'Learning to Crawl' (1984)

"Back on the Chain Gang" maintains a deceptively upbeat tone, considering the subject matter. The song was dedicated to departed Pretenders guitarist James Honeyman-Scott, who passed tragically from a drug overdose. Released in 1982, nearly two years before it finally wound up on the Learning to Crawl' album, "Back on the Chain Gang" began as an ode to Hynde's then-beau Ray Davies before it was lyrically redrawn as a tribute to Honeyman-Scott.

1

"Brass in Pocket"

From 'Pretenders' (1980)

This one easily tops our list of the top Pretenders songs. With "Brass in Pocket," all of the elements really came together – a cool groove and an especially sultry vocal from Hynde. When she said she was going to "make you notice," there weren't many who argued her claim – and, in fact, plenty would have been willing to give her the "attention" that she was seemingly craving within the lyrics.
More From Ultimate Classic Rock