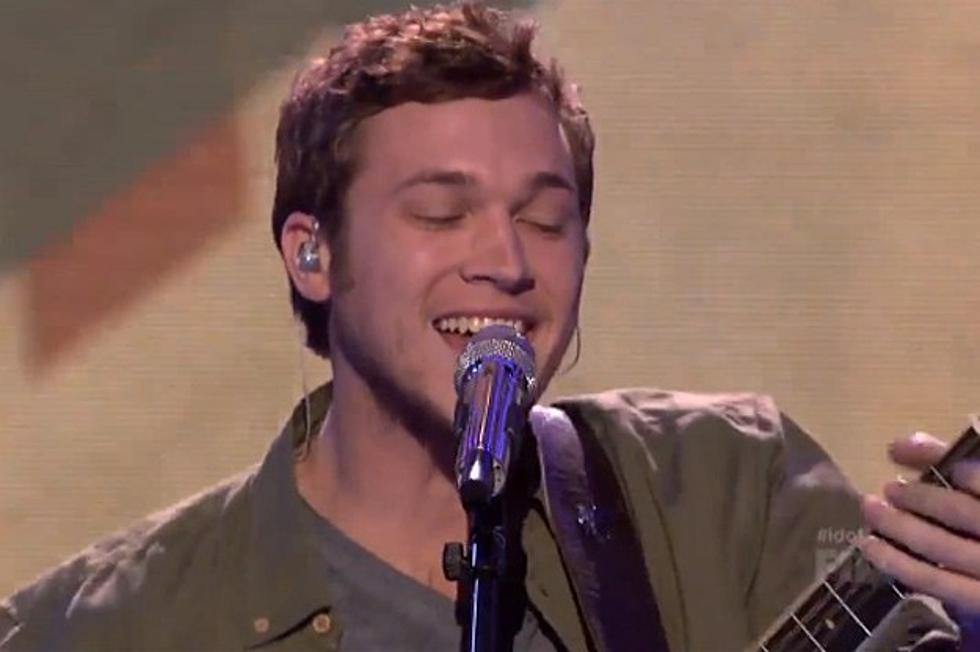 Creedence Clearwater Revival's 'Have You Ever Seen the Rain' Performed on 'American Idol' by Phillip Phillips
Tonight's episode challenged the four remaining singers with twin themes of "California Dreamin'" and "Songs The Contestants Wish They'd Written" (any? their own? "Before He Cheats?').
To which the squinty-eyed Phillip Phillips (that name must be the heartland-rock equivalent of Duran Duran) responded with a hoarse, shoulder-dancing take on CCR's 1971 classic. Phillips is all cigarettes and low-end, downright Tom Waits-y compared to Idol's usual bubbly fare, which basically means he's a Boss manque.* And since 'Idol' sessioneers are no E Street Band, the whole thing sounded like he was auditioning for the Wallflowers. Which didn't stop them from throwing in some McClarence Insta-Saxamaphone!
He probably could have used more denim. And a bandana. And more cigarettes. And more "Phillip'"s in his name. Why stop at Phillip Phillips? Why not go all out and be Phillip "Phillip Phillips" Mutt-Phillips? Clearly this man is not ready for the big time. Clearly if this man sounded any more like a Vicks commercial he will be covering Leonard Cohen songs in three years, and we do not mean the Jeff Buckley renditions.
(Editor's note: A manque is a person who has failed to live up to a specific expectation or ambition. Don't feel bad, we had to look it up too.)