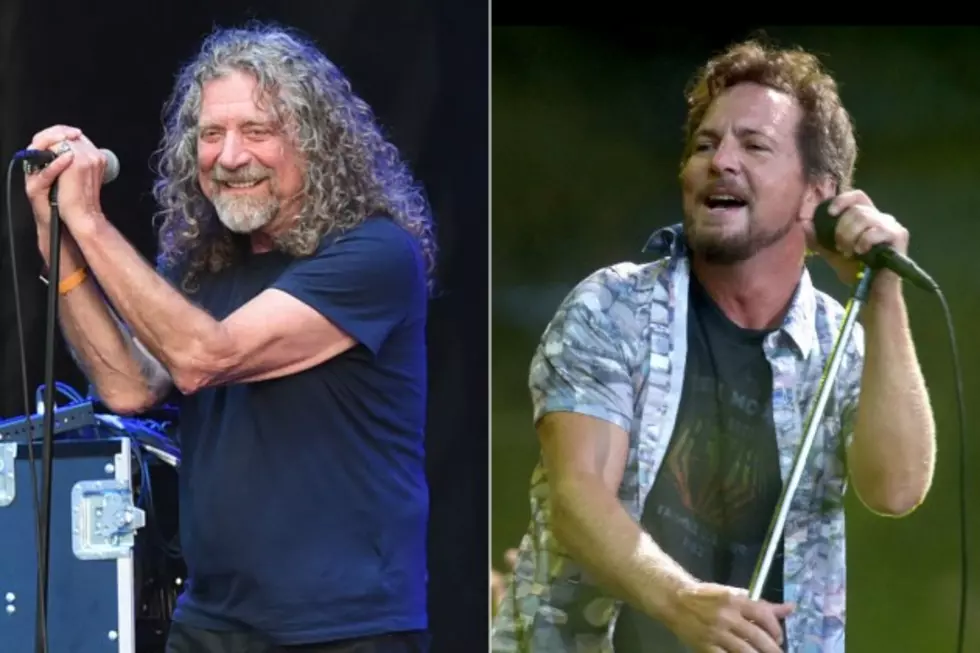 Robert Plant Teases Pearl Jam About Lifting Led Zeppelin's 'Going to California'
Jason Merritt / Jason Oxenham, Getty Images
It's no secret that the guys in Pearl Jam are Led Zeppelin fans, or that their 1998 single "Given to Fly" owes an obvious debt to Zeppelin's "Going to California." Former Zep singer Robert Plant recently paid a visit to Pearl Jam guitarist Mike McCready on SiriusXM's Pearl Jam Radio station, and couldn't pass up the opportunity to poke a little fun.
During a Q&A session with McCready, Plant was asked for his thoughts about the importance of staying creative, and he stressed that it's "absolutely crucial," adding, "Being an entertainer, outside of skill, craft, experience and whatever else it is you grow into, repetition is a hell of an evil bedfellow."
In fact, added Plant, "To repeat yourself as regularly as we do as entertainers — you know this. I mean, how many times have you played 'Going to California'? Oh sorry, whatever your song is called." With McCready laughing, he repeated the question, and after being corrected, he continued, "Yeah, yeah, whoopsadaisy. Mind you, nobody's perfect."
This led into a discussion of how basically every artist borrows or steals from his inspirations, and the story of the night Pearl Jam singer Eddie Vedder introduced "Given to Fly" as "Given to California."
"When you came to see us in Sweden, we did the song, and he said, he dedicated it to you I think, and acknowledged you, and said 'Given to California,'" recalled McCready. "It's a good job he had some dancing girls backstage afterwards to take the heat out of the moment," quipped Plant. "We're all mature, so we all know that's okay. I didn't get a check in the post, nothing like that."
Listen to Led Zeppelin Perform "Going to California"
Listen to Pearl Jam Perform 'Given to Fly"
Plant is well aware of how easy it can be to lift a little too much from one's inspirations — Led Zeppelin have had to settle several plagiarism claims, and the band is currently in the midst of yet another lawsuit.
See Photos of Robert Plant at Mountain Jam 2015
You Think You Know Robert Plant?
More From Ultimate Classic Rock