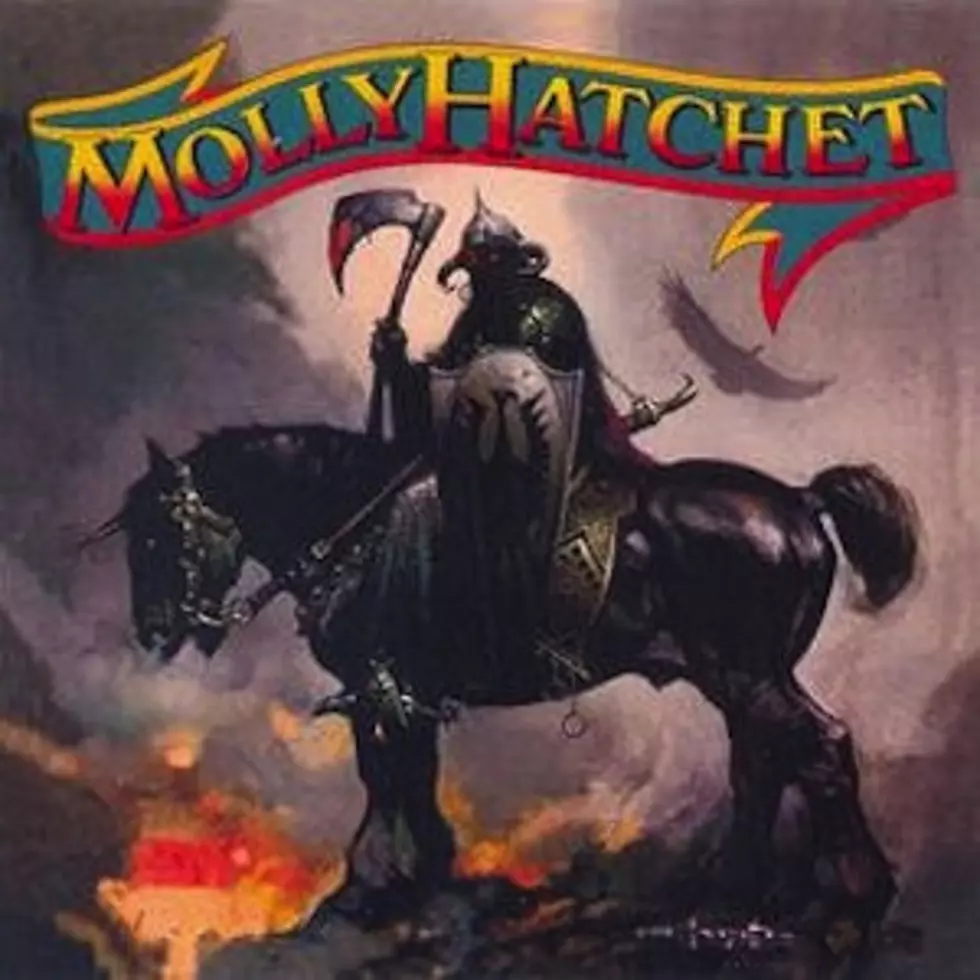 35 Years Ago: Molly Hatchet Release Their Debut Album
Epic Records
When Southern rockers Molly Hatchet unveiled their eponymous debut album 35 years ago, all they wanted was a shot to get their career up and running on a national level, following three years of dues-paying in and around the humid swamps of their native Florida. But for a greedy record industry, fairly chomping at the bit to find the next Lynyrd Skynyrd (whose plane infamously crashed in late 1977, killing several band members and crew), Molly Hatchet and other rising Southern rockers like Blackfoot, .38 Special, Doc Holliday, etc., were just grist for the music mill.
It's not that Hatchet lacked talent or serious musical chops; they just knew where their bread was buttered ("butter Southern!") and jammed (as in "guitar jams"). Like Skynyrd and the Allman Brothers Band before them, the boys hailed from Jacksonville, Fla., featured a three-guitar lineup, and had, uh, long hair -- so they seemed as good a bet as any to A&R men renowned for their "brilliant ear" when it came to copying successful trends (see British Invasion, Seattle grunge, etc.). One Epic Records executive even openly referred to Molly Hatchet as "the best of the rest"!
In any case, the sextet's vinyl introduction to the world certainly seemed to be just what the doctor ordered in '78. Songs like 'Bounty Hunter,' 'The Creeper' and 'Cheatin' Woman' modernized the Skynyrd blueprint with a harder-rocking edge, fired-up by singer Danny Joe Brown's tuneful growling. 'Gator Country' and an inspired rewrite of the Allmans' 'Dreams (I'll Never See)' showcased Hatchet's almost telepathic three-guitar interplay, headlined by Duane Roland's transcendental leads. And snappier numbers showing radio potential such as 'Big Apple' and 'The Price You Pay' probably even appeased those money-counting suits back in the New York label office, for good measure.
Sure enough, these ingredients amounted to platinum-level riches within a few years of 'Molly Hatchet''s release and then paved the way to even greater success when the band's sophomore record and career peak, 'Flirtin' With Disaster,' arrived in 1979 and cruised into the Top 20. Sadly, much like every other Southern rock band signed in the rush to replace Skynyrd, Molly Hatchet would soon slip down their record company's priority sheet, after failing to meet unfair and totally unrealistic commercial expectations. But true fans of Southern rock know that this band was special in their own right and hold that first album close their hearts, even all these years down the line.
Listen to Molly Hatchet's Debut Album
More From Ultimate Classic Rock