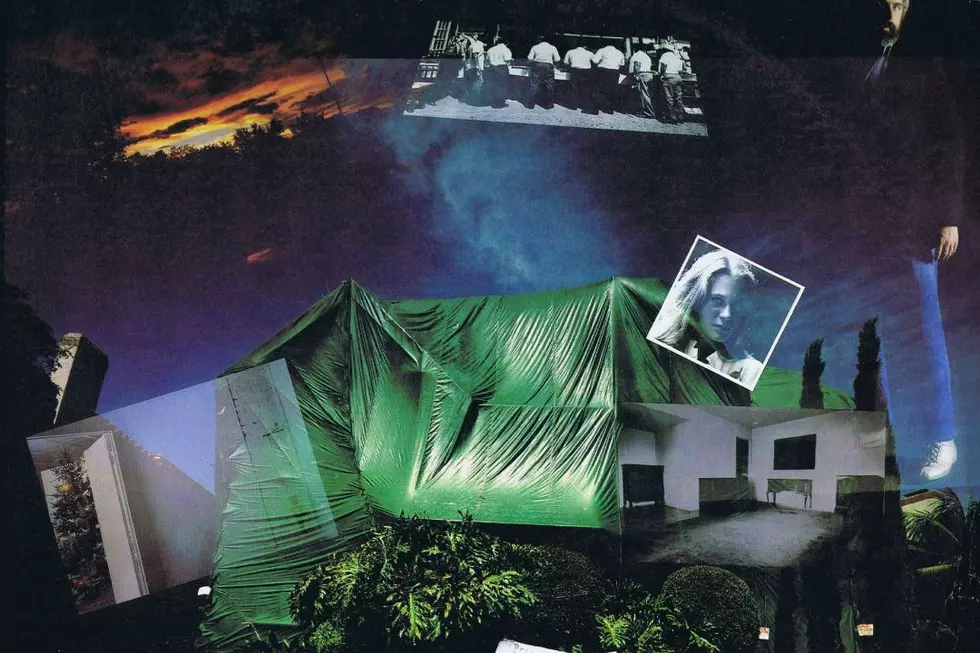 How Michael McDonald Sobered Up on 'No Lookin' Back'
Warner Bros.
When Michael McDonald left the Doobie Brothers behind in the early '80s, he seemed destined to succeed as a solo artist. By the time he released his second post-Doobies effort in August 1985, however, he'd lost much of that incredible momentum.
Between scoring Doobies hits and lending his distinctive vocals to a lengthy list of successful singles for other acts (including Steely Dan, Little Feat, Kenny Loggins, and Christopher Cross), McDonald's voice was all but inescapable when he released his solo debut, If That's What It Takes, in 1982.  As a songwriter and recording artist in his own right, his co-writing credits ran the gamut from Carly Simon to Van Halen. Yet as it happened, McDonald was surprisingly ill-suited for the solo limelight.
As he told UCR in an exclusive interview, part of the problem lay with his own perfectionism and slow songwriting process, which added up to progressively longer delays between albums once he found himself in charge of coming up with and recording all the material. "I have friends who write all the time, and I envy them terribly," he reflected. "I love to write songs, but they don't come easy to me — I spend a lot of time writing really dumb stuff that I have to look at the next day and think, 'God, what was I thinking?'"
Saying his songwriting process "is just to go through a lot of dumb stuff and hope that after a lot of hard work, I'll find a good idea," McDonald admitted, "Everybody goes through that to a certain extent, but it never came easy to me. It's a process I used to romanticize, but ultimately, I always felt kind of like Walter Mitty if he woke up actually climbing Mount Everest. When it came to the next album, it was always, 'Oh my God, what am I gonna do?'"
Fortunately, he remained in demand as a session player and vocalist, and continued to pick up high-profile gigs like "Yah Mo B There," a Grammy-winning duet with James Ingram that gave McDonald half of a Top 20 hit in 1984 while he continued chipping away at No Lookin' Back. But no amount of chart success could cover up his mounting struggles with drug addiction.
Listen to Michael McDonald Perform 'No Lookin' Back'
"My career definitely suffered greatly from drink and drugs. I was becoming increasingly helpless on my own. I was getting to be the blob who sat in the studio while other people were making lists for me of what needed to be done," he told Performing Musician. "I suppose I hit my lowest point in the early to mid-'80s, which is when things really spun out of control for me. I believe that I would have been dead by the '90s if I had carried on. I have to admit that I did a good job of surrendering my life over to alcohol and drugs of all kinds until 1985, which is when I gave everything up. I've been sober one day at a time ever since."
As he went on to explain in the same interview, McDonald also found himself increasingly ill at ease in a musical terrain that demanded what he termed "synthetic ambience." Feeling pressure from himself and his label to deliver songs that sounded more in step with the times, he allowed his sound to drift from its soul and R&B roots toward synthesizer-fueled adult contemporary.
"I wasn't quite sure of the ground I was walking as an artist," he recalled. "The pressure was so great to do something that sounded ''80s.' Admittedly, I succumbed to that temptation more than once, just trying to get on the radio or to earn acceptance. In a sense, you find that you basically just become a fashion victim."
That's as apt a way as any of describing the situation McDonald put himself in with No Lookin' Back, which utilized an army of session players — including Joe Walsh, Toto drummer Jeff Porcaro, and former Doobie Brothers Willie Weeks and Cornelius Bumpus — to produce an album that sounded almost completely programmed. While McDonald was far from the only artist in his peer group guilty of succumbing to that '80s sound, his shift from soulful pianist to keytar-toting balladeer was swift enough to be jarring.
It also didn't help that the songs on No Lookin' Back, while not without their moments, lacked the abundance of radio-friendly hooks that typified McDonald's earlier output. The title track eked into the Top 40 — and was a Top Five hit at Mainstream Rock stations — but subsequent singles failed to gain as much attention, and the album's early sales were disappointing.
Listen to Michael McDonald Perform '(I Hang) On Your Every Word'
No Lookin' Back faded on the charts, but McDonald's fortunes quickly rebounded on the radio, where he opened 1986 as Patti LaBelle's duet partner for the chart-topping smash "On My Own" — and earned another Top 10 solo hit in his own right courtesy of "Sweet Freedom," the bouncy soundtrack anthem from the Billy Crystal/Gregory Hines buddy cop comedy, Running Scared.
By the end of the year, McDonald's label repackaged No Lookin' Back with different artwork and a new track listing adjusted to include "Sweet Freedom."
Even with his personal struggles behind him and more hit singles in his discography, however, McDonald continued to maintain the leisurely pace that brought the meteoric arc of his early career back to earth. As the '80s wore on, he focused on his home life, appearing on other artists' albums (and on the airwaves) far less frequently.
His next solo effort, Take It to Heart, wouldn't arrive until the spring of 1990, by which point McDonald had all but ceased to be a priority at his label. He wouldn't notch his next platinum record until 2003, with the covers collection Motown.
Still, as Take It to Heart flitted through its brief chart run, McDonald remained at peace with the path he'd chosen — and philosophical about his reasons for taking it.
"Looking back, I sometimes wish I had done things differently," he told the New York Times in 1990. "But if I had, I'm not sure that I wouldn't have proven to be my own worst enemy. Another big fear has always been of being seduced into thinking that the next album is the most important thing in the world."
Top 100 Classic Rock Artists
Click through to find out how they stack up, as we count down the Top 100 classic rock artists.
More From Ultimate Classic Rock