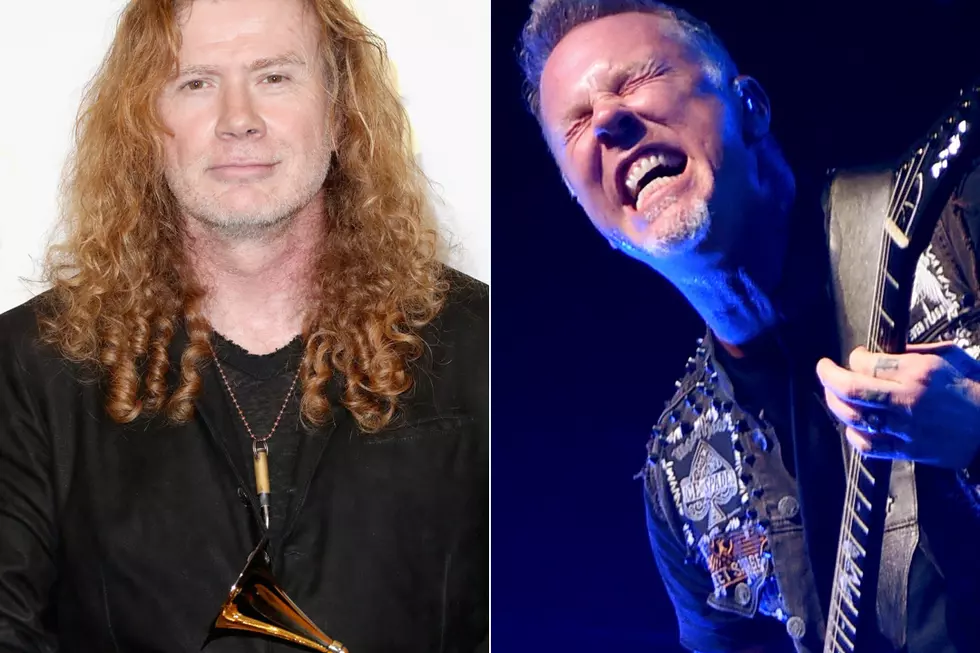 Megadeth's Grammy Victory Was Accompanied By … a Metallica Song?
Frederick M. Brown / Kevin Winter, Getty Images
Megadeth won their first-ever Grammy, though their walk up to accept the award was soundtracked for some reason by Metallica. Listen as "Master of Puppets" plays in the video below.
The song was released in 1986, some three years after Megadeth leader Dave Mustaine was fired by Metallica. Later, he took to Twitter with a hilarious swipe at the Grammy night band: "Ah, you can't blame 'em for not being able to play @Megadeth."
Mustaine didn't address the mishap from the podium, as he accepted recognition in the Best Metal Performance category for "Dystopia," the title track from Megadeth's latest album. "It only took 12 tries to get this," he said, referring to the band's studio catalog. "Last time we were here (after releasing 2011's Thirteen), we were talking to Kenny G, and he asked me how many times we'd been here. '11 isn't that bad,' he said. I asked him, 'How many times did it take you?' And he said, '21.' I was, like, 'Oh my God. If it takes 21 times, I don't know if I will live that long!'"
Watch the Grammy Broadcast Mixup
Though he had already departed, Mustaine ultimately received four songwriting co-credits on Kill 'Em All, Metallica's 1983 studio debut. His old band is nominated tonight for Best Rock Song (instead of the more logical Best Metal Performance) for the thrash-y track "Hardwired" from their new album Hardwired... to Self-Destruct. They're also set to perform later with Lady Gaga.
Top 50 Classic Heavy Metal Albums
More From Ultimate Classic Rock