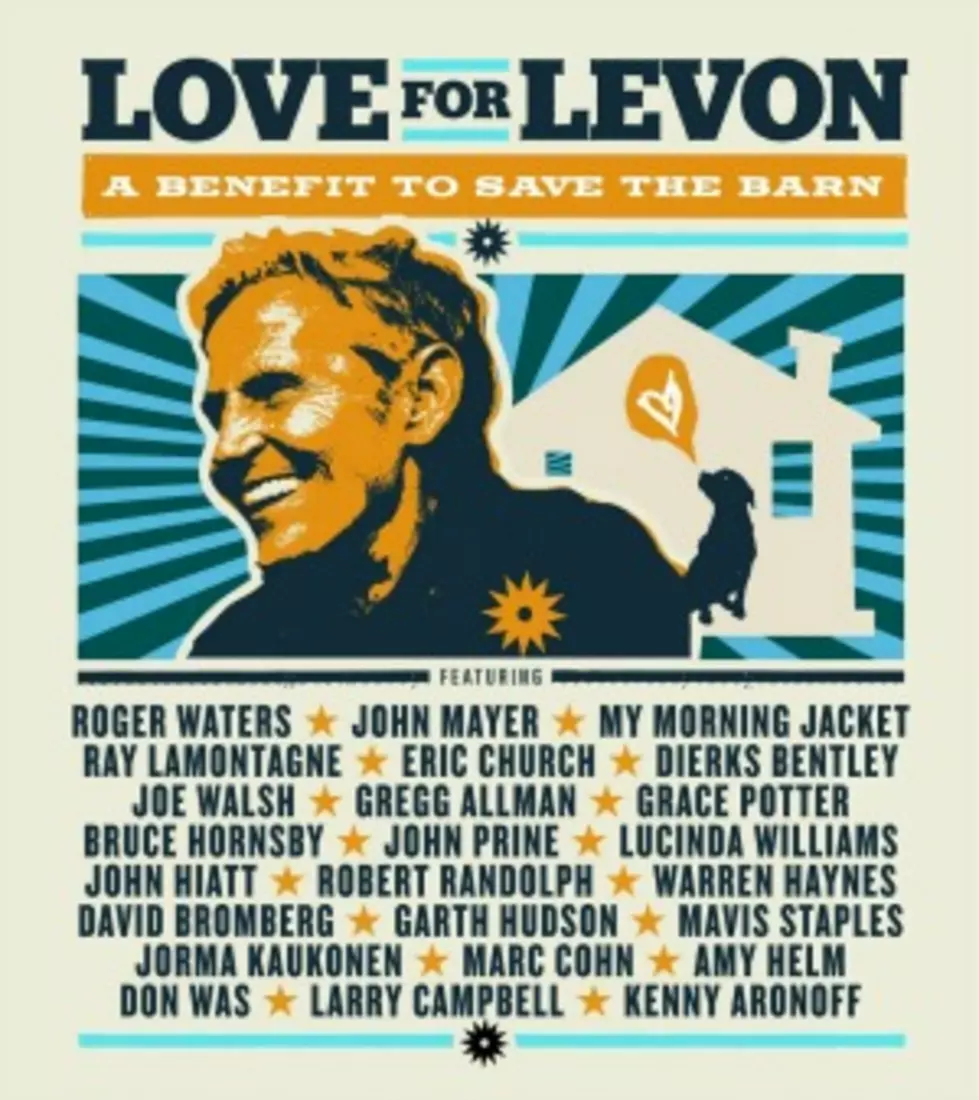 'Love for Levon' Track Listing and Release Date Announced
Time-Life / Star Vista Entertainment
Most of us weren't lucky enough to be in attendance at the all-star benefit concert held in honor of the late Levon Helm last October, but thanks to Time-Life and Star Vista Entertainment, we'll have the chance to experience the show.
Vintage Vinyl News reports that the two companies are collaborating to produce 'Love for Levon: A Benefit to Save the Barn,' a various-artists package that will be available via a variety of formats on March 19. In fact, no matter how you love your Levon, you should find something worth picking up -- it'll be produced as a 2-CD package as well as on double DVDs, two Blu-rays, a 2-CD/2-DVD combo, and a 2-CD/2 Blu-Ray package, as well as digital download.
That 'Love for Levon' is getting such a wide release should be no surprise to those who remember the show's impressive lineup, which included such luminaries as Gregg Allman, Warren Haynes, John Hiatt, John Prine, Mavis Staples, Roger Waters, Lucinda Williams, and Joe Walsh, as well as newer artists like Grace Potter, Ray LaMontagne, Dierks Bentley, and My Morning Jacket. Take a look at the complete track listing below, and start saving your pennies now: 'Love for Levon' is currently available for pre-order at Amazon, where prices range between $17.58 for the double-CD package to $35.99 for the 2-CD/2-Blu-ray combo.
'Love for Levon: A Benefit to Save the Barn' track listing
Warren Haynes with the All Star Band and Rami Jaffee, 'The Shape I'm In'
Gregg Allman & Warren Haynes with the All Star Band, 'Long Black Veil'
Jorma Kaukonen and Barry Mitterhoff with Larry Campbell, Justin Guip, Byron Isaacs and Jaimoe, 'Trouble in Mind'
Levon Helm Band with Shawn Pelton, 'This Wheel's on Fire'
Larry Campbell, Justin Guip, Amy Helm, Byron Isaacs and Teresa Williams, 'Little Birds'
Marc Cohn with the Levon Helm Band and Greg Leisz, 'Listening to Levon'
Mavis Staples with the Levon Helm Band, 'Move Along Train'
Allen Toussaint with the Levon Helm Band and Jaimoe, 'Life Is a Carnival'
John Prine & Garth Hudsonn with the Levon Helm Band and Joan Osborne, 'When I Paint My Masterpiece'
Bruce Hornsby with Larry Campbell, Amy Helm and Teresa Williams, 'Anna Lee'
Jakob Dylan with the All Star Band and Rami Jaffee, 'Ain't Got No Home'
Lucinda Williams with the All Star Band and Rami Jaffee, 'Whispering Pines'
John Hiatt with the All Star Band and Mike Gordon, 'Rag Mama Rag'
David Bromberg & Joan Osborne with the All Star Band, 'Don't Do It'
Grace Potter with Don Was and Matt Burr, 'I Shall Be Released'
Ray LaMontagne & John Mayer with the All Star Band, 'Tears of Rage'
Dierks Bentley with the All Star Band, Jessi Alexander and Jon Randall, 'Rockin' Chair'
Dierks Bentley & Garth Hudson with the All Star Band, Jessi Alexander and Jon Randall, 'Chest Fever'
Eric Church with the All Star Band, 'A Train Robbery'
Eric Church with the All Star Band, 'Get Up Jake'
John Mayer with the All Star Band and Steve Jordan, 'Tennessee Jed'
Joe Walsh & Robert Randolph with the All Star Band, 'Up on Cripple Creek'
My Morning Jacket, 'Ophelia'
My Morning Jacket, 'It Makes No Difference'
My Morning Jacket, Roger Waters and G. E. Smith, 'The Night They Drove Old Dixie Down'
Roger Waters and G. E. Smith with the All Star Band, 'Wide River to Cross'
All Artists, 'The Weight'
More From Ultimate Classic Rock