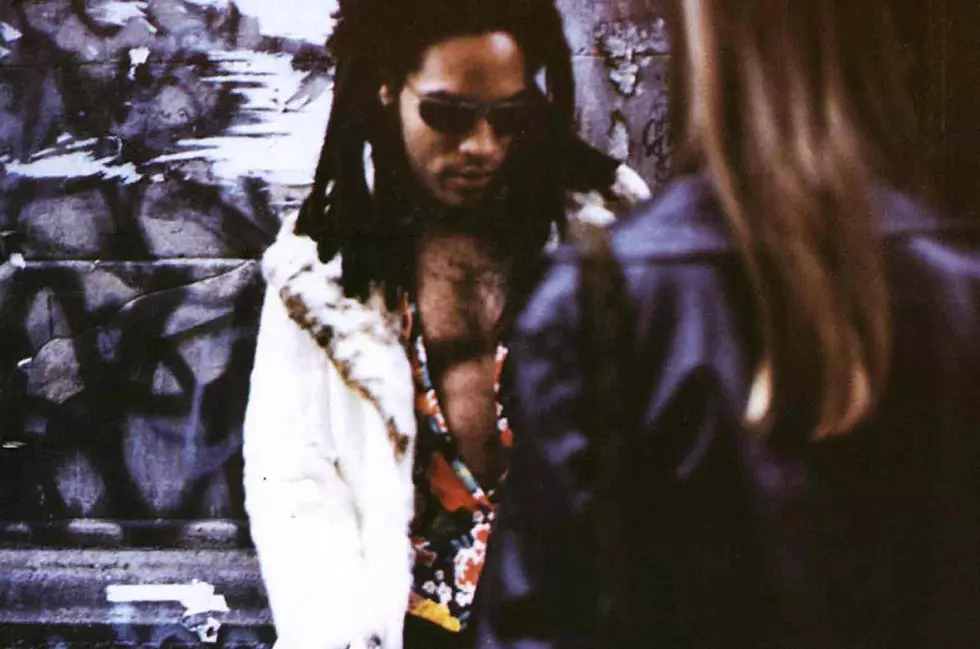 How Lenny Kravitz Broke Through With 'Are You Gonna Go My Way'
Virgin
Are You Gonna Go My Way elevated Lenny Kravitz to superstar status, cementing him as more than just a pop-culture curiosity.
The singer-songwriter and multi-instrumentalist's third album got heavily featured on MTV, received blanket airplay on rock radio and ultimately became one of the biggest sellers of his career.
Before Are You Gonna Go My Way's release on March 9, 1993, Kravitz was reasonably well-known but wasn't a household name. Much of the press that surrounded his 1989 debut album, Let Love Rule, focused on his marriage to The Cosby Show's Lisa Bonet, as well as his showbiz bloodline. His father, Sy Kravitz, was a successful television exec, and his mother, Roxie Roker, was an actress most famous for playing Helen Willis on the long-running sitcom The Jeffersons.
Even the press outlets that wrote about Kravitz from a musical perspective fixated on the "novelty" of a black guy playing rock 'n' roll and his unabashed reverence for the sounds of the '60s and early '70s. Kravitz prided himself on using analog equipment for his self-written and -produced recordings, and songs like "Flower Child" were steeped in the sounds of the Beatles, to name one major influence. Ultimately, his debut made a little noise but was not a major hit, peaking outside the Top 100. The album did catch the ears of some taste-makers, though; Madonna recruited Kravitz to co-write and produce her 1990 chart-topper "Justify My Love."
Piggybacking off "Justify My Love"'s success, Lenny released his second album, Mama Said, in early 1991. Lyrically, the album was largely inspired by his divorce from Bonet, which garnered more than its fair share of press attention. Although the Slash-featured "Always on the Run" didn't make much noise, the smooth soul jam "It Ain't Over 'Til It's Over" landed at No. 2 on the Billboard Hot 100 and earned a Top 10 slot on the R&B charts as well. The video was also well-received on MTV, VH-1 and BET. With that success, the stage was set for Are You Gonna Go My Way.
That album, released on March 9, 1993, became Kravitz's first Top 20 hit, peaking at No. 12. It was certified double platinum, having sold more than 2 million copies in the U.S. to date. Outside his home country, it was also a smash, becoming his first chart topper in the U.K. and Australia. The album was nominated for two Grammy Awards, the first of his career. It remains the second best-selling studio album of Kravitz's career, following 1997's behemoth 5.
Watch Lenny Kravitz's 'Are You Gonna Go My Way' Video
Kravitz headed to the unlikely location of Hoboken, N.J., to cut Are You Gonna Go My Way in late 1992. As per custom, he wrote almost all of the songs and played most of the instruments, with the most prominent assistance given by his longtime collaborator and guitarist Craig Ross. Kravitz's musical chameleon instincts are in full effect on this album, with a wide range of styles covered in the 11 tracks.
The smash title cut combines a messianic lyric with Hendrix-style power chords. "Sister" is a harrowing lo-fi tale of domestic abuse, "Believe" is a Lennon-esque self-help ballad and "Sugar" has a '70s soul vibe. The album's closer, "Eleutheria", finds Kravitz venturing into reggae territory. The singer, who has Caribbean-American roots, titled the song after the Bahamian island Eluethera, where he eventually made his home.
"Believe" and "Heaven Help" were the only two tracks from Are You Gonna Go My Way to be commercially released as singles in the U.S. The former peaked at No. 60 on the Billboard Hot 100, while the latter topped out at No. 80 pop and grazed the R&B chart at No. 92.
"Heaven Help" is notable because it was a rare Kravitz track not written by the artist himself. The gentle pop-soul ballad was co-composed by Terry Britten, who is perhaps best known as the Grammy-winning co-author of Tina Turner's "What's Love Got to Do With It". Released as an airplay-only single, the album's title track topped Billboard's Mainstream Rock chart, and the Mark Romanek-directed clip won the Best Male Video award at the 1993 VMAs.
Kravitz also delivered a blistering performance at the show. The MTV love continued into the following year, when they gifted the artist with an Unplugged special just as the Are You Gonna Go My Way campaign was concluding.
Kravitz attempted to equal the success of Are You Gonna Go My Way with 1995's Circus, but the album fell comparatively flat in the U.S. It topped out at gold sales despite becoming Kravitz's first Top 10 charting LP. He peaked in the late '90s and early '00s with a multi-platinum Greatest Hits album and four straight Grammy Awards for Best Male Rock vocal performance. Are You Gonna Go My Way was the beneficiary of a 20th-anniversary reissue, and received a contemporary remaster and added a second disc of demos, B-Sides and soundtrack rarities.
Top 100 '90s Rock Albums
More From Ultimate Classic Rock