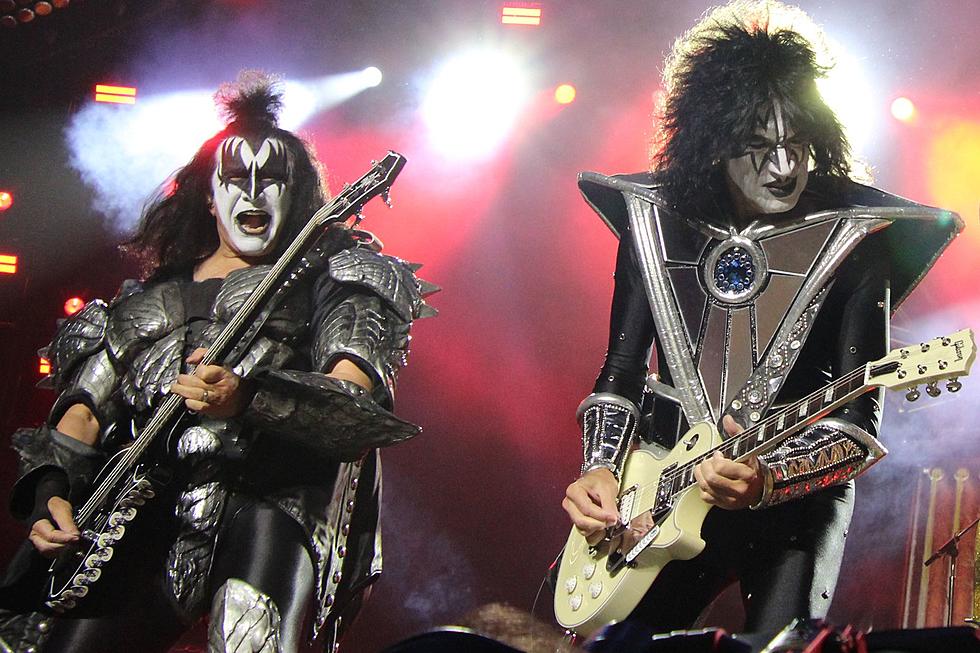 Kiss Bids Cleveland an Explosive Farewell: Photos, Set List
Matthew Wilkening, UCR
Kiss played Cleveland for what they repeatedly promised was the last time Sunday night, packing at least three normal shows' worth of pyrotechnics into their 20-song set at Rocket Mortgage Arena.
You can see exclusive photos and the full set list from the show below.
"This is the 27th time, and the last time, we'll be joining you, Cleveland," frontman Paul Stanley said early in the show. "I know it's sad, but it's time for a joyous celebration."
Stanley, fellow Kiss founder and bassist Gene Simmons, drummer (and Cleveland native) Eric Singer and lead guitarist Tommy Thayer sounded great while tearing through a set list that visited all eras of the band's 50-year history. At every imaginable opportunity their music was punctuated by flames, fireworks, lasers, smoke and special effects.
Things got especially frenzied near the end of the show. Simmons did his famous blood-spitting and flying routine before "God of Thunder," which caused an unprepared usher in our section to gasp out loud in a half-amused, half-revolted manner.
READ MORE: Kiss' 50 Most Important Concerts
After doing his own flying act out to a second stage in the middle of the crowd, Stanley took a page out of Christmas Vacation's Aunt Bethany by leading everybody through the Pledge of Allegiance. Balloons filled the sky during "Do You Love Me," and Simmons and Thayer flew all around the venue on giant cranes during the closing "Rock and Roll All Nite."
"Did you get what you came for?" Stanley rhetorically asked the confetti-covered crowd at the end of the show. "We thank you from the bottom of our hearts. You've been awesome. We will never forget you."
Kiss' Long-Delayed Farewell Tour Finally Nears the End
Kiss' End of the Road Farewell tour, which began back in January 2019 and was repeatedly delayed by the COVID pandemic,  is scheduled to end on Dec. 2 with the second of two sold-out shows at Madison Square Garden.
When UCR recently asked Stanley if he could see Kiss launching their own residency at Las Vegas' new technologically advanced Sphere venue, his answer was clear. "The way I feel today is... I can't really see that happening. As far as I'm concerned, we're done."
Kiss Plays Cleveland for the Last Time Ever
Kiss said farewell to Cleveland with a final concert on Oct. 22, 2023.
Gallery Credit: Matthew Wilkening
Kiss, 10/22/23 Rocket Mortgage Arena, Cleveland
1. "Detroit Rock City"
2. "Shout it Out Loud"
3. "Deuce"
4. "War Machine"
5. "Heaven's on Fire"
6. "I Love it Loud"
7. "Say Yeah"
8. "Cold Gin"
9. "Lick it Up"
10. "Calling Dr. Love"
11. "Makin' Love"
12. "Psycho Circus"
13. "100,000 Years"
14. "God of Thunder"
15. "Love Gun"
16. "I Was Made for Lovin' You"
17. "Black Diamond"
18. "Beth"
19. "Do You Love Me"
20. "Rock and Roll All Nite"
More From Ultimate Classic Rock