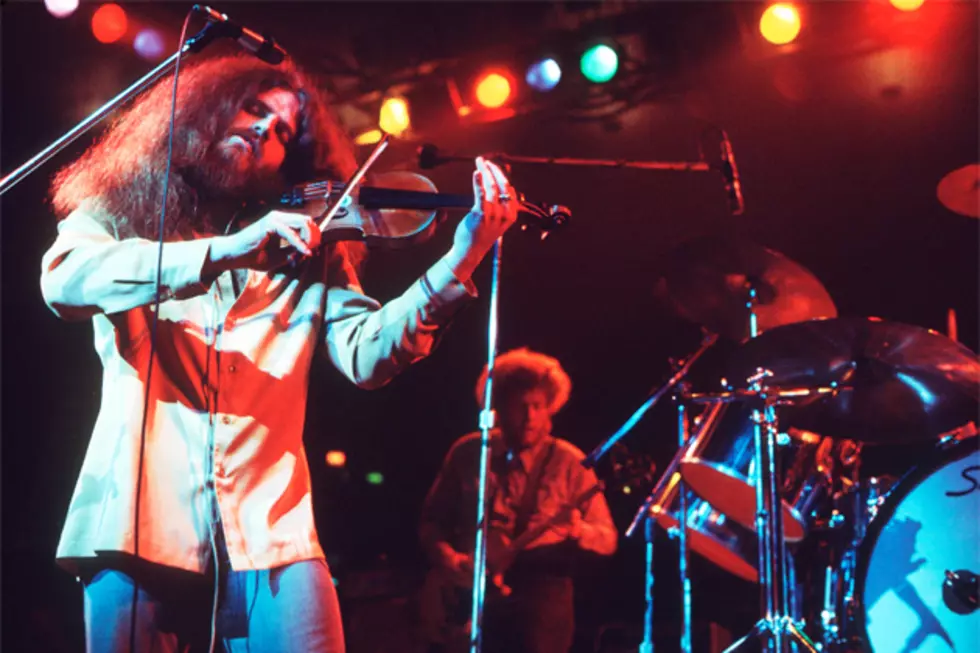 Kansas Violinist Robby Steinhardt Suffers Heart Attack
Michael Putland, Getty Images
Robby Steinhardt, a founding member of Kansas and a distinctive part of the band's signature sound, is in the hospital after suffering a heart attack on Aug. 9.
The band shared the news via its Facebook page, posting a message that reads, "On Friday afternoon, Robby Steinhardt was admitted into a hospital due to a heart attack. At present, he is resting comfortably while awaiting a quadruple bypass operation early this coming week."
Although Steinhardt is no longer part of the current Kansas lineup, he's still a presence in the fan community. As the Facebook message went on to state, "The thoughts and prayers of the Kansas band and crew are with Robby and his family. Robby has asked for his family's privacy to please be respected at this time. Due to his treatment and recovery, Robby will be unable to attend the Fan Appreciation Concert in Pittsburgh next weekend. However, all other aspects of the concert will continue as planned."
As a member of Kansas during their first nine years, Steinhardt contributed violin and vocals in addition to serving as the band's concert emcee, delivering between-song patter. "Robby had a totally unique function as a violinist, second vocalist and emcee in a live situation," recalled guitarist and songwriter Kerry Livgren in an interview a few years ago. "Robby was the link between the band on the stage and the audience."
That link was first severed in 1982, during a period that also saw the departures of Livgren, bassist Dave Hope and singer-keyboardist Steve Walsh. Following the release of 1982's 'Vinyl Confessions' album, drummer Phil Ehart remembered, "We'd been trying for ages to persuade Robby to clean up. In the end, we told him that he needed to go away for a while. In the end, though, we didn't see him again for 16 years!"
After pursuing outside projects (including fronting the Steinhardt/Moon Band), Steinhardt returned in 1997, joining the band for a series of live and studio recordings that included 'Always Never the Same' and 'Somewhere to Elsewhere.' He departed again in 2006, as part of what Walsh described as a period of internal "turmoil" for the band. In a post at his website, he described it as "one of the most difficult things we've ever had to do" and lamented, "I'd like to say it was pleasant and friendly. But I was in such turmoil at the time, I didn't really know who was my friend and who wasn't."
More From Ultimate Classic Rock