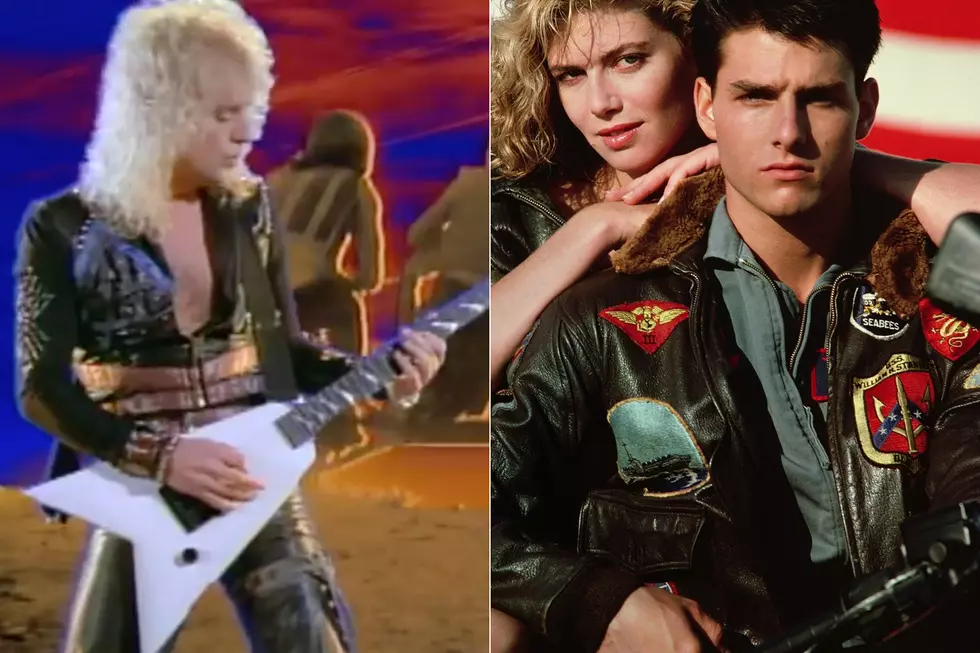 Why Judas Priest Turned Down the 'Top Gun' Soundtrack
YouTube / Paramount Pictures
With more than 50 million albums sold and legions of adoring fans, it's hard to question any of the decisions Judas Priest have made throughout their career. Still, former guitarist K.K. Downing admitted the band made a "big mistake" when it turned down the Top Gun soundtrack.
It was 1986 and glam-metal was at its height in popularity. Movie producers sought to capitalize on the fandom by featuring a hard-rock song on their soundtrack. They wanted something emphatic and powerful to match the adrenaline rush of the film. So, they approached Judas Priest, who -- fresh off the success of Screaming for Vengeance (1982) and Defenders of the Faith (1984) -- were working on their next album, Turbo.
"We were down in the studio mixing the album and everything was just working out," Downing recalled of the moment they were approached for the project. When the filmmakers heard "Reckless," they believed they'd found the perfect song for the closing credits of Top Gun. There was just one problem: The contract called for exclusive rights of the track to go to the film's soundtrack. If Priest agreed to the deal, they would not be allowed to include "Reckless" on Turbo.
"We decided not to take it off [Turbo]," Downing explained in an interview posted on his official website, adding that the band didn't want to change the LP's construction because it "thought the album flowed really well." "That was a big mistake on our part."
Listen to Judas Priest's 'Reckless'
Turbo was released on April 14, 1986, with "Reckless" as its closing track. Though the album sold more than a million copies, it failed to score the radio hit the band hoped for. Decades later, Downing recognized that the clout of Top Gun could have pushed "Reckless" to the top of the charts.
"That probably would have done it, because it would have been all over the radio, I suppose, if it was in the movie," the guitarist opined to Classic Rock. "We thought 'Turbo Lover' and 'Locked In' were going to do it for us, but they didn't. The tour was very successful, the album was successful, but it wasn't the big-selling album that we hoped for."
Top Gun, meanwhile, went on to become a box-office smash, earning more than $350 million worldwide. Its soundtrack hit No. 1 on the Billboard albums chart, selling more than 9 million copies in the U.S. alone. "Danger Zone" by Kenny Loggins would be the movie's closing-credits song, with the track becoming synonymous with the film and '80s pop culture.
Despite occasional what-could-have-been thoughts, Downing remained pragmatic regarding Top Gun. "Obviously, it would have been cool to have that in the movie, but we didn't," he said. "We offered them three other songs, but the producers didn't want them."
Judas Priest Lineup Changes: A Complete Guide
More From Ultimate Classic Rock