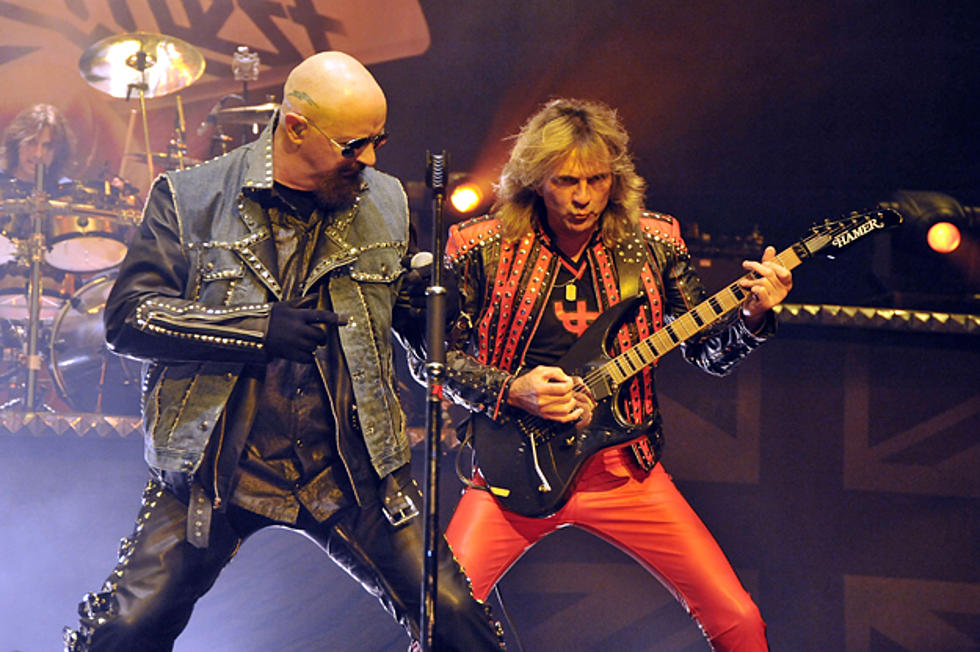 Judas Priest Announce 2011 Farewell Tour Details
Judas Priest announced specifics for their 2011 tour plans yesterday, and we're happy to report that it might be a bit premature to use the words "farewell" and "Judas Priest" in the same sentence.
As so many other bands have done in the past, it appears that Judas Priest might be reneging slightly on their plans to say goodbye after their upcoming "farewell" tour.  Speaking at a press conference yesterday, guitarist Glenn Tipton said "It's not exactly the end of the band; it's just the fact that we won't really be doing any more world tours."
According to Tipton, the possibility exists that the band would be open to playing short runs of shows, but "in general, this is probably the last chance you'll get to see Priest live."
Priest vocalist Rob Halford expanded on his previous comments about the band's currently in progress new album, saying that the group does have some completed tracks in the can and they're exploring the best way to get the music out there.
"We wanted to make at least one more great metal album that really represents all the wonderful things we've tried to do," Halford stated. "If things go as planned, we want to get this out by the summer of next year."  Tipton adds that there are three tracks completed, that they might release music via their website in the future, and called some of the new material "a tribute to the fans."
The forthcoming 'Epitaph' tour, which will be the band's first with new guitarist Richie Faulkner replacing longtime guitarist K.K. Downing, promises to be an epic one. Tipton says the band will be doing at least one track from every album.  The tour will kick off October 12 in San Antonio and run for a month before wrapping up on November 18 in East Rutherford, N.J.  Support will come from Thin Lizzy and Black Label Society.
As Priest shows go, this one is likely to be one to remember – Halford says that the band will be "pulling out all of the stops." "We've built a brand new stage set, we've got all the effects that people love us for -- the lasers, the fire, the bombs, the smoke, new costumes, and the bike. It's just a full-on metal extravaganza."
Judas Priest 2011 Tour Dates:
10/12 -- San Antonio, Texas
10/14 -- Corpus Christi, Texas
10/15 -- Houston, Texas
10/16 -- Dallas, Texas
10/18 -- Tucson, Ariz.
10/19 -- San Diego, Calif.
10/21 -- Phoenix, Ariz.
10/22 -- San Bernardino, Calif.
10/23 -- Las Vegas, Nev.
10/25 -- Los Angeles, Calif.
10/26 -- Oakland, Calif.
10/29 -- Seattle, Wash.
10/30 -- Vancouver, British Columbia
11/1 -- Edmonton, Alberta
11/2 -- Calgary, Alberta
11/4 -- Salt Lake City, Utah
11/5 -- Denver, Colo.
11/12 -- Chicago, Ill.
11/13 -- Detroit, Mich.
11/18 -- East Rutherford, N.J.
Watch the Judas Priest Epitaph Tour Press Conference
More From Ultimate Classic Rock