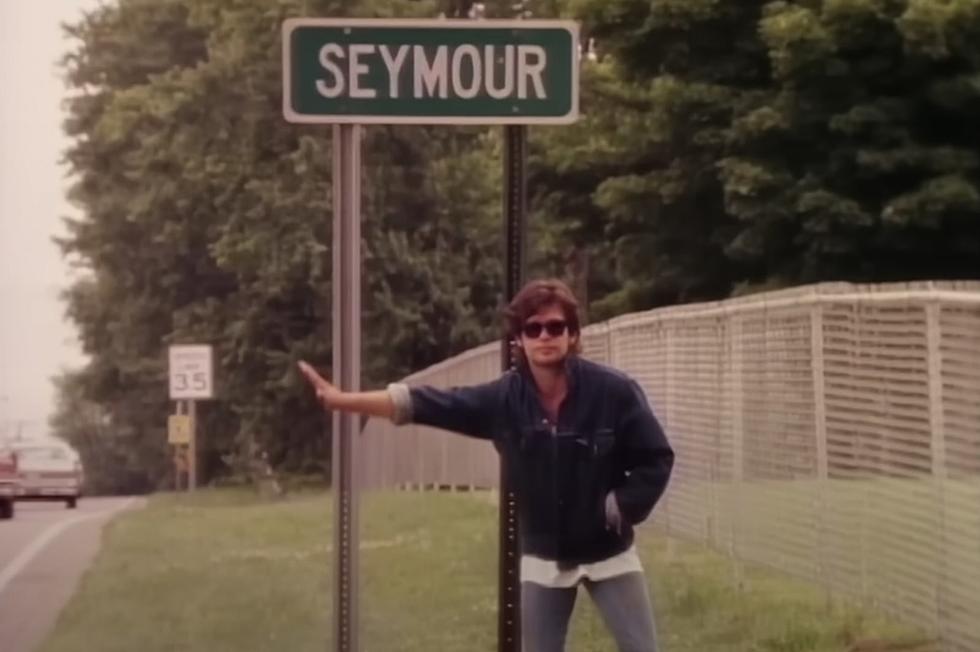 How John Mellencamp Celebrated His Roots With 'Small Town'
YouTube
John Mellencamp was a bona fide rock star by 1985, with a No. 1 album and a slew of Top 10 hits under his belt, but he proved on that year's "Small Town" that he hadn't outgrown his roots.
The Seymour, Indiana-born rocker hit the big time with 1982's chart-topping American Fool, which spawned the No. 1 smash "Jack & Diane" and the No. 2 single "Hurts So Good." He went multiplatinum again with 1983's Uh-Huh, bolstered by the Top 10 hits "Crumblin' Down" and "Pink Houses."
Mellencamp's rigorous touring and recording schedule left him little time to unwind at his home in Bloomington, Indiana. But on one rare day of rest in 1984, the singer went down to his basement laundry room and discovered a shiny new present from his wife at the time, Victoria Granucci. "I'm the worst speller in the world, so Vicky had ordered an electric typewriter with a built-in spell-check system," Mellencamp told The Wall Street Journal in 2016. "I tried to make sense of the owner's manual, but I couldn't figure it out. I'd put a sheet of paper in and start typing, but the words I misspelled weren't being corrected.
"Frustrated, I said to myself, 'Well, I guess I'm just a stupid hillbilly. What do I know? I was born in a small town,'" he continued. "After a few more minutes with the typewriter, I began to realize it didn't automatically correct misspelled words. It had a dictionary on a computer chip that identified words you misspelled and beeped to alert you to fix them."
As he waged war against the typewriter, Mellencamp picked up his guitar and began playing and singing the lyrics, "Well, I was born in a small town / And I live in a small town." His new device beeped incessantly all the while, much to the amusement of his wife and Aunt Tootes upstairs.
Watch John Mellencamp's 'Small Town' Video
"Eventually I went upstairs, looked at Vicky and Aunt Tootes, and said, 'I'm glad you guys think this is so funny,'" Mellencamp recalled. "They started laughing again. I said, 'OK, now laugh at this.' I played them 'Small Town,' and they went dead quiet. When you play what you've done for a family member and you get that kind of reaction, you know you have something."
The inspiration for "Small Town" predated Mellencamp's typewriting farce. The singer had faced condescension over his roots throughout his career. "'Small Town' reflected conversations that I heard in the music business," he told Rolling Stone in 2013. "I had a stuttering problem, and my accent, and people would say, 'You talk funny.' I would think, 'You're the one with the New York accent.' In interviews, people would ask, 'Do people in Bloomington even have MTV? Do they have CNN?'
"I wanted to write a song that said, 'You don't have to live in New York or Los Angeles to live a full life or enjoy your life,'" he added. "I was never one of those guys that grew up and thought, 'I need to get out of here.' It never dawned on me. I just valued having a family and staying close to friends."
The message struck a chord with millions of listeners, as "Small Town" vaulted to No. 6 on the Billboard Hot 100. It became one of three Top 10 singles off 1985's Scarecrow, an incisive LP about the death of the American dream under oppressive corporate greed.
The album sold 5 million copies in the U.S., and it compelled Mellencamp to advocate for less fortunate people who shared his small-town, blue-collar roots. He partnered with Willie Nelson and Neil Young that year to launch Farm Aid, an annual benefit concert to help American farmers.
"For some time, my friends and I had been talking about how small towns and the people who lived there were getting screwed economically as America changed," Mellencamp said. "Soon I realized that 'Small Town' was more than a phrase of my own frustration. It was a song that felt as though Woody Guthrie had sent it to me from the grave."
Another perk of small-town life: It kept Mellencamp humble even amid his astronomical success. "That's where my friends are, my family's there, and I guess I don't make friends real easy, so it's easy for me to stay there," he told David Letterman in 1985. "Plus, your head doesn't get out of proportion. My friends say, 'Oh, John, it's the same stuff he was playing 20 years ago.' They're not too impressed with it."
John Mellencamp Albums Ranked
A pre-fab pop singer turned heartland rocker turned rootsy moralist, John Mellencamp has had almost as many career turns as names.
More From Ultimate Classic Rock