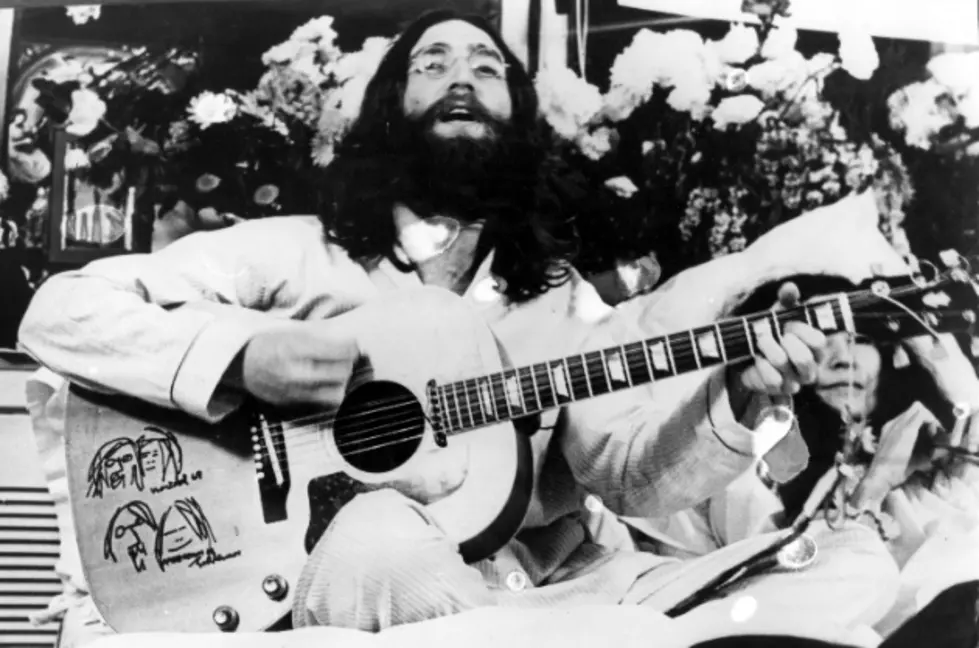 Top 10 John Lennon Solo Political Songs
Hulton Archive, Getty Images
Following the Beatles' disintegration, John Lennon entered a remarkable phase of soul-bearing, making some of rock's most emotional admissions. He also took a more determined turn toward political issues. That transformation began when the Beatles were still together, when Lennon and Yoko Ono declared 1970 as "Year One A.P. (After Peace)." From there, it was as common for him to reveal his deepest feelings as it was to carry a protest sign -- at least through his retirement in 1975. Lennon would return with more family-focused songs on 1980's 'Double Fantasy,' right before he was killed. It's impossible to know how he would have approached modern-day issues, but Lennon's early-'70s recordings might give us a clue. They still make you think, especially the ones on our list of the Top 10 John Lennon Solo Political Songs.
10

'Attica State'

From: 'Sometime in New York City' (1972)

Sparked by the recent prison riot at the Attica Correctional Facility, Lennon makes an impassioned call for more humane treatment of prisoners everywhere while issuing a series of scorching condemnations aimed at the U.S. judicial system. He sings "free the prisoners, jail the judges," before urging that everyone "come together, join the movement, take a stand for human rights."

9

'Remember'

From: 'Plastic Ono Band' (1970)

Lennon outlines a series of crushing childhood disappointments on 'Remember' before making a bitter reference to the British holiday called Gunpowder Treason Day. Bonfires are lit on this evening, also known as Guy Fawkes Night, to celebrate the failure of plot to overthrow King James I of England. Former Beatles bandmate Ringo Starr helps with the angry, staccato musical backing.

8

'Woman is the N----- of the World'

From: 'Sometime in New York City' (1972)

Yoko Ono originally used the phrase "woman is the n----- of the world" in an interview with Nova in 1969, and it eventually became the basis for one of Lennon's most controversial songs. The single was promptly banned from radio for the use of the racial slur, despite Lennon's repeated explanations that he was arguing against sexism.

7

'Bring on the Lucie (Freeda People)'

From: 'Mind Games' (1973)

Powered by a slide guitar right out of the George Harrison playbook (though David Spinozza is actually playing it here), "Bring on the Lucie" eviscerates lying politicians while making an impassioned call (stop the killing!) for the end of the ongoing Vietnam conflict.

6

'Power to the People'

From: 1971 Single

Though the title was lifted from a Black Panthers slogan, 'Power to the People' -- thanks to a production assist from Phil Spector -- emerged as its very own thing, and one of Lennon's funkiest and hardest-hitting musical achievements. Spector brought in a group of grooving backup singers, fronted by the Orlons' Rosetta Hightower, then had them stomp their feet to provide a political rally-like cadence.

5

'Happy Xmas (War Is Over)'

From: 1971 Single

Considering the way he dismantled religion on 1970's 'God,' Lennon might be the last person you'd expect to release what's become a perennial holiday favorite. Ever the provocateur, Lennon took the opportunity to encourage Yuletide revelers toward a broader sense of pacifism.

4

'Working Class Hero'

From: 'Plastic Ono Band' (1970)

Lennon may have been the most affluent Beatle growing up, but his disjointed family life gave him plenty of youthful venom. He returns to his feelings of childhood isolation on this stark, confidential narrative, using them as a platform to explain wider societal ills. The result is one of Lennon's most brutally frank and emotionally gripping moments.

3

'Gimme Some Truth'

From: 'Imagine' (1971)

The origins of this song go all the way back to the sessions that produced the Beatles 'Let It Be.' But by the time Lennon finally finished 'Gimme Some Truth,' it had been transformed into a much darker and confrontational track. Still, it's no screed, as Lennon employs all of the brilliant wordplay associated with his best songs, notably the mention of a certain "Tricky Dicky" then sitting in the White House.

2

'Give Peace a Chance'

From: 1969 Single

Recorded during Lennon and Yoko Oko's "bed-in," the antiwar stunt where the couple hung out with the press in a Montreal hotel room, 'Give Peace a Chance' features an all-star cast that had gathered around the oddball scene. But it's also the greatest slogan ever constructed by an artist famous for them. Soon, the song was being sung in tandem with traditional rallying calls like 'We Shall Overcome.'

1

'Imagine'

From: 'Imagine' (1971)

If earlier protest songs like 'Revolution' or 'Working Class Hero' could be faulted for criticizing the sociopolitical climate without providing any concrete answers, 'Imagine' certainly couldn't be. It's become the default image of Lennon as a big-thinking peacenik. His doctrine for the end of wars begins with imagining it -- a radical ideal that still resonates.
More From Ultimate Classic Rock