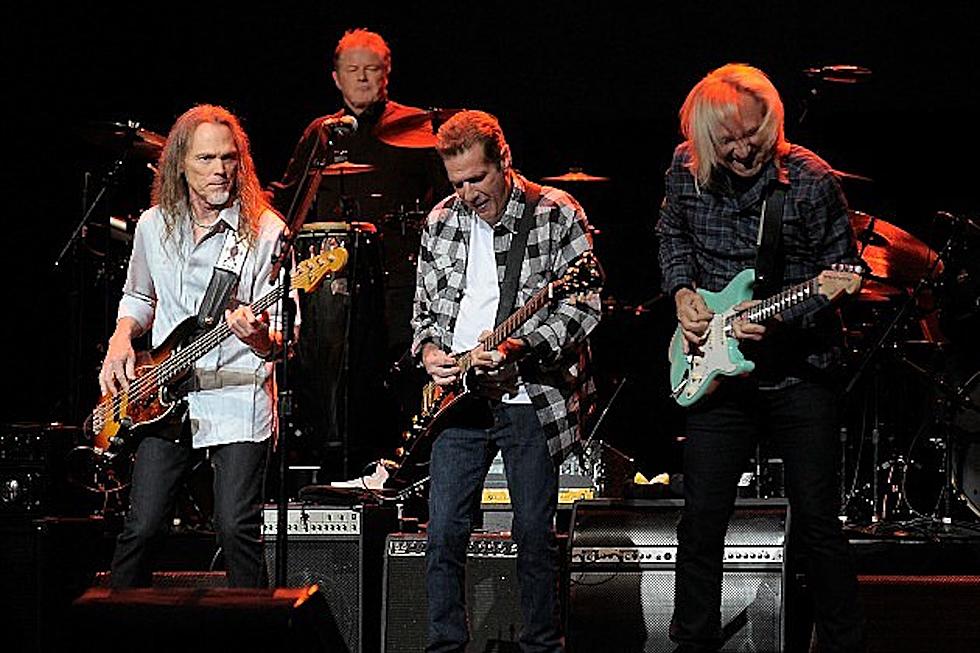 How Joe Walsh's Eagles Bandmates Saved His Life
Charley Gallay, Getty Images
The mid-'70s were a challenging time for guitarist Joe Walsh.
A car accident in 1974 left his wife at the time, Stefany Rhodes, critically injured and killed his 4-year-old daughter, Emma. A bereft Walsh turned to substances to get through the days and maintain his job.
"I found that alcohol took the edge off my stage fright, and I found I had good luck finishing songs with cocaine," Walsh recently told Mojo. "And very subtly the combination of that stuff convinced me I couldn't do anything without it. It was all an attempt to self-medicate."
READ MORE: Underrated Eagles: The Most Overlooked Song From Each Album
The year after that, Walsh was invited to join the Eagles, and although the band was hugely successful in the subsequent years, Walsh's problems didn't go away. In 1980, the band quit touring and broke up, while Walsh's struggles continued.
"I became about as alcoholic and drug dependent as someone can be," he said. "I ran with the best of them – but my buddies pretty much all died, and I barely made it back. I was incredibly self-destructive for a long time. I saw all the warning signs. I said to myself, You're going to have to do something or you're gonna die."
The Reunion That Got Joe Walsh Sober
Twelve years later, Walsh's former bandmates Glenn Frey and Don Henley met up with him in Aspen, Colorado, where they told him they wanted to get the Eagles back together, but only if Walsh could get sober. To Walsh, it seemed like the best reason for him to get clean.
"They saved my life, without a doubt," Walsh said. "Just by talking to me straight. They were the only people I would have listened to. I owe them the world, both of them."
By 1994, Walsh was completely sober, and though it took some time to adjust to performing again, he said he's never regretted the decision, even if there was a time when he didn't think he'd make it to the age or position he is now: 29 years clean.
"People in trouble, young musicians especially, should know that there is life after alcoholism and addiction and it's good," Walsh concluded. "If anyone's proof of that, it's me."
The Best Song From Every Eagles Album
Which ones go the distance?
Gallery Credit: Nick DeRiso
More From Ultimate Classic Rock