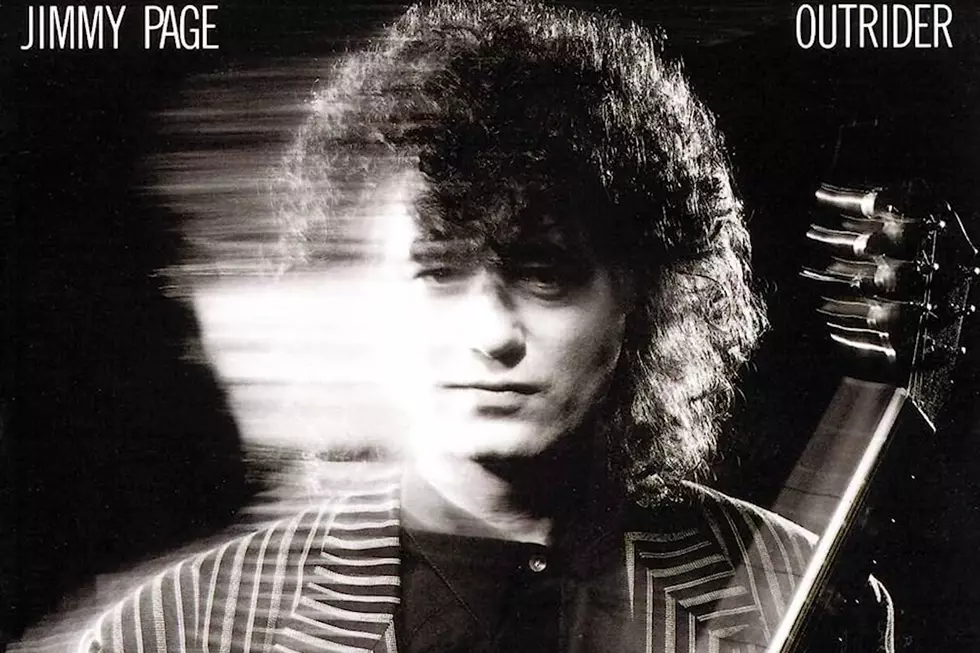 When Jimmy Page Finally Released His First Proper Solo LP
Geffen Records
Jimmy Page was a band player before he started Led Zeppelin. He returned to the group ranks after Zeppelin's breakup in 1980, starting the Firm with former Bad Company singer Paul Rodgers. But by the late '80s, he was ready to step out on his own.
The result was Page's first proper solo release, 1988's Outrider, which found one of rock's most respected guitarists working with a cast of characters that included former Firm bassist Tony Franklin, Zeppelin drummer John Bonham's son Jason, and vocalists John Miles and Chris Farlowe – as well as former bandmate Robert Plant, who contributed vocals to one song, "The Only One."
If that description makes Outrider sound like a bit of a hodgepodge, there's good reason. Page was initially rumored to be recording an ambitious double-album set whose songs would be grouped according to genre, but those plans had to be scaled back after he was forced to start from scratch partway through the demoing process.
"I remember looking around for some demos and sort of wondering where all my tapes were," he later said in Light and Shade: Conversations With Jimmy Page. "There was so much going on around my house and in my life at that time, I just figured they'd turn up somewhere. Well, they did turn up – as bootlegs! Someone who was pretending to be a friend stole the tapes."
That setback put a completely different spin on the Outrider recording process. As Page went on to admit, he might not have made it a double LP anyway: "Because I was shaping Outrider as I went along, I put more work into it than any other album I've ever worked on," he claimed. "Consequently, I didn't fancy doing a double; it would have been a masochistic task."
Listen to Jimmy Page's 'Wasting My Time'
Fortunately, Page had the luxury of working within a fairly sophisticated home studio system, which allowed him to build the tracks as he went along without racking up astronomical bills. "There weren't any demos. ... Everything was basically made up in the studio, you see," he told Guitar World. "I just play the guitar, don't I? That is my characteristic and it's my identity as you hear it. I suppose as far as this album goes, in a way it's almost like a back-to-basics album."
He ended up with a nine-song set comprised of eight originals and a cover of Leon Russell's "Hummingbird," with three instrumentals mixed in among the six vocal numbers. Focused on the arrangements, which included a ton of guitar overdubs, Page left responsibility for the lyrics to his singers. As he put it to Guitar World: "I don't sing, so I think if a guy's doing the lyrics, he's gonna sing them with more conviction than if he's doing yours, so to speak. That was the concept there, anyway."
Released on June 19, 1988, Outrider cracked the Top 30 on both sides of the Atlantic, but it wasn't the sort of critical or commercial success he'd enjoyed with Led Zeppelin. In fact, his former band's legacy shadowed the new album in more ways than one. As Page said in Light and Shade: "When I went to the U.S. to do publicity for the Outrider album, all I heard was 'Robert said this' and 'Robert said that.' It was really bothersome. I continually had to say, 'Aren't we supposed to be talking about Outrider?"
On the other hand, as he told Guitar World, "I started a solo career probably pretty late in the day, possibly." At the time, he expressed hope that Outrider was just "the first projected element" of an ongoing series of solo records, saying: "And then, each album that I do is gonna be different, hopefully. So this was just like – it gave a taste of the different guitar styles that I do."
As fans know, things didn't exactly turn out that way. In fact, Jimmy Page wouldn't issue a new album until 1993, when he returned with the short-lived David Coverdale duo project Coverdale/Page before reuniting with Plant for a pair of recordings in the '90s. Page's musical ambitions subsequently took a back seat to his duties as the Led Zeppelin archivist, further delaying a solo follow up to Outrider.
Led Zeppelin Albums Ranked
Counting down every canonical Led Zeppelin album, from worst (relatively speaking, of course) to best.
More From Ultimate Classic Rock