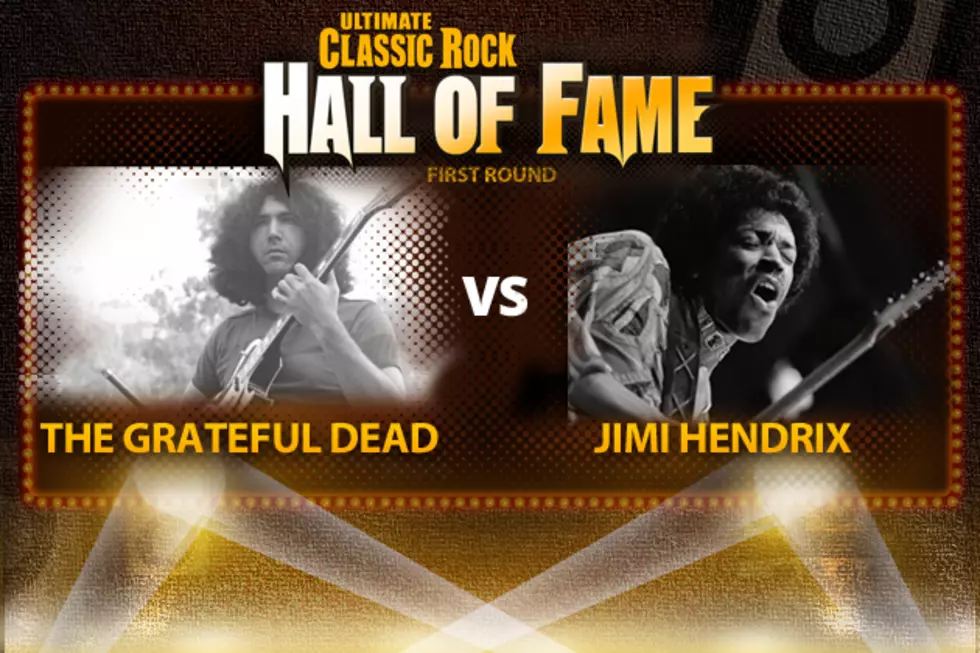 Jimi Hendrix Vs. the Grateful Dead – Ultimate Classic Rock Hall of Fame Round One
Ultimate Classic Rock
Two acts who were among the most famous musical explorers in rock history -- Jimi Hendrix and the Grateful Dead -- are pitted against each other in the first round of our May 2013 Ultimate Classic Rock Hall of Fame poll. Each month, our readers will determine which of eight legendary artists or bands is immortalized forever for their contributions to classic rock history.
It's safe to say our two challengers burned at very different speeds. Hendrix blazed across the sky like a comet, releasing just three studio albums in a recording career that barely lasted four years. Of course in that time he pretty much re-wrote the book on what could be accomplished with a guitar -- combining rock, blues, folk, soul and psychedelia into something utterly unique and otherworldly. His influence is still felt today. Hell, he's still releasing new music somehow.
The Grateful Dead, meanwhile, wandered around the musical landscape for three decades, combining many of the same influences as Hendrix into their own softer, more amorphous sound. They built one of the most loyal live followings in history with their heavily improvised shows, which are still being archived, traded and learned from today. They also delivered their share of classic studio albums, most notably the 1970 double-dip of 'American Beauty' and 'Workingman's Dead.'
"Why Isn't My Favorite Band Nominated for the UCR Hall of Fame?"
So who's going to make it through this first round? That's completely up to you. Heck, if these peace-lovers had their way they'd probably just have a big jam session instead. Readers can vote once a day from now until 11:59PM ET on May 12. You can read the Hall of Fame's official rules right here. Be sure to mark your calendars for June 1, when the third entrant into the Ultimate Classic Rock Hall of Fame is revealed.
More From Ultimate Classic Rock