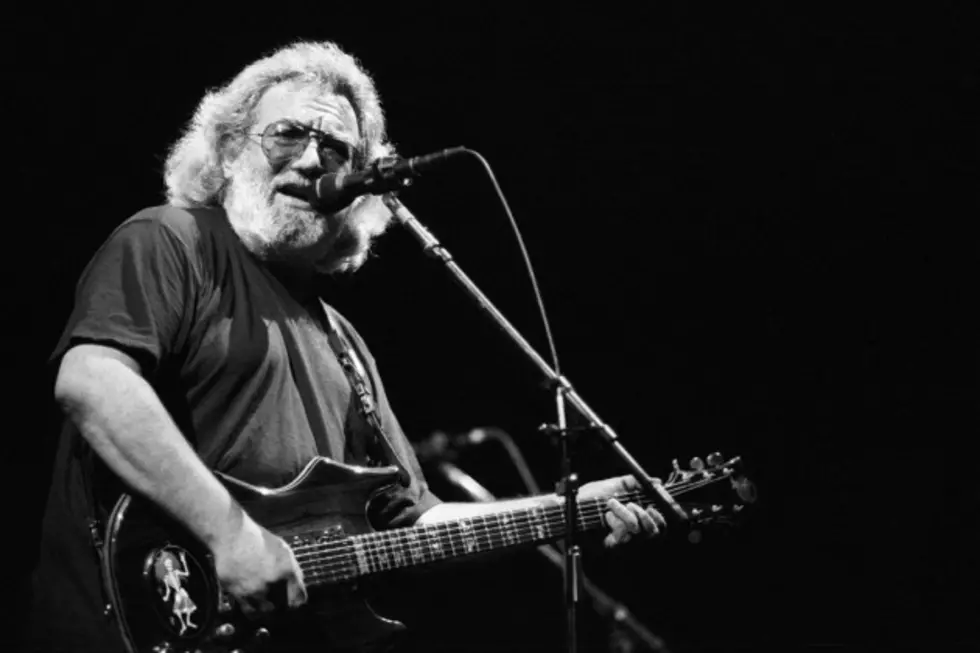 Remembering Jerry Garcia: 20 Career Highlights
Larry Busacca, Getty Images
Born to Ruth and Joe Garcia on Aug. 1, 1942, Jerry Garcia was able to conjure magic until the very end.
In fact, "Days Between" – a Garcia composition from the Grateful Dead's unfinished attempt at a final album – is as ghostly and moving as anything Jerry ever attempted.
"Achingly nostalgic, 'Days Between' evokes the past. The music climbs laboriously out of shadows, growing and peaking with each verse, only to fall back each time in hopeless resignation," long-time Dead bandmate Phil Lesh wrote in his book Searching for the Sound. "I don't know whether to weep with joy at the beauty of the vision or with sadness at the impassable chasm of time between the golden past and the often painful present."
That painful present, in the years after Jerry Garcia's sudden death on Aug. 9, 1995, is made a bit more bearable with the knowledge of what he accomplished along the way. Called Jerome John Garcia as a kid in San Francisco, Jerry eventually filled many of the same ballrooms his father, a musician and bandleader, had performed in during Garcia's youth. Joe Garcia drowned when the Dead legend was only a young boy, however, and his childhood was spent daydreaming, reading science fiction and drawing. His mother gave him an accordion for his birthday one year and Jerry threw an absolute fit until his mother agreed to trade the offending instrument for an acoustic guitar.
That was his ticket to a sweeping brand of pop-culture fame. Together with the Grateful Dead, he came to embody flowery '60s idealism while blending in elements of the Beat Generation, rock and roll, the blues, jazz, American folklore, songs of drifters and dreamers, 17th century balladry and shamanic trance drumming. It was all there, wrapped up in a chaotic musical package. Some nights you got lucky, and it was the greatest show on Earth. Other nights, it was still pretty good.
A testament to that: Decades after his passing, Jerry Garcia's music lives on. His former bandmates continue to play with their own projects, including Dead and Company; others continue to cover Garcia's music, applying his unique template to their own work. For a lot of musicians, Jerry's music is akin to an instruction booklet – or at the very least, a great motivator. These 20 career highlights illustrate why.
1

After a brief stint in the Army, from which he was promptly kicked out after a mere six months, Jerry Garcia moved to Palo Alto, Calif. There, he integrated himself with the burgeoning folk scene around Stanford University and Kepler's Books in Menlo Park, Calif. In 1963, he met Sara Ruppenthal, a Stanford student with an affinity for folk and bluegrass music. Soon, the pair were playing together at the local folk clubs along the peninsula, such as the Tangent and the Boar's Head. Sara and Jerry married and had a daughter, Heather.

2

After a road trip to the Midwest with the hope of meeting bluegrass legend Bill Monroe, Jerry Garcia turned his sights towards "jug music," the less sophisticated cousin of folk and bluegrass – and started Mother McCree's Uptown Jug Champions with friends Dave Parker, Tom Stone, Mike Garbett and local miscreants Ron "Pigpen" McKernan and Bob Weir.

3

Transitions into the Warlocks

After watching the Beatles in A Hard Day's Night, Jerry Garcia realized that being in a rock and roll band was about the most fun a musician can have. With Pigpen and Weir already in tow, Jerry recruited Palo Alto friends Phil Lesh and Bill Kreutzmann and formed the Warlocks, who played the bars along the peninsula and the topless clubs in San Francisco. Many a hapless go-go dancer, by the way, complained that the band's songs were way too long to keep up with.

4

Begins Musical Explorations

After changing their name to the Grateful Dead, their music became the soundtrack to the Acid Tests – a series of LSD parties organized by author Ken Kesey and his band of Merry Pranksters. Zonked to the gills, the Dead honed their skills at turning their rock and blues repertoire into extended, lysergic explorations.

5

Releases First Dead Album

In 1967, the Grateful Dead convened at a stately Victorian house at 710 Ashbury Street, in the heart of San Francisco's Haight District. While the "Summer of Love" unfolded around them, the band played every be-in, love-in, and dancehall in San Francisco. Later in the year, they were picked up by Warner Bros. and issued their debut album, (San Francisco's) Grateful Dead.

7

Begins Dabbling Outside the Dead

During his down-time between Dead tours, Garcia began jamming at the Matrix in San Francisco with keyboardist Howard Wales, who had been a session player for James Brown and the Four Tops. Their heavy improvisational sets resulted in the 1970 album Hooteroll? Also along for the ride were future Garcia Band players John Kahn on bass, Bill Vitt on drums, and horn player Martin Fiero.

8

In the spring of 1972, The Grateful Dead kicked off their biggest tour yet, two months on the road in Europe. The band is at the top of their game and results in the triumphant live collection Europe 72, featuring many Garcia / Robert Hunter songs that never made it to the studio, but became venerated classics. Sadly, the European tour was also a last hurrah for Pigpen, whose illness kept him out of the action for the rest of the year.

9

Forms a New Bluegrass Group

In 1973, Garcia put together Old and in the Way along with old bluegrass chums Peter Rowan and David Grisman. Even veteran player Vassar Clements joins the band on fiddle. Not knowing much about Jerry's other projects, Clements is dumbfounded one day when he sees Garcia's face on a billboard. Their resulting album Old and in the Way would become the best-selling bluegrass album of all time until it was surpassed by the Oh Brother, Where Art Thou? soundtrack in 2000.

10

Briefly Retires with Grateful Dead

In October 1974, the Grateful Dead called it quits and played a string of retirement shows at Winterland. During the band's hiatus, Jerry started the Legion of Mary with keyboardist Merl Saunders. Their core line-up, which played an eclectic mix of rock, jazz, reggae and funk, would later become the initial line-up of the Jerry Garcia Band or, as Deadheads called it, "Jerry Band." This would be Garcia's other band throughout the rest of his career. Free from the pressures of playing in the Grateful Dead, Jerry could play whatever he damn well pleased.

11

Makes a Triumphant Return

After a successful return to touring in 1976, the Grateful Dead sets the bar high with some of their tightest playing in 1977. Tapes of concerts begin making their way through Deadhead tape trading circles, increasing the band's fan base. In 1978, the band – along with crew, friends and families – headed to Egypt to play three concerts at the Pyramids of Giza. Plans for a resulting live album were scrapped after the band, especially Garcia, were unhappy with the performance. However, in 2008, a two-CD set of the best of the run was released as Rocking the Cradle: Egypt 1978.

12

To celebrate their 15th anniversary, the Grateful Dead played a historic run of 15 nights at the Warfield in San Francisco, followed by eight shows at New York's Radio City Music Hall. Their Halloween show was broadcast via satellite stream and was released later on VHS as Dead Ahead. The shows featured a full acoustic set, followed by two electric sets. Two live collections were culled from the performances – the acoustic Reckoning and the electric Dead Set. On the band's final night in San Francisco, as they returned to the stage, Bill Graham flipped on the house lights to reveal every member in the audience raising a champagne toast to them, along with a banner that read "Thank You."

13

The Grateful Dead played a pair of festival dates in 1982. The first was a "Breakfast in Bed with the Grateful Dead" set at 9 a.m. at Steve Wozniak's US Festival. A couple months later, the band also served up a morning performance, this time at the newly curated Bob Marley Performing Arts Center for the World Music Festival in Jamaica. The band got on stage late but performed a memorable show before those lucky enough to be there for the blissful vibes of "Scarlet Begonias" and "Fire on the Mountain" as the sun rose over Montego Bay.

14

Recovers From a Health Scare

After a grueling 1986 summer tour with Bob Dylan, and Tom Petty and the Heartbreakers, Jerry Garcia fell into a diabetic coma for five days. During his recovery, he had to re-learn to play the guitar. Three months later, Jerry was back on stage with the Garcia Band, playing a Halloween show at the Stone nightclub in San Francisco. Jerry was downright buoyant and animated on stage and clearly happy to be alive and back doing what he loved. That December, the new and improved Garcia would ring in the new year with the Dead – one which saw the runaway success of their In the Dark album and, for better or for worse, an influx of scores of new Deadheads.

15

The Jerry Garcia Band played a two-week run on Broadway at the Lunt-Fontanne Theater, followed by stands in San Francisco and Los Angeles. For the occasion, Jerry even phoned up his bluegrass pals Dave Nelson and Sandy Rothman and formed the Jerry Garcia Acoustic Band to open the shows.

16

The Grateful Dead got one final chance to play a free show in Golden Gate Park like they had done so many years before. Unfortunately, it was the tragic death of longtime friend and concert promoter Bill Graham that brought together a who's who in Bay Area music to celebrate Graham's memory in the Polo Fields of Golden Gate Park. The Grateful Dead shared the stage with John Fogerty for a memorable run through of Creedence Clearwater Revival tunes, and Neil Young, who sang "Forever Young." The band also finally played the "Sunshine Daydream" coda that had been left off "Sugar Magnolia" that the band performed the previous week at the start of their Halloween run in Oakland.

17

Enjoys a Lasting Musical Bond

Jerry Garcia found refuge from the rigors of the Grateful Dead machine in the relaxed home studio of longtime friend David Grisman. Together, they rekindled their friendship over their love of playing. Their exuberant acoustic partnership spawned several acclaimed albums starting with 1991's Garcia/Grisman and on through posthumous collections like So What, The Pizza Tapes and the documentary Grateful Dawg.

18

In 1993, the Grateful Dead began to write new material. New keyboardist Vince Welnick brought along a handful of songs and cover tunes that he had played with his band the Affordables. Weir had some new tunes that he had workshopped with bassist Rob Wasserman. Lesh, sober and focused, had written a handful of intricate new songs. But, Garcia's new compositions, written with lyricist Robert Hunter, were some of the strongest offerings in years. Among them were the pranksterish "Liberty," the old-timey "Lazy River Road," the anthemic "So Many Roads" and, of course, "Days Between." The new songs, however, would never be recorded for a proper studio album that label execs were pushing to commemorate the band's 30th anniversary. The band, usually with Garcia absent or late, did a few cursory run-throughs at their Front Street studio, but nothing substantial ever materialized – aside from a few rehearsals that were curated for the So Many Roads box set.

19

In 1994, the Grateful Dead were inducted into the Rock and Roll Hall of Fame. In an eerie premonition, the entire band came out and accepted the honor without Jerry. Garcia subscribed to the old Groucho Marx credo, "I don't care to belong to any club that will have me as a member." The very idea of turning music into some kind of competition did not sit well with him. In lieu of Jerry Garcia's presence, the band brought along a life-size cardboard cut-out.

20

Leaves Lasting Music Legacy

Jerry Garcia died on Aug. 9, 1995, just a week after turning 53 and a month after performing in his final Grateful Dead concert, held on July 9, 1995 at Chicago's Soldier Field. Garcia had entered a rehabilitation clinic in Forest Knolls, Calif., where he had a heart attack. Ironically, less than one year after Jerry's passing, his longtime friend and bassist John Kahn passed away, as well. Like Garcia, Kahn had struggled for many years with heroin use until one night, his heart just gave out.
More From Ultimate Classic Rock